Secrets Of The Game: Pick And Roll
ESPN Stats & Information

• LeBron James will make his last regular-season visit to Madison Square Garden before becoming a free agent in the summer when the Cavaliers visit the Knicks on Friday night (8 ET on ESPN). James has averaged 30.1 points in his 10 career games at Madison Square Garden, the third-highest scoring average by a player at the current Madison Square Garden (which opened in 1968), behind Michael Jordan (31.8 ppg) and Kobe Bryant (30.5 ppg).
According to the Elias Sports Bureau, only two players scored more points over their first 10 NBA games in this building than James (301): Kareem Abdul-Jabbar and Michael Jordan (329 each). Rounding out the top five are Elvin Hayes (291) and Rick Barry (282). James and Jordan also are the only visiting players who have multiple 50-point games at the current MSG.

• Two of the other top players from the 2003 draft class go head to head Friday night, as Carmelo Anthony and the undefeated Nuggets head to Miami to take on Dwyane Wade and the Heat. The Nuggets have won eight straight games against the Heat, and Anthony is 8-2 in his career head to head against Wade.
• San Antonio starters have accounted for only 52.3 percent of the club's minutes on the floor this season, the lowest percentage for any NBA team, according to the Elias Sports Bureau.


Pacers 102, Wizards 86
Box score | Recap


Magic 110, Pistons 103
Box score | Recap


76ers 97, Nets 94
Boxscore | Recap


Bobcats 103, Hawks 83
Box score | Recap


Suns 110, Celtics 103
Box score | Recap


Heat 96, Nuggets 88
Box score | Recap


Raptors 107, Hornets 90
Box score | Recap


Bucks 87, Wolves 72
Box score | Recap


Cavs 100, Knicks 91
Box score | Recap


Rockets 105, Thunder 94
Box score | Recap


Clippers 118, Warriors 90
Box score | Recap


Lakers 114, Grizzlies 98
Box score | Recap

Blazers 96, Spurs 84
Box score | Recap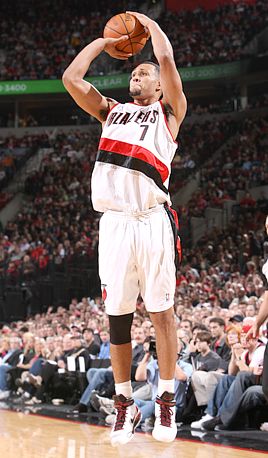 Sam Forencich/NBAE via Getty Images
Brandon Roy and the Blazers have won three of the past four games against the Spurs. Will their luck run out Friday at the Rose Garden?
Marc Stein | ESPN.com

There is no greater evidence to convey how far the Knicks have fallen than the fact that ESPN hasn't chosen to televise a single game from MSG in more than three years.
And we all know Knicks jokes have replaced Clippers jokes from coast to coast.
However …
Dismiss the lure of Madison Square Garden and the Mike D'Antoni-Donnie Walsh partnership at your own peril.
MSG will forever be a basketball mecca, with or without its forthcoming expensive renovation, because Jordan declared it so. The Knicks also happen to have a coach who has undeniably strong street cred; D'Antoni is admired by just about everyone he's worked with on Team USA. For all the valid questions about what the Knicks will be able to put around him, after stripping their roster all the way down to create maximum cap space, D'Antoni and Walsh are going to have a legit shot at LeBron.
Perhaps I'm a hopeless (and gullible) romantic, but I even believe that the prospect of being the guy who resurrects the Knicks and MSG appeals to LeBron almost as much as the aforementioned Cleveland-curse-lifter scenario.