NBAE/Getty
Kobe Bryant and the Lakers pulled away from the visiting Suns thanks to a strong third quarter.

NBAE/Getty Images
Dwyane Wade scored at least 20 points for the 21st straight game, but LeBron's Cavs got the victory.
As The Lakers Showed The Suns, Big Beats Little

To watch the Los Angeles Lakers play the Phoenix Suns over the past two-plus seasons is to see why NBA general managers value size over quickness, why you never hear 40-yard dash times discussed at draft time but you do hear vague terms such as "length."
Big beat little Thursday night and it wasn't even close. Neither has the series been lately. The Lakers have won seven of their past nine games against the Suns, from the Mike D'Antoni days to the Terry Porter and Shaquille O'Neal slow waltz and back to the running under Alvin Gentry.
The Lakers beat the Suns 121-102 by scoring a staggering 78 points in the paint and shooting 57 percent along the way. The scary thing? The Lakers will get bigger and better when Pau Gasol returns from a hamstring injury that's kept him off the court so far this season.
In retrospect, Gasol's injury has been a good thing for the Lakers so far. It's allowed Andrew Bynum to establish himself as one of the top big men in the league. It's kept Ron Artest in the mix as he tries to learn his way around the triangle offense. And you know Kobe Bryant is more than willing to grab a chunk of the extra dozen or so shots that are available in Gasol's absence. But Bryant (29 points Thursday) can find ways to score no matter who's around him. Bynum is more dependent on the Lakers making him a priority.
On Thursday night, he had 26 points and 15 rebounds, knocking down 13 of 18 shots, taking advantage whenever the ball came his way.
"It's going to come my way more without Pau just naturally," Bynum said. "But I tried to be the first one up and down the court and it's just something that's going to get me opportunities, get me looks."
"We could not match up with Bynum," Suns coach Alvin Gentry said. "He could methodically take a couple of dribbles and be able to shoot right over the top of us."
How will this work when Gasol comes back? Will Bynum, who has been a 20 and 10 guy, be as effective? Will Artest, who is taking a career-low 10 shots per game, still feel involved if his offensive output drops further?
And when will Gasol come back? It's the biggest mystery in Lakerland.
Gasol has just gotten back to running on a treadmill, still isn't ready for practice and won't travel with the team for the game in Denver on Friday night.
Throughout the organization, it sounds like the Lakers have adopted a "whenever, whatever" attitude about Gasol. Their responses to questions about his return have taken the form of sarcastic comments (such as Jackson's quip that he would come back on Christmas), terse replies or simple shrugs followed by a departure from the room. The implication is they've said and done all they can, now it's all up to Gasol.
He said he isn't sure when he will be ready, that the whole experience of dealing with a hamstring injury is new to him and he prefers to be cautious. But he did say his treadmill session went well, with no further damage, the most encouraging step so far.
As Jackson said before the game, this is far from the finished version of the Lakers.
"I think we're playing a kind of patch-it-together game," he said. "We're not using the full access of our players right now. Kobe's taking the game and putting his imprint on it right from the start -- which is OK -- that's all right for this particular period of time. But that's not who we are."
What they are right now is 7-1 for the season and ahead of the Suns in the division and conference standings.
J.A. Adande is an ESPN.com senior writer and the author of "The Best Los Angeles Sports Arguments." Click here to e-mail J.A.
Dimes past: Oct. 27 | 28 | 29 | 30-31 | Nov. 1 | 2 | 3 | 4 | 5 | 6-7 | 8 | 9 | 10 | 11

By John Hollinger | ESPN.com
MIAMI -- Here's the difference between November basketball and May basketball: In May, it's always about The Game. In November, sometimes it's about The Show.
Cleveland's 111-104 win over the Heat on Thursday undoubtedly was one of those nights. With superstars LeBron James and Dwyane Wade going mano a mano on national TV, with the subtext that the two could possibly join forces with the Heat a year from now, and with legends like Michael Jordan and Scottie Pippen looking on, this was great theater from the warm pregame embrace between James and Wade to their scoring duel in the final minutes.
To read the entire Hollinger column, click here.
ESPN.com writers and TrueHoop Network bloggers chatted with fans and gave their in-game opinions throughout Thursday night's slate of games -- all in Daily Dime Live.
James Versus Wade: Advantage LeBron

By Elias Sports Bureau
The Cavaliers beat the Heat in Miami 111-104 in the 19th game in which LeBron James and Dwyane Wade started against each other. Cleveland's win gives LeBron a 10-9 edge over Wade in their head-to-head battles. The Heat won eight of the first 11 James against Wade meetings, but the Cavs have won seven of eight since then, dating back to February 2007.
By Maurice Brooks
ESPN.com

THURSDAY'S BEST
LeBron James, Cavaliers
: He scored Cleveland's final eight points to prevent the Heat from staging a late-game rally. He finished with 34 points (16-for-18 on free throws) and seven assists.
---

THURSDAY'S WORST
Amare Stoudemire, Suns
: He never got it going and his ineffectiveness was a key reason the Suns struggled in L.A. The big man finished with just eight points and shot 2-for-15 from the field.
---
QUOTE OF THE NIGHT
"Man, for me that was so fun to watch. It's indescribable almost. He willed the end of the game to go the way it did. It was flat-out beautiful, like Picasso."
-- Cavaliers coach Mike Brown on LeBron James, who made several key plays down the stretch against the Heat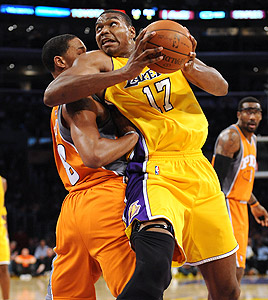 NBAE/Getty
After missing two games with a strained right elbow, Lakers center Andrew Bynum returned to the lineup against the Suns, scoring 26 points and pulling down 15 rebounds.
By John Krolik
TrueHoop Network

Coming into Thursday's showdown between the Cleveland Cavaliers and the Miami Heat, all eyes were on LeBron James, Dwyane Wade and, to a lesser extent, Shaquille O'Neal and Jermaine O'Neal. But the difference in the game may have been the play of ultra-athletic forward J.J. Hickson, who had his best game in a Cleveland uniform.
Hickson, a supremely gifted second-year forward who played at North Carolina State, was put into the starting lineup by coach Mike Brown as an attempt to remedy Shaq' and Anderson Varejao's lack of chemistry as a starting frontcourt, and the result has been consecutive road wins over tough Eastern Conference opponents.
Hickson has shown flashes of immense athletic ability and skill over the course of his budding career, but his tendencies toward erratic play and poor decision-making have caused many to wonder if he can become an impact player for the win-now Cavaliers. But Hickson has been a pleasant surprise in the past two games, leading the Cavs in plus/minus rating and playing extremely solid basketball on both ends of the floor.
Hickson isn't a dead-eye shooter by any stretch of the imagination, but his outside stroke and ability to explode to the basket on one or two dribbles have forced defenses to at least pay attention to him on the weak side, giving the Cavaliers' starting unit the spacing it lacked when Varejao and Shaq were starting.
Against the Heat, Hickson showed off his offensive talent, making nice moves in traffic with both hands, converting alley-oops and dunks when left alone on the weak side, and converting both of his attempts from midrange to keep the defense honest.
Hickson is still far from a polished product; he made a few defensive lapses and failed to make a few easy dunks around the basket because of his tendency to bring the ball down before he goes up for the finish. But overall, the Cleveland organization has to consider the early returns on the Hickson experiment extremely promising.
To read more, check out Krolik's TrueHoop Network blog, Cavs the Blog.

Ben (NYC): Give Speights some love!
John Hollinger: This is crazy. He's playing sooooooooo much better than Brand or Dalembert that it's inevitable Eddie Jordan will have to make a change, but when you're dealing with high-paid veterans like that it can turn into a locker-room issue. The longer he waits to pull the trigger, though, the more the season gets away from them -- the Sixers can't play all their games against the Knicks and Nets.
To read the entire chat, click here.