• In Game 1 of ESPN's Friday doubleheader, the Hawks visit the Celtics. Over the past two regular seasons, the Celtics have won all seven meetings with Atlanta, outscoring the Hawks by an average of 9.3 points per game. The only team that the Celtics have a longer active win streak against is the Nets, which they've beaten 10 straight times.

• The Hawks have not had a 30-point scorer against the Celtics in almost four years. On Nov. 23, 2005, Al Harrington scored 34 points for Atlanta against Boston. No Atlanta player has reached 30 points in the 13 games since.
• Eight teams have started the same lineup in each of their games this season. The Hawks and Celtics are two of those teams.

• Kobe Bryant, whose Lakers visit the Nuggets tonight on ESPN, leads the NBA with a scoring average of 33.0 points per game. That's the highest average by any Lakers player over their first eight games of a season since Elgin Baylor averaged 33.6 points in 1961.
• Al Jefferson will be out of the lineup because of a family illness when the Timberwolves host the Mavericks on Friday night. But even with Jefferson, Minnesota has compiled only a 40-101 (.284) record over the past three seasons. Without him, though, it has been downright ugly: 7-25 (.219). Even worse, the Wolves' leading scorer in the 32 games that Jefferson missed is Randy Foye (17.3 ppg), now a member of the Washington Wizards.
Williams Looking Good In Green
Chris Forsberg | ESPNBoston.com

For the fifth time since the Atlanta Hawks made him the fifth overall pick in the 2006 NBA draft, Shelden Williams will suit up against his former team.
If you believe Williams, Friday night's game at the TD Garden holds no more importance to him than Wednesday's tilt with the Jazz. He swears he has nothing to prove against a team that gave up on him in less than a season and a half.
But Williams has also never had the opportunity to really make a statement against the Hawks. In those four previous meetings -- three with Sacramento and one with Minnesota -- Williams never logged more than nine minutes of play, totaling 12 points and four rebounds in 25 total minutes of action.
Williams is averaging 16.4 minutes per game in Boston, where he's carved out a role as a dependable, high-energy big man off the bench. Sure, his averages of 6.8 points and 5.2 rebounds still don't befit that of a former No. 5 overall pick, but Williams isn't trying to live up to those expectations anymore.
Williams arrived to fill the kind of role that Patrick O'Bryant was brought in for last season. O'Bryant, ironically, was another disappointment from that 2006 draft, never quite living up to his hype as the ninth overall selection.
While injuries have helped open doors for Williams, he's far exceeded what O'Bryant provided (1.5 points, 1.3 rebounds, 4.2 minutes per game). Just ask his teammates.
"The shocker here is probably Shelden Williams," Garnett said when asked about the bench after Wednesday's win. "I don't think everybody anticipated his work ethic and how he's able to keep rebounding and his production within the small minutes that he plays. He's rebounding, he's keeping balls alive, he's perfect for this team. He's that live wire that we need, especially with Glen being out; he's come in and filled the void that was lost for a second. He's just high energy."
Schedule: Friday, Nov. 13


Magic 88, Nets 72
Boxscore | GameCast


Jazz 102, 76ers 90
Boxscore | GameCast


Warriors 121, Knicks 107
Boxscore | GameCast


Hawks 97, Celtics 86
Boxscore | GameCast

Blazers 86, Hornets 78
Boxscore | GameCast


Mavs 89, Wolves 77
Boxscore | GameCast


Kings 109, Rockets 100
Boxscore | GameCast


Nuggets 105, Lakers 79
Boxscore | GameCast (ESPN)


Raptors 104, Clippers 89
Boxscore | GameCast
Kobe Doin' (Even More) Work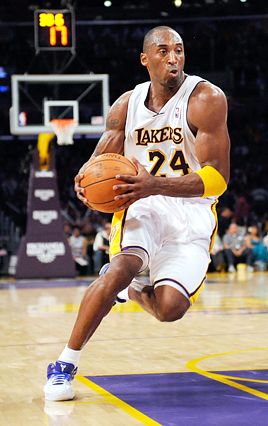 Kevork Djansezian/Getty Imagess
With Pau on the pine, Kobe Bryant has been nothing short of spectacular. Using a new-and-improved post-up game, he leads the league in scoring, with 33.0 ppg.
Chris Forsberg | ESPNBoston.com

Despite what you may have been taught in school, 50 and 100 are prime numbers. At least to the Boston Celtics.
In their quest to be remembered as the greatest defensive team in NBA history, the Celtics have two numbers they're trying desperately to avoid this season: allowing the opposing team to shoot 50 percent from the floor or score more than 100 points.
The Atlanta Hawks come to Boston on Friday night averaging 107.8 points per game, fourth best in the league. Atlanta is also shooting 48.2 percent from the field, third best behind Boston (50.1 percent) and Phoenix (49 percent).
Last Friday's loss to the Phoenix Suns, when the Celtics allowed the visitors to shoot 50 percent and score 110 points, still rubs Boston players the wrong way. Regardless of the grueling stretch that saw the Celtics play eight games in 12 days to open the season, the players don't find that type of performance acceptable.
"When you look up and a team scores 100 points or a team shoots over 50 percent on the Boston Celtics, that's not the type of team we are," Celtics captain Paul Pierce said. "We're a defensive team. We don't give up a lot of points. We don't allow a high field-goal percentage. You see that over consecutive games, you definitely notice it."
Adriano Torres
Special to ESPNdeportes.com

Growing up, Al Horford envisioned himself in the mold of his father, Tito Horford, the first Dominican-born player to play in the NBA.
"Because of my dad, I started playing the game," Horford said before a recent game at Madison Square Garden against the Knicks. "Seeing him motivated me to play. He's been an important part of my life."
After leading the Florida Gators to back-to-back NCAA championships in 2006 and 2007, the 6-foot-10 center from Puerto Plata, Dominican Republic, had his visions become a reality, becoming the third overall pick in the first round of the 2007 NBA draft by the Atlanta Hawks, then perennial cellar dwellers.
But in his rookie season, Horford led the Hawks to their first playoff berth since the 1998-99 season. Against the would-be champion Boston Celtics, the eighth-seeded Hawks gave the Celtics all they could handle, pushing the first-round series to seven games before ultimately being sent packing.
"He was pretty good coming in," Hawks coach Mike Woodson said. "He won back-to-back titles in Florida, but he's grown. The guy plays hard every night. He's a true pro, on and off the floor. I'm glad he's in a Hawks uniform."
As the Hawks seek to become a dominant team in the Eastern Conference, those two key additions will come into play this Friday night when Atlanta meets Boston for the first time this season after dropping all four games to the Celtics last season.
"Every time we play Boston it's a tough battle," Horford said. "It all started two years ago in Boston."