Joe Murphy/NBAE via Getty Images
Bosh Watch Update And More Buzz

Here are some fresh dribbles of chatter from the NBA grapevine, as scooped up in arenas, on the phone and via electronic transmissions of all kinds from various team officials, players, coaches and well-placed league insiders:
Having just spent some quality time with the Toronto Raptors while they were in Texas for a few days, I can assure you that Chris Bosh is thrilled LeBron James and Dwyane Wade have been at the heart of all the 2010 talk lately. Bosh got sick of 2010 questions -- from media gnats and fellow players -- long before it dawned on James to announce he's no longer taking those questions.
Yet that doesn't preclude us from updating Bosh's status at this still-early stage, because an update appears to be in order even if he's determined to avoid the subject as much as he can for the next six or seven months.
As recently as mid-September, I think it's fair to say the consensus was that Bosh was the big name most likely to leave his current team in the summer. But all of our checking with Raptors insiders suggests otherwise.
Teammates Jose Calderon and Andrea Bargnani recently have made public declarations of their belief that Bosh loves Toronto as a city and doesn't want to leave, which meshes with everything I've heard in the past week. The distinct feeling I was left with is that Bosh wants to be the undisputed star on his team and wants to play in a happening metropolis he enjoys. The Raptors and Toronto can make those things happen.
In Dallas, where Bosh was raised, there are folks who have known him for years who were convinced Bosh and James were a lock to sign somewhere together in 2010 free agency, with the metropolis of New York ranking as the primary option, followed by the idea that Bosh could/would join James in Cleveland. All of that, though, was based on the outdated premise that the Knicks or Cavs would be able to afford James and another max free agent. No team in the NBA, at present, expects to have that kind of cap room this coming summer.
So I believe in the fresh guidance I've been given, which suggests Toronto -- as we stand some 230 days away from free agency -- is Bosh's most likely destination for the 2010-11 season and beyond.
If the Raps' season unravels and they fail to make the playoffs -- after an expensive summer of renovations highlighted by the acquisitions of Hedo Turkoglu and Jarrett Jack, who ranks as Bosh's best friend from college -- things obviously could change again. And I doubt anything written here will prevent teams from lobbing in trade offers for Bosh between now and the trade deadline in February, which always could change the Raptors' plans.
But if you're asking me today to predict what will happen with Bosh next summer, I say he stays. Every indication I get is that Bosh likes his current setup in Canada much more than we Yankee outsiders imagine.
---

Cleveland continues to show the most trade interest in Golden State's
Stephen Jackson
, sources say. Yet we still await a firm signal that a deal is imminent.
If/when the Cavs and Warriors do reach that point, you can almost count on Delonte West's inclusion in the deal. In spite of the considerable off-court tumult in West's life already this season, I'm told Golden State is not averse to taking him in a Jack deal. Especially not when West's $4.5 million salary in 2010-11 can be bought out for $500,000 as long as he's waived by Aug. 2, 2010.
---
The first coach fired in the NBA this season -- New Orleans' Byron Scott -- was dismissed 10 days earlier than the first coach fired last season: Oklahoma City's P.J. Carlesimo on Nov. 22, 2008.
That immediately prompted one top executive I know to ask the question surely being asked all over the league today: "Will Byron's firing start an avalanche the way P.J.'s did last year?"
Another avalanche of that magnitude is unlikely. A record six coaching changes were made before Christmas last season.

But there will be more this season. Maybe soon, too. One source plugged in to Clipperland insists owner Donald Sterling has already flirted seriously with the idea of dismissing Mike Dunleavy immediately. That's even though prized rookie Blake Griffin's debut has been put on hold because of his recent knee injury and despite the fact that Dunleavy still is owed $5 million next season on top of this season's $5 million.
Doubts persist about Sterling's willingness to let Dunleavy go with that much money left on his contract, but attendance is flagging. The offseason addition of John Lucas as an assistant coach, furthermore, appears to give Sterling an easy and inexpensive option for an interim replacement with NBA head-coaching experience.
You'll note that the Clippers began the week by losing by 28 points at home to the same New Orleans team whose consistent lack of competitive zeal so far this season -- Chris Paul aside -- helped get Scott canned so quickly.
One trusted source I consulted this week suggests Dunleavy could leave the bench and still retain his front-office gig, given that several of his recent roster moves -- drafting Eric Gordon, foisting Zach Randolph on Memphis for a nice chunk of cap space next summer and stealing Rasual Butler from the salary-dumping Hornets -- have been excellent. Instead of paying Dunleavy to leave, Sterling appears to have the option of keeping him as personnel chief, since Dunleavy and Lucas are longtime pals and presumably could coexist in a GM-coach relationship.
Yet another trusted source, however, says Dunleavy wouldn't accept serving as GM only, which further muddies the picture.
---

Informed observers remain convinced Byron Scott still will be on the list of potential replacements for Phil Jackson when Jackson is ready to leave coaching, no matter how quickly things unraveled for Scott with the Hornets following his rise to NBA coach of the year in 2008.
Yet there is ever-growing conviction in Lakerland that Jackson will be back on the bench next season and maybe longer.
Jackson's $12 million-a-year contract indeed expires after this season, but you heard Kurt Rambis say it when he took the Minnesota job in August: Lakers management is trying hard behind the scenes to convince Jackson, at 64, to keep going.
If his health holds up, Jackson almost certainly will. Team officials naturally were encouraged to hear Jackson tell reporters before Thursday's home win over Phoenix that a new brace on his left knee -- along with two hip-replacement surgeries -- have relieved much of the pain in his legs and back in recent years.
---

One more note on Byron Scott: New Orleans didn't want to fire him after last season's playoff humbling from Denver -- including that unforgettable 58-point loss in Game 4 in what wound up as the Hornets' final home game of the season -- because Scott was scheduled to earn $5 million this season.
Yet I remember that the Hornets were borderline rooting for Sacramento to try to hire Scott away from them before the Kings' courting of Kurt Rambis and ultimate hiring of Paul Westphal. Which should have been a clear indication that a change was coming sooner rather than later.
---

Want to expound on something Nets-related we touched on in last week's Weekend Dime.
It is unquestionably true that Mikhail Prokhorov's deal to buy the Nets includes a very crucial clause that enables him to walk away if the Nets' move to Brooklyn falls through. What we've heard, though, is that he's so geeked about the idea of owning an NBA team (as well as a prominent U.S.-based business) that he easily could renegotiate the price down if Brooklyn falls through and assume control of the Nets for less money even if the franchise can't extricate itself from New Jersey.
If the Nets don't break ground in Brooklyn by Dec. 31, they lose the tax-exempt bonds that are so crucial to the funding of the arena project, which would delay the team's move yet again. But the buy-for-less option is out there for Prokhorov in that worst-case scenario, even as we concur with the thinking that the Nets have no shot at forcing their way into the LeBron James sweepstakes unless Brooklyn is part of the equation.
---
Interesting showdown of power forwards forthcoming Friday night in Philadelphia, where Utah's Carlos Boozer -- widely presumed to be right up there with Stephen Jackson on the list of players most likely to be traded this season -- will square off with the Sixers' Elton Brand ... who is either in the midst of a painfully slow recovery from serious Achilles and shoulder injuries or certain to be shopped by Philly between now and the Feb. 18 trading deadline. Or both.
A couple of teams contacted Friday said Brand indeed has been made available by the Sixers, but Boozer (in the final year of his contract at $12.3 million) obviously would be far easier to move than Brand, who has three seasons left after this season on the five-year deal worth just less than $80 million that he signed in the summer of 2008.
Since the Sixers' season-opening loss to Orlando, Brand hasn't played more than five minutes and 50 seconds in the fourth quarter of those seven games and has been benched for four entire fourth quarters, only one of them a blowout. The ongoing inconsistency of center Samuel Dalembert -- whom Philly has shopped unsuccessfully for months -- combined with Brand's struggles to find his niche with an increasingly up-tempo young team have transformed Philly's interior defense from expected strength to sudden weakness.
---
The last word(s) comes from Bernie Lee, who as part of the team of agents representing San Diego teenager Jeremy Tyler issued this response to The New York Times' extensive piece last week detailing the struggles Tyler has faced in a foreign country after electing to skip his senior year of high school to play for Israel's Maccabi Haifa until he's eligible for the 2011 draft.
Said Lee: "The challenge of going to Europe and becoming a pro has been difficult at times for Jeremy. But, truthfully, that's part of the reason why he went overseas. He's there to learn how to be a professional basketball player and part of that is learning how to think and behave and prepare and deal with people as well as all the expectations of being a professional athlete.
"He's taken a lot of criticism for having only played three games as a pro. But if he keeps opening himself up to the process and learning all the facets of what it is to be a pro, I'm convinced he'll be better off for having had the experience. I don't think there's ever been a single NBA rookie who three games into his first pro season had to deal with major news organizations running stories on the front page of their websites calling the player a 'bust.' Getting through these tough early challenges will end up being a positive if Jeremy combines the lessons learned with his natural talents.
"And from the NBA's perspective, Jeremy learning these things while not earning an NBA paycheck is to the league's benefit. Hindsight is 20/20 and Jeremy is gaining hindsight, so to speak, before he's even on the NBA's dime. I can think of a lot of players in recent years who are out of the league now and wish they had a second chance to apply that kind of hindsight.
"Jeremy was placed in Israel with a great deal of thought behind it and over the course of his time there he has an opportunity to grow. He's not there to be the face of a new movement or to take on the establishment. He has a great support system in place and we think there will not be a rookie in his draft class better prepared for the NBA if he continues on his current path. Time will tell what can and will happen, but three games or even three months is way too soon for anybody to judge him."

Bringing back
Antonio Daniels
was an option for the Wizards to get through their ongoing injury crisis, but
Earl Boykins
was always Washington's front-runner to pick up some of the guard minutes vacated by injuries to
Randy Foye
(ankle),
Mike James
(hand) and
Javaris Crittenton
(foot) and with
Gilbert Arenas
playing through calf soreness this week.
The Wiz wanted a good vet and someone who could push the ball and apply full-court pressure if needed. The guy who now ranks as the second-shortest player in team history -- Boykins is 5-foot-5 to Muggsy Bogues' 5-3 -- qualifies on all fronts.
Boykins actually blipped onto the Wizards' radar last season, when Wiz president Ernie Grunfeld was in Italy on a scouting mission to see current Milwaukee rookie sensation Brandon Jennings. Boykins rung up 24 points and 11 rebounds for Virtus Bologna against Jennings' Lottomatica Roma squad.
---
Some numbers of note in the East this week:
• 1: Only one rookie in Bucks history has scored 30 points in an NBA game faster than Brandon Jennings did. Kareem Abdul-Jabbar, then known as Lew Alcindor, scored 36 points against the San Diego Rockets in his third game as a pro on Oct. 22, 1969. Jennings scored 32 points in the sixth game of his NBA career, helping Milwaukee to a victory over Denver.
• 2.7: Entering Wednesday's showdown with Orlando, LeBron James was averaging 2.7 fewer shots per game in the paint this season compared to last season, down from 8.7 per game to 6.0.
• 8: Only eight times in a career spanning nearly 800 regular-season games has Orlando's Vince Carter come off the bench. Carter scored 15 points as a sub in Tuesday's victory at Charlotte.
• 7: Chris Bosh has scored at least 25 points in seven consecutive games for Toronto, one shy of Carter's team record set in 2000-01.
• 6: The Sixers still hold the record for the fastest coaching change since the NBA/ABA merger in 1977, firing Gene Shue just six games into the 1977-78 season. Dr. Jack Ramsay lasted only seven games with Indiana in 1988-89, Cotton Fitzsimmons (Phoenix in 1996-97) and Sidney Lowe (Memphis in 2002-03) survived for eight games before departing and Jack McKinney (Kansas City) -- like New Orleans' Byron Scott this week -- was replaced after nine games.
---
When a team abruptly releases a player it often means that player's roster spot is needed to accommodate a follow-up signing or forthcoming trade.
We're told Toronto's release of guard Quincy Douby on Thursday is not one of those situations.
Turns out Douby's $855,159 contract would be guaranteed for the entire season if he stayed on the Raptors' roster beyond this month. They say no other moves are imminent.
Yet it's also true that the move creates roster flexibility Toronto might be able to use for a future signing or trade. They now have the league-minimum 13 players under contract.
Douby appeared in seven games with Toronto last season but played sparingly after originally signing on March 24. This season? Douby was on Toronto's inactive list for each of its first eight games but will come away with $105,651 for the 21 days he will have spent on the roster this season once he clears waivers.

Will the unceremonious end to Byron Scott's coaching tenure with the
New Orleans Hornets
affect his down-the-road chances of being chosen as Phil Jackson's eventual successor with the
Los Angeles Lakers
? Marc Stein joins Mason & Ireland on ESPN Radio in Los Angeles (710 AM) to discuss.
• Listen to the podcast


Five questions with Suns forward Channing Frye, who drained 25 3-pointers in his first nine games as a Sun after making only 20 total in his first four pro seasons:
Q: Have you always had 3-point range and we just didn't know?
A: I think I was always capable. But I can tell you I worked at it. My two years in Portland, I didn't play much but I was always busting my butt. I've been working on my handles, too. I don't want to just be a stand-still shooter.
Q: How stressful was free agency for someone who didn't have big numbers last season, knowing how tight money is around the league?
A: You know what? I really wasn't worried about the money, man. In my situation I just wanted to go somewhere where I was going to have an opportunity. I haven't felt this good in a long time. Their training staff is the best in the league like everyone says. The whole environment here is conducive to playing basketball just the way I like to play it.
Q: How hard were the Portland years for you when it was so hard to get playing time?
A: A lot of players come into this league thinking you're going to have this fairy-tale NBA story where you're going stay with one team. Or even if you get traded it's going to be awesome. But things happen for a reason. It was a great opportunity to come here. I felt it was the right choice, not only playing time-wise but just the style.
Q: Were you close to signing with anyone else?
A: [In free agency] I went to [Cleveland coach] Mike Brown's house. I was talking to [Denver's] George Karl and Mark Warkentien a lot. I just felt like I had to do something for myself and that was come here. It really had a lot to do with … [as an Arizona native] this is home, but it had more to do with the style of play that's here and just the environment that's here that I heard so much about.
Q: Sounds like you were a lot higher on the Suns' future and potential than a lot of us so-called experts were in July and August.
A: It's going to be a better story at the end of the year when we say, "Hey, everybody thought we were on a piece-of-s--- team and we came out here and did some good things."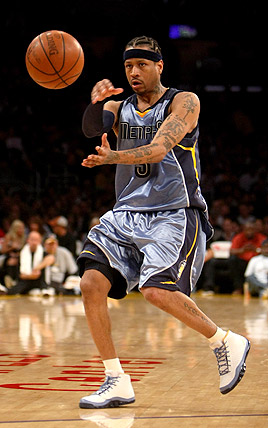 Stephen Dunn/Getty Images
Can Allen Iverson really have a spot on the All-Star ballot when he's not on the Grizzlies bench? (See Box 6)
Inside The All-Star Ballot

The biggest problem with the ballot -- as much as any of these issues are "problems" when no one in the discussion is a legit candidate to be voted in as a starter -- is
Allen Iverson
's presence as a West guard option. Reason being: Iverson is the one guy in the discussion who theoretically could be voted in by the fans.
Iverson was certainly deserving of a spot among West guards when we assembled the ballot. He and Tracy McGrady still have way too much popularity, no matter what their critics say, to leave them off. Especially when we're talking about the fans' game.
However …
What happens if Iverson is selected to start for the 10th time in the past 11 seasons when he's not actually active with the Grizz? Or if he ends up retiring and/or gets bought out of his Memphis contract and still gets voted in a starter?
The reality is that Iverson would need a lot of support from the general public to be voted in ahead of Kobe Bryant and Chris Paul in the West. Yet the answer to all of the above questions, at this juncture, is that no one is quite sure how the league would handle it. There's nothing in the manual for this one. The mere possibility would appear to be an unprecedented situation … unless you want to compare it to Magic Johnson starting in the 1992 All-Star Game after he announced his retirement early in the 1991-92 season after testing positive for HIV.
And I wouldn't. Iverson leaving the Grizz in contentious circumstances after playing in just three games is really nothing like the circumstances that sent Magic to Orlando in '92.
We repeat: It will almost certainly wind up as a non-issue thanks to Kobe and CP3. But if you're looking for something to bounce back and forth on this ballot, that's the topic.
To read the full Stein blog entry, click here.

It's true that
Amare Stoudemire
, like
Tim Duncan
, prefers to be listed as a power forward as opposed to being called a center.
It's also true, as a couple of veteran scouts reminded me this week, that the Suns make sure Stoudemire is referred to as a 4-man in all their play calls, lest Phoenix's only real low-post scoring threat ever hear his teammates use center terminology when he's on the floor.
On the All-Star ballot, though, Stoudemire most certainly appears as a candidate to be voted in as a West center. Which is right where he belongs, I'd argue, given the makeup of this Suns team.
Let's face it. He's far closer to a true 5-man than Channing Frye, no matter how the Suns call their plays.
And whereas San Antonio makes an annual (and formal) request to the league to ensure Duncan continues to be lumped in with the other West forwards on the ballot, Phoenix and Stoudemire have already learned that the center designation can sometimes come with benefits.
In 2007, Stoudemire became the most successful microfracture knee surgery patient in the game by earning a spot on the All-NBA first team ... as a center. And with Yao Ming sidelined, Stoudemire would appear to be the early favorite -- along with perhaps Lakers center Andrew Bynum -- to be voted in as the West's starting center for the All-Star Game in Dallas in February.
---
Some numbers of note in the West this week:
• 4: Portland is 4-0 since moving frustrated newcomer Andre Miller into its starting lineup as part of a three-guard alignment that also features Brandon Roy and Steve Blake.
• 11: Before its loss in L.A. to the Lakers, Phoenix was tops in the league in 3-point percentage at .474 … better than 11 other teams were shooting from two-point range entering Thursday's play. The single-season record for 3-point percentage for a team was set, at a mere .428, by the Charlotte Hornets in 1996-97.
• 131: Playing without Tony Parker or Tim Duncan, San Antonio still managed a 131-122 home victory Monday night over Toronto, good for its highest point total in regulation play since 1993. The Spurs had never previously scored more than 117 points in a game without Tony Parker and Tim Duncan in the lineup dating to Parker's rookie season in 2001-02.
• 35: Steve Nash, at 35, became the oldest player to post a 20-and-20 game since Boston's Robert Parish did so on Feb. 19, 1991, against the Suns. Parish, then 37, had 21 points and 20 rebounds that night. Nash had 21 points and 20 assists in the Suns' comeback win Monday night at Philadelphia.
• 4: When Golden State scored 146 points Monday in a victory over Minnesota, it was only the fourth time this decade that an NBA team scored at least 145 points. In the 1990s? It happened 33 times.
---
Yao remains out for the season as he tries to recover from chronic foot woes, creating the aforementioned opportunity for Stoudemire and Bynum to win fan balloting at center,
But Yao did engage in some basketball business this week when he helped the team he owns back home in China hire its coach.
The Shanghai Sharks have selected former Nets, Hornets and Cavaliers assistant Bob Donewald Jr. to be their new coach, based largely on an interview Yao conducted in Houston. Donewald last coached in the NBA with Cleveland in 2004, working closely with a rookie named LeBron James.

"It's a long shot, no question about it. But at the end of the day it is a shot. It's something that me and LeBron have talked about before. Not saying that we're thinking about leaving our respective teams, but it's something that we have to think about and have to talk about."
Heat guard Dwyane Wade, speaking Thursday to ESPNews, just days after LeBron James announced he no longer wants to field questions about his free-agent intentions.
You'll recall that last week's Weekend Dime contained a good bit about Pat Riley's Heat and their newfound status -- in the eyes of a rising number of plugged-in league observers -- as the team with the best shot at stealing LeBron away from his hometown Cavs.
Let's just say that seeing Wade on our air and listening to him discuss Miami's "shot," however big or small it might be, only made me feel stronger about what I've been hearing on the subject.
If you permit me a rewind to one pertinent section from last week's report: "The long-held assumption around the league called for Riley -- forever married to the idea that you win nothing without a dominant big man -- to try to sign [Chris] Bosh away from Toronto to partner with D-Wade, helped along by the fact that Bosh and Wade are both represented by Chicago-based agent Henry Thomas. Yet one source close to the situation told ESPN.com on Thursday night that the theory is outdated. The source is further convinced that Bosh isn't even looking at Miami and that Riley is definitely dreaming of a Wade-and-LeBron combo."
No Change For Mavs On Jack

The latest health setback for Mavericks swingman Josh Howard makes it natural to wonder: Will Dallas revisit its position about joining the trade bidding for Golden State's Stephen Jackson?
The answer, as of Friday morning, was no.
Dallas is one of the teams on the wish list of destinations Jackson revealed in late August when he went public with his request to be traded. The Mavs, though, informed the Warriors early in Golden State's subsequent shopping process that it wouldn't be making a play for the rugged swingman -- in spite of the fresh memories of Jackson's playoff successes against Dallas with San Antonio and Golden State -- largely because they don't think they can find enough playing time for Shawn Marion, Howard and Jackson.
Turns out there might be more playing time available than anticipated if Howard -- pulled from Wednesday's loss in San Antonio when coach Rick Carlisle noticed Howard limping on his surgically repaired left ankle -- needs more time to fully recover from his offseason ankle surgery. But sources with knowledge of the Mavs' thinking re-iterated to ESPN.com this week that the club remains resistant to the idea of trading for Jackson, as much as they might like him, because that means absorbing Jackson's three-year, $27.8 million contract extension that kicks in after this season.
The Mavericks could easily get to Jackson's salary range by packaging reserves Kris Humphries and Matt Carroll for Jackson or offering Carroll and exiled swingman Shawne Williams, who's in the final year of his contract at $2.4 million. Yet Golden State, while growing more determined by the day to move Jackson, continues to hold out hope that it can bring back more in a trade for him anyway.
• Read the full Stein blog entry, here.

Marc Stein and host Ryen Russillo will dissect Stein's weekly NBA Power Rankings and other pertinent topics around the league every Monday on the NBA Today podcast.
Listen to the podcast