AP Photo/Gregory Smith
Josh Smith and Joe Johnson kept the Hawks atop the East after beating Portland 99-95 in overtime.

AP Photo/Phelan M. Ebenhack
Magic forward Rashard Lewis, right, returned to action against Bobcats newcomer Stephen Jackson.

Photo by Gary Dineen/NBAE via Getty Images
Brandon Jennings (25 points, 7 rebounds, 8 assists) and the Bucks fell short against the Mavs in OT.
Hawks Emerge As East Leaders

ATLANTA -- The best record in the East does not belong to Cleveland, Boston or Orlando. Nor does an undefeated home record, nor the conference's highest scoring average, nor the coveted top spot in Marc Stein's Power Rankings this week.
All of those things belong to the Atlanta Hawks, who continued their surprising start by outlasting Portland in overtime, 99-95, on a night when it seemed little was going their way. The Hawks' offense was far short of its usual standard, the home crowd was AWOL, the team fell behind by a dozen in the second half, and a late gaffe nearly gave the game away after they had it won.
Atlanta prevailed anyway, in a contest that may have set a new league record for use of the word "grind" afterward.
"What a game, huh?" said Hawks coach Mike Woodson. "It says a whole lot about the guys in the locker room. We just held in there, kept grinding."
Befuddled by Portland's zone defense for most of the first three quarters, Atlanta fired blanks and struggled to get shots near the basket. In a 24-minute stretch from the late first quarter to the late third quarter, Atlanta mustered only 35 points and fell behind by a dozen before rallying behind their defense and the play of Joe Johnson.
"Normally, I'm happy when teams play zone because we have enough shooters," Mike Woodson said. "We had good looks but we couldn't knock them down."
Locked in a battle of low-key star guards, Johnson (35 points, nine assists) get the better of Brandon Roy, and 18 of those points came in the fourth quarter and overtime. Johnson appeared to ice the game with two free throws at the end of regulation that put the Hawks up by three with 4.1 seconds left, but the Hawks failed to foul twice -- first when Greg Oden caught the inbounds pass and again when Rudy Fernandez took two dribbles before launching a game-tying 3 over Al Horford to send the game to overtime.
Fortunately for Atlanta, Johnson took over in overtime, taking advantage of two factors that weighed heavily against Portland -- first, that it was their fifth road game in seven nights, and second, that he is bigger than Roy, Rudy Fernandez and Steve Blake, and one of those three had to defend him. Johnson shot over his defender for three jump-shot buckets in overtime to put the Hawks up by six with 1:42 left and all but seal the game.
"This road trip was very long," said Fernandez. "Our legs got tired tonight."
The Blazers were upset that three suspicious calls went Atlanta's way in the final minute of overtime to help seal the deal: a debatable out-of-bounds call on Blake, a mystery foul against Greg Oden on an offensive rebound, and an uncalled goaltend on a late Rudy Fernandez shot. That might have helped make the ending more interesting, especially if Atlanta's brain-lock on fouling when up by three stretched into overtime; nonetheless, the Hawks had established a big advantage by that point.
Instead, the Blazers should lament two other failings -- the inability to control their defensive board, and an offensive tailspin at the start of the fourth quarter. Normally one of the league's best rebounding teams, Portland allowed 15 offensive boards that led to 22 second-chance points for Atlanta. My score sheet had another three offensive boards that weren't credited to a Hawk but instead were swept under the rug in the team-rebound category, making for 18 misses regained by the Hawks.
"Second-chance points at the end [was] one of the key things that caused us to lose the game," said Blazers coach Nate McMillan. "We didn't finish plays by rebounding the ball."
The zone was partly to blame, as it's always harder to box out in that alignment, but weary legs may have been a bigger factor. Greg Oden in particular seemed slow to the ball, pulling down only seven boards in 34 minutes despite the torrent of missed shots coming from both sides.
The Blazers would have won anyway if the offense hadn't melted down late. Portland scored only 18 points in the fourth quarter, including three on the heave by Fernandez, and had only four in the first 4:45 of overtime until two more bombs by Fernandez made the final score closer. That's 22 points in 17 minutes, and one particular stretch will gall them: the first six minutes of the fourth.
Sporting a nine-point lead, the Blazers scored only one field goal in the first 6:12 of the quarter -- a dunk by Juwan Howard, believe it or not -- while committing three turnovers and missing eight other shots. Oden missed three close-range shots, but otherwise Portland struggled to get clean looks and settled for contested jumpers or, in one case, a rare three-point attempt by Andre Miller. By the time the run was over, the Hawks had tied the game at 72.
This was one spot where the Blazers really could have used Hawk-killer Travis Outlaw, who is out indefinitely with a broken bone in his foot. With Roy resting to start the fourth, Portland found itself short on shot-creators, and the Hawks took advantage. The Blazers will have to cope with this situation by using small lineups, as they did on Monday night, for the foreseeable future: With Nicolas Batum also injured for the next several weeks, Martell Webster is the only true small forward left on the roster.
For the home side, the one disappointment was how few people were there to see the dramatic win. Atlantans who stayed home to see Pau Gasol's "CSI: Miami" debut made a horrible mistake, as the few who showed up were treated to one of the most thrilling games of the season. One hopes more of them will show up on Wednesday, when Dwyane Wade and the Heat show up -- the announced crowd of 12,977 was pathetic enough for a game of this magnitude, but for much of the first half the arena appeared to have fewer than half that many people.
"We need the support," said Woodson. "Amazing things can happen when the house is filled."
And as for that top spot in the Power Rankings?
"Somebody mentioned that to me, in the pregame," said Woodson. "I don't even know what the Power Rankings are. We're just trying to stay at the top."
With more "grinds" like this one, they just might stick there for a while.
Dimes past: Nov. 1 | 2 | 3 | 4 | 5 | 6-7 | 8 | 9 | 10 | 11 | 12 | 13-14 | 15
Did Warriors Get The Best Deal?

By John Hollinger | ESPN.com
What a humiliating about-face. Less than a year after the Warriors' dysfunctional management proudly signed team captain Stephen Jackson to a cap-crippling, three-year, $28 million extension negotiated behind then-general manager Chris Mullin's back, they gave away the disgruntled veteran for cap relief on Monday by dealing him and Acie Law to Charlotte for Raja Bell and Vladimir Radmanovic. Radmanovic's own contract is bad enough that the Lakers gave him away at the trade deadline last season, speaking volumes about the Warriors' gaffe with Jackson.
What makes this even worse is that it appears Golden State took the second-best offer on the table. Multiple league sources told me the Cavaliers were ready to move ahead with a deal featuring a signed-and-traded Wally Szczerbiak, Delonte West and perhaps some ancillary flotsam in return for Jackson, a deal that would have been visibly superior to the Charlotte deal from both a cap-management and talent perspective.
To read the entire Insider story, click here
ESPN.com writers and TrueHoop Network bloggers chatted with fans and gave their in-game opinions throughout Monday night's slate of games -- all in Daily Dime Live.
By Andrew Ayres
ESPN.com

MONDAY'S BEST
Dirk Nowitzki, Mavs
: His buzzer-beater gave the Mavs a 115-113 OT win over the Bucks. Dirk went for 32 points and 11 boards in the win at the Bradley Center.
---

MONDAY'S WORST
Jamal Crawford, Hawks
: Having a great season for Atlanta so far, but missing all five 3-point shots en route to six points wasn't enough to push the Hawks to a loss against Portland.
---
QUOTE OF THE NIGHT
"The bounce was obviously lucky. When it bounced up, it seemed like it was up there forever. We got a lucky bounce and we definitely needed it."
-- Dirk Nowitzki, whose team bounced to 8-3 on the season with his winning shot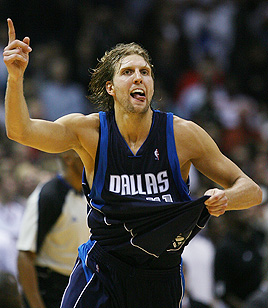 Jonathan Daniel/Getty Images
Dirk Nowitzki celebrates hitting the buzzer-beating shot against the Milwaukee Bucks. The Mavs defeated the Bucks 115-113 in OT.
By Jeremy Schmidt
TrueHoop Network

MILWAUKEE -- Is it possible that Milwaukee Bucks fans can feel even better about Brandon Jennings after a loss Monday night than they could after his 55-point effort on Saturday?
It is.
Absent was the guy challenging NBA-TV's Eric Snow to a one-on-one match over the summer. Gone was the brash kid who said he was better than Ricky Rubio. In the locker room after the Bucks' heartbreaking overtime loss to the Dallas Mavericks was a point guard who shouldered all the responsibility for his team's defeat. Those maturity and character questions Jennings faced throughout the draft process? We can put those to rest. Jennings was despondent that he couldn't pull out a win for his teammates who worked so hard to help bring the Bucks back from an 18-point third-quarter deficit.
I'm not sure too many rookies can score 25 points, grab seven rebounds and dish out eight assists and be so eager to take the blame for not making the right decision on their team's last possession.
"Ersan's [Ilyasova] man had doubled me. When I looked back over the tape he was wide open for the jump shot. This is something I'm going to learn from. It's a long season," Jennings said.
Jennings wanted it to be known that this one was on him.
"At one point we were down 20 and we could have just thrown in the towel. I was 100 percent sure we were going to win in overtime. I'm kind of taking this one to the heart. You know, I feel like this one's my fault we didn't win that game."
So the Bucks may have lost this one, but judging from Brandon Jennings' postgame demeanor, don't expect him to allow losing to become a habit.
To read more, check out Schmidt's TrueHoop Network blog, bucksketball.


Ryen Russillo gets the lowdown on the Stephen Jackson trade with J.A. Adande, who explains how the deal makes sense for the Warriors but not for the Bobcats.
Listen to the podcast