Fernando Medina/NBAE via Getty Images
ANALYST
PREDICTION
J.A. Adande
ESPN.com

SOUTHEAST: 2 | EAST: 8 Now that KG is happy, maybe Dwight Howard can borrow some of his old bitterness and develop a nasty streak that won't tolerate underperformance by the Magic again. With Rashard Lewis the Magic have enough firepower. No excuses for missing the playoffs.
Greg Anthony
ESPN.com
SOUTHEAST: 2 | EAST: 7 Dwight Howard is the face of this team -- but they're not playing in a way that controls the tempo and allows him to dominate the paint. I like the signing of Rashard Lewis, but not sure about those dollars.
Jon
Barry
ESPN.com

SOUTHEAST: 1 | EAST: 4 Dwight Howard looks like a different player. And his team's ready for a big step, too. Stan Van Gundy's an excellent coach, and Rashard Lewis will be good in tandem with Howard.
Chris
Broussard
ESPN Mag

SOUTHEAST: 2 | EAST: 8 Stan Van Gundy can coach, and he'll bring this young squad together. Rashard Lewis will be better in the East than he was out west, but unless J.J. Redick can prove he's legit, the Magic will be abysmal at the 2 spot.
Ric
Bucher
ESPN Mag

SOUTHEAST: 2 | EAST: 8 One of Rashard Lewis' former coaches swears his warrior spirit will make the Magic's enormous investment pay off. Then Shard's debut is cut short by cramps. Yikes. If there's any justice, though, Stan Van Gundy leads the Magic to the eighth playoff spot -- by knocking out the Heat.
Chad
Ford
ESPN.com

SOUTHEAST: 1 | EAST: 4 The Southeast Division took a step back this summer -- good news for the Magic. Everyone's made a big deal about Rashard Lewis, but Dwight Howard's the key. If he makes another leap in his development, he'll be the East's best big man.
Jemele
Hill
ESPN.com

SOUTHEAST: 1 | EAST: 4 Best team the Magic have fielded since Tracy McGrady left town. Rashard Lewis will open things up for Dwight Howard, who appears to have developed a few offensive moves. J.J. Redick will be usable. Seriously.
John
Hollinger
ESPN.com

SOUTHEAST: 1 | EAST: 4 I don't like the Lewis signing long-term, but short-term it's a different story. The Magic need shooters to space the floor for Dwight Howard and scoring punch in general, and he gives them both.
Chris
Sheridan
ESPN.com

SOUTHEAST: 4 | EAST: 12 One refrain we heard ad nauseam from GMs around the league in July: What on earth was Otis Smith doing giving Kobe money to Rashard Lewis? Especially with the way the NBA's economic landscape has changed? Very little depth here, and Foyle and Augustine are the centers.
Marc
Stein ESPN.com

SOUTHEAST: 1 | EAST: 4 Not ready to say that Dwight, Rashard and Stan will be contending for the East title. The division title, though, is another matter. Orlando might even be the favorite for the Southeast crown and the top-four seed that goes with it.


TOTAL SOUTHEAST: 1.7 | Standings EAST: 6.3 | Standings
Team Strength: The Forward Rotation
With the addition of Rashard Lewis, Orlando should be getting a ton of production from the frontcourt, and at the two forward spots in particular the Magic look as stacked at any team in the league. The 6-10 Lewis can play either position, and probably will rotate back and forth as matchups and injuries dictate. As a 4 he can burn bigger players with his perimeter game; as a 3 he has some nice post moves from the left block and the size to easily shoot over most small forwards. He's not the only sweet-shooting 6-10 combo forward on the team -- Hedo Turkoglu has a nice stroke himself, and though he's unbelievably soft he does have the size to play the 4 in smallball looks when the matchups are right. Trevor Ariza provides a different element, with a burst of athleticism that makes him a force on drives or in transition; both he and Turkoglu could start for a lot of the league's teams but might not for this one. Finally there's the team's best player, Dwight Howard. He'll often be playing center, but at times will move down to the power forward spot and use his size and athleticism to overwhelm most opponents at this position. •
John Hollinger's complete Magic forecast


STARTERS
ANALYSIS
Jameer Nelson
Point Guard
6-0 | 190
Turnovers and a low FG%, but should turn the corner this season.
Keyon Dooling
Shooting Guard
6-3 | 195
Don't fill in this spot in pen; J.J. Redick offers more O, Trevor Ariza more D.
Rashard Lewis
Small Forward
6-8 | 215
What's $118M over six? $39,000 per bucket ... to catch all the tears.
Hedo Turkoglu
Power Forward
6-10 | 220
Plays like he could use a Red Bull -- at each end of the floor.
Dwight Howard
Center
6-11 | 265
Was beast before he honed a J and new post moves. Look out below!
ESPN The Magazine's NBA Preview hits newsstands October 24.
J.J. Redick
Player efficiency rating
projection: 13.76
vs. NBA avg.:

-1.24


Magic profiles

Scouting report: Redick is a below-average athlete, and that showed up in his defensive numbers. He was the only shooting guard to play at least 500 minutes without blocking a shot, and ranked third from the bottom at his position in steals per minute. While the Magic tried to use him in spots where his shortcomings wouldn't be so hurtful, it's clear he has a lot of work to do in this area.
Offensively, he could stand to be more aggressive. Redick is a great outside shooter, but too often last year he tried to get cute -- shot-faking when he had an open look and then dribbling inside the arc for a tougher 2-pointer. One presumes with more experience he'll shake this habit and let it rip, because he has one of the best strokes in basketball.
2007-08 outlook: Redick figures to play a larger role this year now that Grant Hill is gone, but he's likely to remain coming off the bench because of his defensive struggles. Nonetheless, his ability to burn defenses that double Dwight Howard should be a huge asset, and one presumes he'll be playing some fourth quarters this year on nights when his shot is falling.
If you got some quality time with your team's GM (like those lucky dudes from 3 Shades of Blue), what would you ask?
Ben Q. Rock, Third Quarter Collapse:
I'd ask Otis Smith what he would do ... if he were Portland's GM in 2001. Would he have given Rasheed Wallace, then 27, a max contract? Because that's basically what he did this summer with Rashard Lewis. The indispensable
basketball-reference.com
lists 'Shard's 2006 campaign as being the most similar to 'Sheed's in 2000 based on age. If that doesn't put the lunacy of this signing in perspective, I don't know what will. But Otis can't worry about that now. The Magic have gaping holes at the 2 and the 4, and it'll be up to him to fill them •
TrueHoop, ESPN's NBA blog
---
Chad Ford's NBA Dish: '07-08 Preview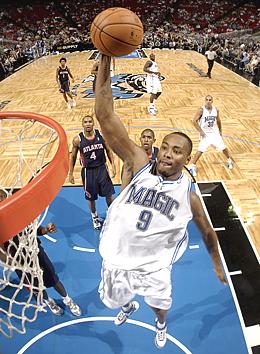 Fernando Medina/NBAE via Getty Images
Forget the contract (for now). What we want to know is if Rashard Lewis can help Dwight Howard make the Magic a force in the East.

Stan Van Gundy
Experience: 3 years
Record: 112-73
Playoffs: 17-11
NBA titles: 0
Coach's profile
Stan Van Gundy is legendary for his detailed pregame "whiteboard" reports, but it will be his experience at building an offense around Shaq and Wade that will have his Magic team paying attention. The Magic played slowly last year and not very efficiently, but Van Gundy will aim to get Dwight Howard and Rashard Lewis moving, while featuring his 3-point shooters.
• David Thorpe, Scouts Inc.
Sleeper: Trevor Ariza
This should be the year Ariza gets the chance to shed his "deep sleeper with upside" status. With
Grant Hill
gone, he'll be in line for more minutes, and people with his athleticism tend to be late fantasy bloomers.
Bust: Rashard Lewis
I'm not listing him here because I think he's going to have a bad season, but Lewis is coming off a heavily-hyped summer that may bump him up too high in many drafts. Don't start looking for him any earlier than the late second round, and hope he doesn't miss more than 5-10 games this season.
• Southeast Preview | Fantasy Hoops