Alissa Hollimon/NBAE via Getty Images
ANALYST
PREDICTION
J.A. Adande
ESPN.com

SOUTHWEST: 1 | WEST: 1 Less is more: no international ball for Tim Duncan and Manu Ginobili this summer means fresher legs for this team's run at back-to-back banners and a spot among the all-time NBA dynasties. Until further notice, Duncan remains the league's most valuable.
Greg Anthony
ESPN.com
SOUTHWEST: 1 | WEST: 1 This is their best chance to repeat. Even when center seemed to be their greatest question last year, Francisco Elson and Fabricio Oberto played well in the playoffs. This team has a great understanding of the game.
Jon
Barry
ESPN.com

SOUTHWEST: 1 | WEST: 1 Perhaps I was a little overzealous when I picked them to repeat last year during the Finals. It's amazing how they come at you. Maybe this season they have what it takes to prove they can repeat.
Chris
Broussard
ESPN Mag

SOUTHWEST: 1 | WEST: 2 Spurs are back intact and eager to prove they can defend their title. Only concern is whether there'll be a slight decline due to aging. In the West, a slight decline is all it takes for a new king to be crowned.
Ric
Bucher
ESPN Mag

SOUTHWEST: 1 | WEST: 2 They don't do repeat titles, so it's a matter of how, not if, they'll pull up short this postseason. Suns exposed their lack of athleticism and that hasn't been addressed. Truth is, they simply hung tough and let every other contender self-combust. Hard to see that happening again.
Chad
Ford
ESPN.com

SOUTHWEST: 1 | WEST: 2 The NBA's elite team, but Tim Duncan usually starts slowly. The older he gets, the more likely the Spurs won't get rolling until the new year. Plenty of time to win a title, but not enough to earn the best record.
Jemele
Hill
ESPN.com

SOUTHWEST: 2 | WEST: 2 With this repeat championship, people will finally include the Spurs among the great teams of all time. With Duncan, Ginobili and Parker, this well-oiled machine shows no signs of rust.
John
Hollinger
ESPN.com

SOUTHWEST: 2 | WEST: 2 What's to say that hasn't already been said? This the NBA's model franchise, and it will again be among the top three teams in the West and playing well into May, if not June.
Chris
Sheridan
ESPN.com

SOUTHWEST: 1 | WEST: 1 Not much to dislike here, but the backcourt depth is suspect, and we believe they should have convinced Vassilis Spanoulis to play one season here before giving up entirely on the NBA. He'd be a better backup at 2-guard than Brent Barry.
Marc
Stein ESPN.com

SOUTHWEST: 2 | WEST: 3 The best case you can come up with against the Spurs repeating as champs is that they've never done it. The league's landscape hasn't changed enough to say anyone else is better than the team that's won three of the past five championships.


TOTAL SOUTHWEST: 1.3 | Standings WEST: 1.7 | Standings
Team Strength: The Organization
Obviously, the Spurs have a great many strengths -- they were dominant on both sides of the court last season. But the thing that sets it all up is what goes on upstairs. The Spurs are the best-run organization in sports, hands down, and this grows more evident by the stampede of owners from other teams racing in to mimic their methods -- in many cases by hiring directly out of the Spurs' organization. By this point, the accomplishments of owner Peter Holt, general manager R.C. Buford, and coach and team president Gregg Popovich are well-known. After four rings, I would hope so. But the part that's really impressive is that even as they convey a Boy Scout image and play a fairly conservative, defense-first style, the Spurs are one of the most creative organizations in the league. Everyone lauds them for winning with high-character players and doing the little things, but because of this some people mistake them for being stodgy and dull. Think so? Check out some of the moves they've made. They were the first team to think of using its second-round draft picks to build up a base of players in Europe who could develop on somebody else's dime. They were also the first ones to realize there were perimeter players from overseas good enough to be NBA stars, and stole Tony Parker and Manu Ginobili in the draft because of it. And they were the first team to mess with people's jump shots. Although the jumper is normally considered one of the game's sacred cows, the Spurs have worked with several players to refine their shooting technique. Parker in particular has rebuilt his jumper, and the results have been nothing short of spectacular. Shooting coach Chip Engelland also has Jacque Vaughn and Fabricio Oberto (who suddenly makes free throws after years of Wallace-like efforts in Europe) under his tutelage, and this may be another area where San Antonio's creativity is eventually copied by the rest of the league. •
John Hollinger's complete Spurs forecast


STARTERS
ANALYSIS
Tony Parker
Point Guard
6-2 | 180
Maybe he'll be easier to D up once he tires from lugging his hardware. (Nah)
Michael Finley
Shooting Guard
6-7 | 225
Doug Mientkiewicz of NBA stole (and slept with) ball after first title.
Bruce Bowen
Small Forward
6-7 | 200
Two-year extension keeps him in Spurs jersey … and Kobe's, too.
Tim Duncan
Power Forward
6-11 | 260
A 10% hike in FTs made (68% career) would mean 6 or 7 more W's.
Fabricio Oberto
Center
6-10 | 245
or Francisco Elson. Like it really matters …
ESPN The Magazine's NBA Preview hits newsstands October 24.
Ime Udoka
Player efficiency rating
projection: 11.24
vs. NBA avg.:

-3.76


Spurs profiles

Scouting report: The key for Udoka was establishing that he could hit 3s from the corner, which gave him an offensive role in addition to his defensive function. He has a line-drive delivery but proved very accurate last season, and as an added plus he's a good ballhandler who played point guard for the Nigerian squad at the World Championships. He's a middling finisher, though, thanks to a lack of explosion, and that's why most of his shots are jumpers.
Defensively, he's an ace stopper who makes up for middling size and short arms through dogged effort. The Blazers gave up 1.7 points fewer per 48 minutes with him on the court; strangely, he didn't receive a single all-defense vote from the coaches, offering further proof that recognition tends to lag performance by a year or two at this end of the floor.
2007-08 outlook: Udoka was one of the offseason's biggest free-agent bargains, signing a two-year deal with San Antonio worth just over $2 million after Portland opted to keep Travis Outlaw instead of Udoka.
Though Udoka is a bit of a risk because he's 30 and might not shoot the 3 as well this season, he also acts as a great insurance policy. San Antonio's biggest weakness is age on the wings, with Bruce Bowen, Michael Finley and Brent Barry all 35 or older. Udoka should be able to pick up the slack if one of them crashes and burns, and his defensive ability makes him the stopper-in-waiting should Bowen decline.
If you got some quality time with your team's GM (like those lucky dudes from 3 Shades of Blue), what would you ask?
Henry Abbott, TrueHoop
Among the things I'd want to know from R.C. Buford: Whenever you develop a promising employee, they get a promotion and a raise from some other NBA club. Doesn't that get a little tiresome? What happened with James White? How'd you get involved in PeacePlayers? Will you please encourage Tim Duncan to go around in a Merlin costume? Your team has been about as successful as a team can be -- winning all those titles with a payroll that's under control -- yet you still are asking for taxpayer money to spruce up your five-year-old building? Is it really true that the basic philosophy is to get three stars and surround them with guys who will "run through walls?"
• TrueHoop, ESPN's NBA blog
---
Chad Ford's NBA Dish: '07-08 Preview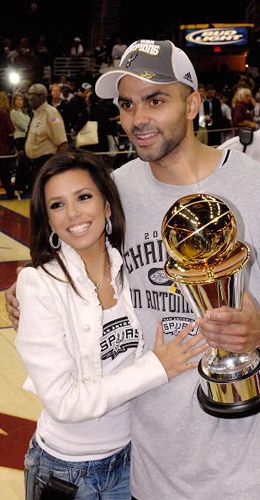 Noah Graham/NBAE via Getty Images
Tony Parker had his hands full last summer, playing a leading role in the Spurs' fourth NBA title and a groom in his internationally celebrated wedding to Eva Longoria.

Gregg Popovich
Experience: 11 years
Record: 776-276
Playoffs: 92-51
NBA titles: 4
Coach's profile
He may not have won Coach of the Year, but Gregg Popovich surely did the best job (again) at managing the season and getting the Spurs to peak at the right time. He'll attempt to do the same thing this year, perhaps mixing in some newer parts (Matt Bonner, Ime Udoka) to his well-oiled machine. His core has multiple rings, but no "back to backs," so Popovich will have plenty of motivational tools at his disposal if necessary.
• David Thorpe, Scouts Inc.
Sleeper: Ime Udoka
This is all about opportunity, of course. A pair of the Spurs' top role players off the bench in recent seasons,
Brent Barry
and
Michael Finley
, aren't getting any younger, and if either is forced to miss time, Udoka would stand to benefit from a larger workload. As a starter in Portland last season, he showed he could knock down the 3-ball with regularity (89 treys on 41 percent shooting) and contribute in steals (71 in 75 games). While he won't likely approach his '06-07 numbers, he could provide a short-term boost at some point during the season.
Bust: Manu Ginobili
Once again, remember these are the Spurs we're talking about -- a team with three quality fantasy players to speak of -- so our "bust" choices are limited. Ginobili is coming off the best season of his 5-year career, in which he set career highs in scoring average, 3-pointers made, 3-point percentage and free-throw percentage, so he may be overvalued in some leagues. In addition, his style of play leaves him on the hardwood quite often and makes him a potential bust candidate. Now, can you please let go of my arm?
• Southwest Preview | Fantasy Hoops