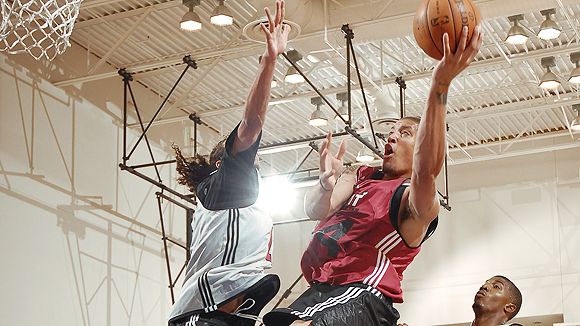 Photo by Fernando Medina/NBAE/Getty Images

ORLANDO, Fla. -- Michael Beasley didn't care that players from other teams ringed the gymnasium to watch him play, didn't bat an eye at the thought of this being his pressure-packed pro debut and, most impressively, didn't back down one inch at facing established NBA players Joakim Noah and Tyrus Thomas.
Beasley was so cool and so smooth throughout his often effortless-looking 28-point, nine-rebound demolition of the Chicago Bulls' summer league squad Monday that the only criticism was that he did it all while singing a song aloud.
The same easygoing manner, however, wasn't evident in the debut of fellow rookie Derrick Rose, who looked jittery and shockingly unsure of himself at times in this showdown of the top two players selected in the NBA draft. Rose, a playmaking point guard, went No. 1 to Chicago and Beasley No. 2 to Miami, but on Monday at least, it clearly was the Heat's new power forward who was far and away the best player on the floor.
Beasley, whose work ethic and off-court focus was questioned in the days before the draft, might have put some of those concerns to rest Monday with a dazzling display of offensive moves. Nothing, he admitted afterward in a sometimes wacky postgame news conference, was going to change him from being the cocksure player who easily dominated college basketball and had his way in Monday's professional debut.
"It's just basketball, man. Played it in college, high school and middle school," Beasley said with a smile following Miami's 94-70 thumping of Chicago. "The same game, same concepts, the same rules. I was just out there having fun.
"You can put the Jolly Green Giant out there. I'm going to still play, man."
And play he did on Monday, thrilling a crowd of more than 500 NBA executives, players and scouts at the Orlando Magic's headquarters. He put up 21 shots in 23 minutes and because he attacked the rim so much he got to the free-throw line 12 times (with nine makes). Clearly, the cracked sternum that he sustained Wednesday in his first practice with the Heat didn't deter him from attacking the rim with reckless abandon.
Whereas most of the rosters in the summer league event are loaded with journeyman free agents and raw rookies, Chicago's was stacked with more proven talents in Noah and Thomas. While they did combine to block five shots, neither proved much of a match for Beasley. The slightly undersized power forward had the ball in his hands more than Rose, Chicago's point guard, for long stretches of the game. His ability to shoot with range, put the ball on the floor and thrive in traffic gave the Bulls fits.
"I felt like me, man," Beasley said simplistically, adding that the sternum injury didn't deter his play in the slightest. "I don't play to get injured, and if it happens it just does. I just go and play."
In Rose, Chicago selected a dynamic point guard who possesses the rare combination of size, speed, athleticism and vision. But the 19-year-old looked somewhat shell-shocked by the magnitude of the moment early on Monday. His first pro shot was a woefully short airball and things didn't get much better for him in a shaky first half. He did get better after the half, showing his tremendous burst as he got to the rim a couple of times for layups. But overall, Rose said he was already looking forward to today's second summer league game.
His final line -- 10 points, four assists, five turnovers -- wasn't horrible, but his five missed shots, four wayward free throws and general passiveness frustrated him.
"You don't want to know what I think [about how I played]," Rose said dejectedly. "I think I played bad. We didn't win and I think I played horrible. But tomorrow is a new day."
Westbrook better than OK for OKC
Monday also marked the first game for Oklahoma City's new franchise, just relocated from Seattle. Because the team's former nickname (SuperSonics) and color scheme (green and gold) will remain in Seattle, Oklahoma City had pedestrian black-and-white uniforms with only the words "OKLAHOMA CITY" and an NBA logo printed on the jerseys.
Reigning rookie of the year Kevin Durant and head coach P.J. Carlesimo were on hand as Oklahoma City lost 95-78 to the Indiana Pacers.
But what had to be particularly encouraging to the OKC franchise was the successful debut of rookie point guard Russell Westbrook, the fourth overall pick in the draft.
He had 15 points in the first half and 18 for the game, using his superior size to get anywhere he wanted to. He handed out five assists and had just one turnover in 31 minutes of handling the ball.
"I was a little nervous, but really I haven't played five-on-five basketball since March Madness in the Final Four," Westbrook said. "For me, this week is just about getting back in the flow again."
Super Mario
Rose was the featured backcourt attraction in the Miami-Chicago game, but it was Miami's Mario Chalmers who won the point guard matchup.
Chalmers, who hit the game-tying 3-pointer to force overtime in Kansas' national championship victory against Memphis, surprisingly dropped to the 34th pick in the draft after being projected by some as a mid-first-round selection. After scoring 11 points, tallying six assists, grabbing four steals and giving Rose fits with his ball-hawking defense, he admitted that he's playing with something to prove this week.
"I'm definitely trying to use that for motivation to push myself, but at the same time that's not something that I'm thinking about," Chalmers said of plummeting on draft night. "I'm just trying to show the Heat that I can run a team from the point guard position and earn a spot."
They meet again
The Rose-Beasley showdown was clearly the marquee matchup of the day, but an interesting undercard was the pairing of Orlando's Courtney Lee and New Jersey's Chris Douglas-Roberts.
Orlando drafted the 6-foot-5, 200-pound Lee with the 22nd pick, determining that he was a better fit than Douglas-Roberts, the All-American from the University of Memphis with the unorthodox jump shot. Douglas-Roberts, who worked out in Orlando against Lee in the weeks before the draft, fell all the way to 40th in the draft.
Lee admitted he was full of nervous energy, and ended up with 13 points and three rebounds on Monday, while Douglas-Roberts shot better (7-of-14), scored 15 points and grabbed five rebounds.
Said Douglas-Roberts: "Don't you see me playing with that chip on my shoulder?"
John Denton is a regular contributor to ESPN.com. He covers the Orlando Magic for Florida Today.