The 2010-11 season may be over, but these guys have just begun to make their mark on the NBA.

ESPN Insider has broken down how the top rookies and sophomores might fare in the future. Now here's our roundtable's take on who's ready to take a leap to the next level next season.
1. Who was the breakout star of 2010-11?

Zach Harper, Daily Dime Live: As much as I want to say Blake Griffin, is it possible that Dirk was the breakout star of 2010-11? He was fantastic during the regular season, as always, and finished sixth in MVP voting. Then he set the Internet and the basketball world on fire during the playoffs. Dirk went from a pretty good player to an all-timer in one season.

Jordan Heimer, ClipperBlog: Call me a homer, but who could you pick here besides Blake Griffin? He led the league in all the traditional "breakout star" statistical categories: impossible alley-oops, YouTube highlight reels, posterized Russians and leapt-over Kias. As impressive? He turned the Clippers -- the Clippers! -- into one of the league's must-see teams.

Beckley Mason, HoopSpeak: Blake Griffin's unbelievable season was somewhat overshadowed by everything from a contentious MVP race to Kevin Love's double-double streak, but the Clippers rook was an absolute monster in his first year. It'd take a lobotomy to wipe his furious dunks from our memories, but it's his efficient production and consistent work rate that portends the Barkley-Malone hybrid will have a tremendous career.

Jonathan Santiago, Cowbell Kingdom: Who was the breakout star of 2010-11? For me, it's a toss-up between Blake Griffin and Kevin Love, but I give the Clippers big man the edge. He bounced back (pun intended) in a way I don't think anyone expected after missing the entire 2009-10 season with a broken left knee cap.

Michael Schwartz, Valley of the Suns: So much was made about the effect the FIBAs had on stars like Kevin Durant and Derrick Rose, but don't forget about Kevin Love. The rebounding machine morphed into an automatic double-double, led the league in wins produced and ranked fourth in PER. Not bad for a guy who spent most of 2009-10 coming off the bench in Minnesota.
---
2. Who will be the breakout star of 2011-12?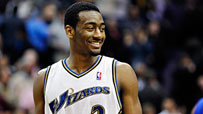 Zach Harper, Daily Dime Live: Because of the everyday splendor of Blake Griffin, a lot of people don't fully appreciate John Wall's debut season. I think he'll break out in his second year. He's probably the fastest player with the ball from end-to-end, is very explosive and sets up his teammates very well. Wall could be close to a 20-10 guy next season.

Jordan Heimer, ClipperBlog: For years, he has toiled in relative obscurity, his yeoman's efforts too often overshadowed by a flashier, more charismatic and highly paid teammate. He's been a ready understudy for years -- 2011-12 may finally give him a chance to play the star. I'm talking, of course, about David Stern's deputy commissioner -- and the future commish -- Adam Silver. Come on down!

Beckley Mason, HoopSpeak: John Wall put up stellar numbers as a rookie, becoming the first newbie to average 16 points and eight assists in 15 years. But the most promising moments were when he showed visible frustration with his team's lackluster effort. He's a leader with superb vision and speed who should be a top-10 point guard by the end of the year.

Jonathan Santiago, Cowbell Kingdom: James Harden really came into his own in the playoffs this year. No reason to think he can't build from his postseason performance going into next season. It's one of the logical progressions you'd think this Thunder team will make as the players continue to mature.

Michael Schwartz, Valley of the Suns: This is the year Stephen Curry becomes a star. Once Golden State deals Monta Ellis, the uber-efficient Curry will have the ball in his hands more often, and that's a very good thing if you're a Warriors fan, thanks to his superior shooting and passing abilities.
---
3. Which rookie is ready to rise as a sophomore?

Zach Harper, Daily Dime Live: There were times when DeMarcus Cousins looked unstoppable, and there were times when he seemed uncoachable. When he's around the basket, he's too strong to handle. When he floats to the elbow jumper, you don't even need to guard him. If the Kings get him the ball at the basket, he'll make a huge jump.

Jordan Heimer, ClipperBlog: Greg Monroe isn't a sexy choice, but that's why Detroit fans love him. Despite being a center who plays mostly below the rim, Monroe was the Pistons' best player for most of last season, averaging better than 13 points and 10 rebounds per game after the All-Star break. He's crafty, hardworking and surprisingly quick on defense -- in other words, a perfect Piston.

Beckley Mason, HoopSpeak: I like Evan Turner to make a big leap next year. His learning curve was unexpectedly steep last year, but I think he's figured out ways to be an effective pro. From where he was at the beginning of last year, becoming a strong rotational player should be considered a major leap.

Jonathan Santiago, Cowbell Kingdom: Like most rookies, Greg Monroe didn't get much publicity because he played for a terrible team. But after a shaky start, he proved to be one of the most reliable players on the Pistons' roster this past season. In 25 games following the All-Star break, Monroe averaged a double-double for Detroit. I like his chances of improving even more his sophomore year.

Michael Schwartz, Valley of the Suns: The Blake Griffin Show stole all the headlines, but John Wall also quietly enjoyed a stellar rookie campaign with 16.4 ppg and 8.3 apg. As the undisputed leader of a Wizards team that's built to run with him, Wall will have plenty of reasons to dance the Dougie if he just improves his jumper a bit.
---
4. Which newbie will make the biggest impact in '11-12? Over his career?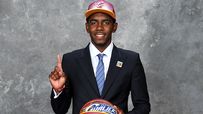 Zach Harper, Daily Dime Live: Ricky Rubio will have the biggest impact for his team next season. Rubio instantly makes the Timberwolves a must-watch team, as his incredible passing ability is sure to take the highlights and League Pass by storm. It doesn't mean he'll make the Wolves a contender, by any means, but at least he makes them noteworthy.

Kyrie Irving will have the better career, though. He could easily be a top-10 point guard in the league for the majority of his career. He's such a solid and efficient player that he could end up being a great second or third option for a very good team.

Jordan Heimer, ClipperBlog: Next season: Kawhi Leonard instantly solves the Spurs' Richard Jefferson problems in two ways -- Leonard is a combo forward the Spurs can use to match up against smaller, quicker lineups, and he provides significant rebounding from the 3 when the Spurs play big.

Career: I know it's hard to (A) give too much credit to a GM for making an obvious move, and (B) give any credit to Timberwolves GM David Kahn, ever. That being said, we will look back at this as the "Derrick Williams" draft.

Beckley Mason, HoopSpeak: Gregg Popovich hates rookies, but I'm thinking Kawhi Leonard has a chance to be an impact player next year for a team coming off a 60-win season. He fills a role that's been missing in San Antonio since Bruce Bowen retired. Don't overthink this: Kyrie Irving is the top talent in this class and should have a long, productive career.

Jonathan Santiago, Cowbell Kingdom: Kawhi Leonard gets my vote for Part 1. His hustling mentality will earn him minutes right off the bat for an aging yet still competitive Spurs team. But long-term, I like Alec Burks. His scoring ability will translate well to the NBA level. And his spotty defense is just a question of effort, which can be fixed.

Michael Schwartz, Valley of the Suns: I'm going with the most efficient scorer in college basketball on both counts, Derrick Williams. The Arizona product will be a matchup nightmare with his devastating inside-outside game, and Ricky Rubio will ensure he receives plenty of good looks. Williams will be the best of a rookie class low on impact players.
---
5. Surprise, surprise: Which team will shock us next season?

Zach Harper, Daily Dime Live: The Celtics might shock us in a very bad way. We don't know how they'll address their roster deficiencies this offseason, but their age has to catch up with them at some point, right? They keep defying Father Time and it keeps baffling quite a few of us. Actually, maybe they will continue to defy old age. That would be pretty shocking, too.

Jordan Heimer, ClipperBlog: After you trade your franchise player (Deron Williams) and lose your Hall of Fame coach (Jerry Sloan), you're supposed to fall into a protracted rebuilding process … which the Jazz managed to squeeze into six months. A rebuilt core of Devin Harris, Alec Burks, Al Jefferson, Gordon Hayward, Derrick Favors, Enes Kanter and Paul Millsap will be one of the league's most sneakily entertaining teams.

Beckley Mason, HoopSpeak: Teams rarely come out of nowhere in the NBA, but the Bucks look like a team that could make a sneaky run into the top six of the East.

I like Stephen Jackson with that group, and if he decides to play, they should be a nasty matchup every night.

Jonathan Santiago, Cowbell Kingdom: A few candidates here -- Milwaukee, Golden State and Sacramento. Coincidentally, all three teams have young guards who had subpar sophomore campaigns following superb rookie years. If Brandon Jennings, Stephen Curry and Tyreke Evans can accomplish the leap next season they were expected to make in 2010-11, there's no reason their respective teams can't be more competitive.

Michael Schwartz, Valley of the Suns: Fear the deer, as the Milwaukee Bucks will challenge for a top-five playoff spot. Their defense remained elite although the Bucks were decimated by injuries last season, so with Stephen Jackson sparking the offense and perhaps a bit of health luck, they will be better than the No. 6-seeded Bucks from two years ago.


ESPN.com and the TrueHoop Network
Zach Harper is the host of Daily Dime Live on ESPN.com. Jordan Heimer, Beckley Mason, Jonathan Santiago and Michael Schwartz write for the TrueHoop Network.
• Follow ESPN's NBA coverage on Twitter | On Facebook