It's been almost a year since LeBron James began his roller-coaster ride with the Miami Heat by announcing to millions watching at home that he'd be taking "his talents to South Beach" to team up with Dwyane Wade and Chris Bosh.

But now, with a season's worth of hindsight and more highs and lows than anyone could have imagined, would he and the Heat still make the same decision(s)?

We asked which LeBron-related questions you wanted answered by our 5-on-5 crew this week via Facebook and Twitter. Today, we look back at what could have been, and tomorrow we'll flash forward to what's in store in forthcoming seasons.
1. One year later: Was Miami LeBron's best option?
Submitted by Pedro Monteiro via the @NBAonESPN Twitter account.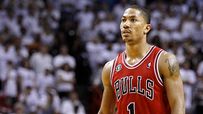 Brian Windhorst, Heat Index: With their talent and system, the Bulls might be just a wing scorer away from being a championship team. That leads some to believe that, basketball-wise, Chicago might've been James' best option. But even if he and Dwyane Wade weren't a perfect fit on the floor, James clearly enjoys playing alongside his close friend.

When considering that, and the fact that James said he was drawn to a place he felt he could be most happy, perhaps Miami was truly the best choice for him.

Ethan Sherwood Strauss, HoopSpeak: No, but not for the reasons so many cite. For all its glitz, the Miami market is small. This means that LeBron has a smaller available fanbase, a smaller media megaphone. A large local following helps an image, as so many fans take up Internet arms to defend your legacy. Social media is force-multiplying these voices, and it's better to start with many. Chicago was the best choice, with the Knicks slightly losing out on account of being a total mess.

Rob Mahoney, Two-Man Game: Absolutely. Miami still provides a better supporting cast for James than any of his possible alternatives; Dwyane Wade is the best individual teammate LeBron could have had, and Chris Bosh, too, is a legitimate star. His team made it to the NBA Finals and will only get better as the years go on, further validating his choice with each future success.

Brendan Jackson, Celtics Hub: If James had gone to Chicago the Jordan comparisons would have never stopped. Still, James, Derrick Rose and Tom Thibodeau's defense could have done some amazing things together. James also would not have incurred the backlash he got for going to South Beach and teaming up with the already-formed duo of Chris Bosh and Dwyane Wade.

Justin DeFeo, Nets Are Scorching: Yes. LeBron was two wins away from an NBA championship with Miami in their first season, and he's playing with the best teammates he's had in his career. It's hard to imagine him being closer to a title with any other team.
---
2. One year later: Where would the Cavs be if LeBron never left?
Submitted by Isaac from Cleveland via the @NBAonESPN Twitter account.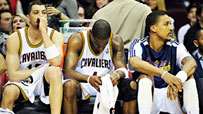 Brian Windhorst, Heat Index: The Cavs believe that if James re-signed, they could have pulled off a few things in free agency that would've made the team better. They had the framework of a sign-and-trade for Chris Bosh in place. More realistically, the Cavs felt they could've picked up a center to replace Shaquille O'Neal. They were also set to offer Mike Miller a deal, ironically.

So you would have had to consider them potential title contenders again. But with upgrades across the Eastern Conference, they probably would not have been the favorites.

Ethan Sherwood Strauss, HoopSpeak: They would be contending. Worse than they were in early 2010, but contending. The Cavs would be hindered by Antawn Jamison's defense, specifically. Power forwards cover more range than any other position, so it's hard to win when your 4 plays a dubious interpretation of his job on that end of the floor.

Rob Mahoney, Two-Man Game: They'd likely be in more or less the same place they were when he bolted. Cleveland didn't have a ton of pieces to deal, and though the Cavs as constructed were still contenders, who knows how those Cavs would have fared against the Celtics or Bulls. There's no question that Cleveland would have been a very good team with James still in tow, but contention comes with no guarantees.

Brendan Jackson, CelticsHub: No closer to winning a championship than they were in 2010. After they had re-signed James, the Cavaliers would have had to continue to rely on salary-cap exceptions to fill out the rest of their roster if they couldn't swing a trade. No one who made the mid-level exception this past season would have pushed the Cavaliers over the title-contention edge.

Justin DeFeo, Nets Are Scorching: Had LeBron stayed with Cleveland, I believe the Cavs would have kept the status quo and continued to roll out 60-win seasons. Barring injuries and a few roster tweaks, the Cavs would have continued to be one of the East's best teams.
---
3. One year later: Should the Heat have signed a different Big Three?
Submitted by Richard Fajardo via the @NBAonESPN Twitter account.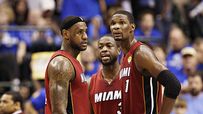 Brian Windhorst, Heat Index: James, Wade and Bosh were always a package deal, so Miami didn't have options on the makeup of its star trio. But even if it did, the other marquee big men on the market, Carlos Boozer and Amare Stoudemire, have their negatives, too -- although Stoudemire's offensive game is certainly attractive.

An interesting idea would've been going in a different direction and splitting the money the Heat spent on Bosh among two players. In this case, Miami could have considered players like Luis Scola or Brendan Haywood instead and used the leftover cap space to bolster the team's suspect depth.

But all in all, the Heat were up 2-1 in the NBA Finals with a nine-point lead late in Game 4. In general, the experiment worked.

Ethan Sherwood Strauss, HoopSpeak: No, these guys would have won a title had LeBron been himself in the Finals. It's hard to do better than this, immediately after a free-agent haul. Though perhaps Miami should have signed Carlos Boozer. Just kidding.

Rob Mahoney, Two-Man Game: Nope. One could make the argument for Miami hypothetically replacing Chris Bosh with 2010 free agent Amare Stoudemire, but I think Bosh is a more sensible piece considering the role he's forced to fill. Miami grabbed the top two free agents on the market and the best complementary big man available -- hard to argue against those kinds of results.

Brendan Jackson, CelticsHub: I'm no Chris Bosh hater, but Amare Stoudemire can also hit the elbow jumper and his defense is just as questionable. Add the fact that his toughness is never in doubt and you're probably not hearing a lot of "crying in the locker room" stories. Maybe some tales from the trainer's table.

Justin DeFeo, Nets Are Scorching: The Heat shouldn't have signed a "Big Three" at all and instead stuck with a big two of James and Wade. They then should have spread out the money used on Bosh to several different free agents in order to form a more complete roster.
---
4. One year later: What should LeBron have done differently?
Submitted by Bobby Erickson via the NBA on ESPN Facebook page.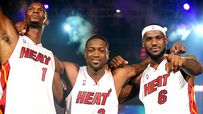 Brian Windhorst, Heat Index: From a courtesy standpoint, informing the Cavs before late on July 8 that he wasn't coming back might have softened the blow a bit. From a production standpoint, the format of "The Decision" show could have been altered to make it more attractive to the impartial viewer, and a more careful word choice -- something less self-serving than "I'm taking my talents to South Beach" -- could have helped as well.

No matter how James made the announcement, there were going to be many in spurned cities that were turned off. But it was the casual fan, many of whom had a positive view of James beforehand, who was alienated. That was also the largest segment of the audience.

Ethan Sherwood Strauss, HoopSpeak: For PR purposes? In my alternate universe, LeBron dryly signals the news over Twitter, then releases a heartfelt YouTube announcement directed toward Cavs fans. The clip serves to flatter Clevelanders -- while slyly shifting blame onto Dan Gilbert. Replace "I'm taking my talents to South Beach" with "I didn't see eye to eye with ownership, and we just couldn't work it out. I'm sorry, because you fans deserved better."

Rob Mahoney, Two-Man Game: Been a bit more tactful. There was nothing wrong with James leaving Cleveland or deciding to sign with Miami, but LeBron's horrible downward spiral in the court of public opinion began when he opted to turn his decision into an event. He dealt with the entire ordeal rather classlessly, and though players technically have no responsibility to anyone but themselves, there's still a certain decorum that should be followed when it comes to players making decisions that involve their long-time teams and the fan bases that so readily embraced them.

Brendan Jackson, CelticsHub: Signed wherever he wanted to with as much fanfare as most other free agents. "The Decision" was a colossal mistake for a player that should have been trying to dispel the notion that he wants to be anything other than a winning basketball player. Instead, he showed he wanted to be a TV and rock star all in one summer.

Justin DeFeo, Nets Are Scorching: Excuse the pun, but it was LeBron's "cavalier" attitude that led to so much animosity. Signing with Miami in a more humble manner, while also acknowledging his time in Cleveland with respect and appreciation to Cavaliers fans, would have gone a long way for LeBron's public perception. Oh, and not declaring his intention to win "not seven" championships.
---
5. One year later: Will we ever forget "The Decision?"
Submitted by Miguel Garcia via the @NBAonESPN Twitter account.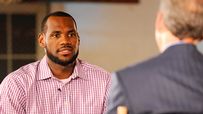 Brian Windhorst, Heat Index: It was a cultural event that went beyond just NBA fans. It was and remains an event that many Americans know simply by name: The Decision. In a way, it wasn't unlike a verdict in a high-profile court case -- many people had an opinion on the outcome and were at least somewhat aware of the circumstances.

Because of that, it probably will not be forgotten for a long time. The real question is whether it will define James' career. That is up to him.

Ethan Sherwood Strauss, HoopSpeak: No. It's strange to me that we won't, but we can't. And if we do? Then this society is getting eerily good at making ephemera seem all-important in the moment.

Rob Mahoney, Two-Man Game: I doubt it. History may not remember every wrinkle of James' free agency, but it's hard to obscure something on such a large scale. The Decision was a depiction of the hyper-stereotyped modern athlete, fit perfectly for a time capsule. James' pedigree as a player stands on its own, but I doubt we'll ever forget his arrogance in that fateful summer of 2010.

Brendan Jackson, CelticsHub: Not a chance. The Decision was one of those moments in sports when everyone instantly formulated an opinion. If you liked James, you most likely applauded his ingenuity and/or his philanthropic intent. If you hated James, you most likely reviled his showmanship and/or arrogance. Moments that inspire such extreme emotion are not easily forgotten.

Justin DeFeo, Nets Are Scorching: Quite simply, no. The Decision and the Heat's subsequent season caused an unprecedented amount of interest in the league, and the ripple effects could change the way teams and players treat free agency in the immediate future. At this point, the only way for LeBron to change the narrative, even slightly, is to win a championship.


ESPN.com and the TrueHoop Network
Brian Windhorst covers the Heat and the NBA for ESPN.com. Ethan Sherwood Strauss, Rob Mahoney, Brendan Jackson and Justin DeFeo contribute for the TrueHoop Network.
• Follow ESPN's NBA coverage on Twitter | On Facebook