With NBA lockout discussions at a standstill, it might be a good time to start boning up on your favorite European basketball league. Luckily for you, you'll most likely have at least one familiar face in the mix.
According to his newly hired agent, Deron Williams plans to suit up next season for the Turkish club Besiktas -- the same outfit that employed Allen Iverson last season -- if a new NBA collective bargaining agreement hasn't been reached.
Will other NBA stars follow suit and cash in while there's still European offers out there? Or is the risk too great? Let's debate:
1. D-Will to Turkey: Shrewd move or too big a risk?
Marc Stein, ESPN.com: As a generally risk-averse person, I'm finding it difficult not to focus on the pitfalls. D-Will has nearly $34 million left on his Nets contract and the promise of greater riches if, as expected, he opts out in the summer of 2012 and heads to free agency.
The most common reaction around the league Thursday, when news of his impending deal with Besiktas began to spread, was befuddlement. As in: Is D-Will really going to gamble on all that by making a cameo in the Turkish League? I'm asking the same question.
Matt Moore, Hardwood Paroxysm: Too big a risk. Deron just had wrist surgery. He's entering free agency in the summer of 2012. Why complicate things by going to play in what I'm told is an extremely nice city for what amounts to pocket change? Seems odd.
Devin Kharpertian, Nets Are Scorching: Shrewd move. An injury is always possible, but there's just as much risk in resting on your laurels and doing nothing. At 27, D-Will's young enough that his body shouldn't erode just by trying to maintain his skills. In his case, I think it's smarter to play basketball and not let the lingering effects of rust catch up with him.
Mark Haubner, The Painted Area: I lean toward too big a risk, given that Williams is about to become a free agent and wouldn't even be competing at the highest levels of European basketball. But it could be a shrewd move in the bigger picture if more players are able to find deals overseas, which would seem to provide more leverage for the players union.
Dan Feldman, PistonPowered: Shrewd move. Simply, Williams has guaranteed he'll make money next season. Money is power, and the more the players have, the longer they can survive a lockout. The owners want the players eventually to come running and begging for a deal, any deal. Williams' Turkish contract helps avoid that scenario.
---
2. Will Williams actually play a game in Turkey?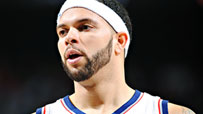 Marc Stein, ESPN.com: Knowing D-Will? And knowing (A) how determined he is to chart his own course in life and (B) how many folks are suggesting that he'll never actually get on a plane bound for Istanbul? I say yes. I can totally imagine him wearing the black and white of Besiktas in September. He doesn't play around.
Matt Moore, Hardwood Paroxysm: As long as the money is there. Maybe Williams just really does love playing basketball that much. Which would make him pretty much every fan's favorite player. Besides, you know, Jerry Sloan. Probably not him.
Devin Kharpertian, Nets Are Scorching: Given how the talks to end the lockout have been progressing -- i.e., not at all -- I think it's likely that we see D-Will in a Besiktas uniform a few times. He still needs clearance from FIBA, but if the NBA isn't honoring its contracts, there's not much to stop him.
Mark Haubner, The Painted Area: I'll say yes. Williams has an agreement in place, and Besiktas has a couple of important Eurocup qualifiers on Sept. 27 and Oct. 4. I don't see the NBA lockout being resolved by then.
Dan Feldman, PistonPowered: No. September is too far away, and there are too many hurdles. Williams and Besiktas might clear most of them, but not all of them. Will Williams receive FIBA clearance? Will the lockout continue into Besiktas' season? Will Besiktas have the money to pay Williams? Will Williams sustain his desire to play in Turkey? Too many questions to predict yes.
---
3. Trendsetting: Will other prominent players follow Deron's lead?
Marc Stein, ESPN.com: There are still too many roadblocks that need to be hurdled to suggest we're on the brink of a trend. There's just very little evidence to suggest that the worldwide job market for basketball players, which has dried up considerably during the economic downturn of the past few years, can provide enough attractive opportunities to tempt more players from the same talent zip code as D-Will.
The aforementioned risks of playing in another country while knowing that their NBA contract is not insured against injury is an even bigger obstacle. Here's another described by longtime agent Marc Cornstein, an expert in European affairs, as laid out to the New York Times:
"This will be, I think, a fairly unique situation. Because you're just not going to find a [large] combination of teams that can afford these kind of salaries but also be willing to let a guy go the minute the lockout ends."
Matt Moore, Hardwood Paroxysm: Depends on if this is an edict from NBPA to encourage players to seek Euro money in an effort to break the lockout. If so, you could see a select number of other guys head over to make the point that the players can survive without the league.
Devin Kharpertian, Nets Are Scorching: Almost definitely. It remains to be seen whether D-Will is the biggest star to take the plunge, but I'm sure at least a few more will follow. That said, if Kobe Bryant ends up joining him in Besiktas, it's possible that a mass exodus will occur. Bryant's influence could make the Euroleague a temporary hotbed for All-Stars.
Mark Haubner, The Painted Area: I'd think there are few European teams with both the money and the inclination to pay for NBA stars. Generally, the richest teams are competing for trophies and would want to invest in players who can help them win games well into 2012 and beyond. But I could see Kobe doing it, and China could be a different story, too.
Dan Feldman, PistonPowered: No. Which big stars will want to play in second-rate leagues for a third of their previous salaries? I think many of their egos won't let them downgrade their status (in perception or reality). And as much as this shouldn't matter, I bet plenty of stars are apprehensive about playing overseas for fear of upsetting their NBA teams.
---
4. How should Lakers fans feel about Kobe playing overseas?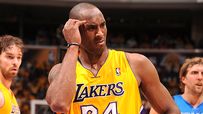 Marc Stein, ESPN.com: Rightfully panic-stricken. Kobe's limbs don't need any extra mileage. Of course, Lakers fans surely know by now that Kobe listens to Kobe. I would also say that NBA fans in general who miss their game already should be rooting for more star players to take the bold gamble D-Will is taking.
If, say, five NBA stars head overseas, then that creates a legit source of unexpected pressure on the owners at the bargaining table. D-Will alone is not enough to convince the owners that their stars have somewhere else to go to get paid. But if a handful of stars go …
Matt Moore, Hardwood Paroxysm: Like he's given them five championships and has never really paid much mind to what anyone thought was best but himself. Hey, maybe he'll meet someone over there to convince him he doesn't need to go one-on-five.
Devin Kharpertian, Nets Are Scorching: With Kobe, you always worry about the knees. He's logged nearly 50,000 regular-season and playoff minutes in his career, and unlike Williams, Kobe's on the wrong side of 30. That's a lot of pressure to put on your body. Still, Kobe's a competitor, and you have to love that spirit.
Mark Haubner, The Painted Area: Probably not great. Considering how sparse Kobe's 2010-11 practice time was, he could use all the rest he can get. But he'll be working out anyway, and the schedule wouldn't be too demanding, so it probably wouldn't be that big a deal. Lakers fans should be more concerned they have little flexibility to improve a roster with few good players.
Dan Feldman, PistonPowered: Intrigued. I don't know enough about Kobe's finances, personal commitments or desires to determine whether it's in his best interest to play overseas. But as a fan, I certainly hope it is. Isn't that a big reason we watch sports, to see something we've never seen before? I root for different.
---
5. Will you be watching if NBA players ball abroad?
Marc Stein, ESPN.com: Watching? I'll be lobbying my bosses to move temporarily. Wherever the best players in the world are playing, that's where I want to be. My passport is right here on the desk. Ready and waiting.
Matt Moore, Hardwood Paroxysm: I'd watch them play in a sewer, that's how desperate for basketball I'm going to be if this lockout lasts as long as it looks like it will. I mean, not in person. That would be gross. But from the comfort of my home? I'd even get a SewerBall jersey. With zeroes on it.
Devin Kharpertian, Nets Are Scorching: Yes. All the way yes. Deron Williams is Deron Williams, whether he's in Newark or Istanbul. The players are what make the league.
Mark Haubner, The Painted Area: Yes, but I'll be watching even if they don't. I mean, did you see the NCAA Final Four this year? The Euroleague is easily a higher caliber of basketball overall, and there are always several reasonable NBA prospects in Europe, as with Ricky Rubio, Jan Vesely, Jonas Valanciunas, Nikola Mirotic, Bismack Biyombo and more this past season.
Dan Feldman, PistonPowered: If I get tired of watching the 1990 NBA draft on NBA TV (and that's probably coming in two more airings). If the games are easily accessible, I'll watch. If not, I won't. I'd probably rather watch for Jonas Valanciunas, a future star, anyway. What will NBA players show me in Europe that I haven't seen from them already?


ESPN.com and the TrueHoop Network
Marc Stein is a senior writer for ESPN.com. Matt Moore, Devin Kharpertian, Mark Haubner and Dan Feldman write for the TrueHoop Network.
• Follow ESPN's NBA coverage on Twitter | On Facebook