Click the pics below to read the bios of our top 12 Euroleague/NBA stars.
Bill Bradley
Olimpia Milano
Bill Bradley
New York Knicks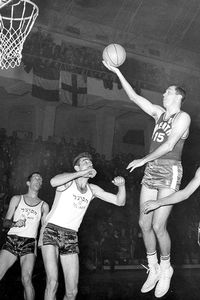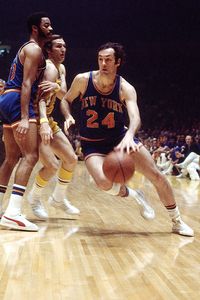 Bradley was the first player to record a remarkable trio of basketball honors -- winning an Olympic gold, a Euroleague championship and an NBA championship.
While starring at Princeton, Bradley was a member of the US national team that won the gold medal at the 1964 Tokyo Olympics, beating the USSR, 73-59, in the final game. Then, as a Rhodes Scholar at Oxford University in England, Bradley "commuted" to Italy where he played one season for Milano and led the team to its first-ever title by beating Slavia Prague, 77-72, in the 1966 Euroleague final.
After completing his studies, Bradley returned to the United States to play for the New York Knicks, helping them win their first NBA title in 1970 and a second one in 1973. He retired in 1977 and moved on to politics, eventually becoming a U.S. senator.
Photo credits: (l-r) Euroleague.net, Wen Roberts/ NBAE/Getty Images
Ian Whittell covers basketball for The Times of London.