Click the pics below to read the bios of our top 12 Euroleague/NBA stars.
Manu Ginobili
Kinder Bologna
Manu Ginobili
San Antonio Spurs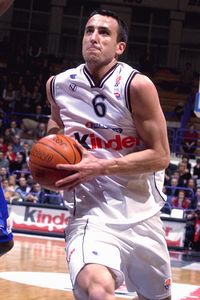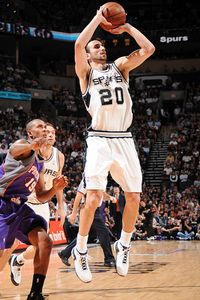 By the age of 27, the Argentine guard had already accomplished an incredible "hat-trick" of achievements -- adding the 2004 Olympic gold medal to a Euroleague title and an NBA championship.
Born into a basketball family, Ginobili benefited from his Italian ancestry by using his citizenship rights to move there in 1998, first to Reggio Calabria and then Italian powerhouse Kinder Bologna. In two seasons with Kinder, Ginobili was named League MVP both years. He also led the team to an Italian championship and two Italian cup titles, as well as the 2001 Euroleague crown where he also collected MVP honors at the Final Four.
After a stellar showing for his national team in the 2002 World Championship, Ginobili signed with the Spurs, who had spent the 57th pick of the 1999 draft on acquiring his rights. Ginobili made an instant impression, helping the Spurs to the 2003 championship against the New Jersey Nets. Since then, he has become a part of the team's big three with Tim Duncan and Tony Parker, winning NBA titles in 2005 and 2007.
Still, the 2004 Athens Olympics may have been his finest hour -- he led Argentina to a surprise gold medal, ending USA's 16-year domination and earning tournament MVP honors.
Photo credits: (l-r) Euroleague.net, Andrew D. Bernstein/NBAE/Getty Images
Ian Whittell covers basketball for The Times of London.