Click the pics below to read the bios of our top 12 Euroleague/NBA stars.
Dino Radja
Croatia
Dino Radja
Boston Celtics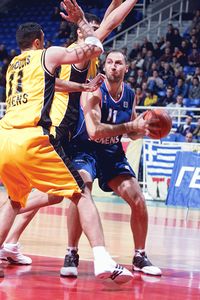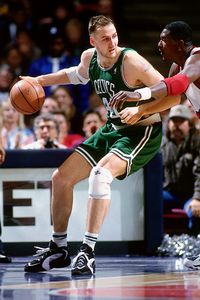 Born in Split, in the former Yugoslavia, Radja helped his hometown team become one of the greatest teams in European basketball history. Along with Toni Kukoc, they won the Euroleague in 1989 and 1990. But instead of sticking around for the historic three-peat, Radja moved to Italy, where he enhanced his reputation over three seasons by leading Roma to the 1992 Korac Cup title (a secondary European competition).
Radja was also part of arguably the greatest European national team of all time, winning the 1987 World Junior Championships, the 1989 and 1991 European Championships and a silver medal at the 1988 Olympics with Yugoslavia.
In 1993, Radja went to the NBA (he had been drafted by the Celtics in 1989) and spent four productive seasons with Boston before a proposed trade to the Philadelphia 76ers broke down in 1997, convincing him to return to Europe.
Photo credits: (l-r) Euroleague.net, Bill Baptist/NBAE/Getty Images
Ian Whittell covers basketball for The Times of London.