Click the pics below to read the bios of our top 12 Euroleague/NBA stars.
Arvydas Sabonis
Zalgiris Kaunas
Arvydas Sabonis
Portland Trail Blazers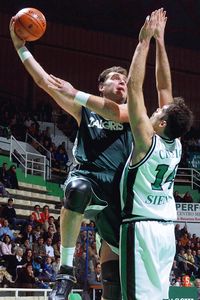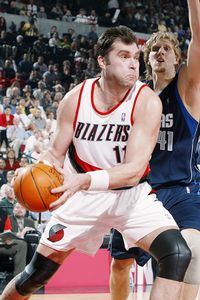 One major question surrounds Sabonis' NBA career: Just how good could he have been had it not been for injuries and political complications? Sabonis was 31 before he joined the Trail Blazers, by which time he had already won gold medals for the USSR at the Olympics (1988), World Championship (1982) and European Championships (1985).
The dominant center led hometown Zalgiris to three consecutive Soviet league titles and second place at the 1986 Euroleague final. He then was drafted 24th overall by the Blazers in '86. However, Soviet authorities wouldn't allow him to play in the NBA until 1989, at which point he elected to play in Spain instead -- first with Valladolid, then Real Madrid, which he helped to the 1995 Euroleague title.
Those years in Europe saw Sabonis struggle with a variety of knee and Achilles tendon injuries, meaning he had lost much of his earlier mobility by the time he finally started his seven-year career with the Blazers in '95. Still, the four-time European Player of the Year was an effective NBA player -- he played in 470 regular season games and 51 playoff games before returning to Europe.
Photo credits: (l-r) Euroleague.net, Sam Forencich/NBAE/Getty Images
Ian Whittell covers basketball for The Times of London.