It's folly, of course, to make a "summer forecast" for what will happen next spring. Heck, meteorologists can't even tell you what will happen next week.
But it's fun, so let's do it.
Here are our picks for which team will wear the Eastern Conference crown next season: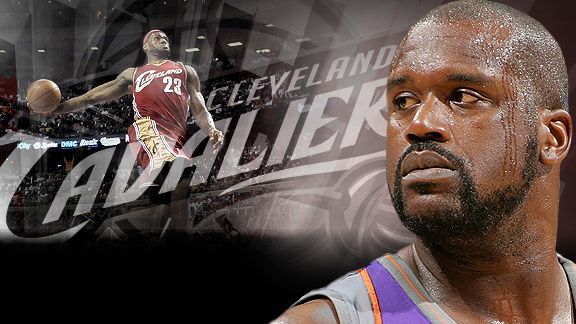 Cleveland Cavaliers (32 votes)
This thing is Cleveland's to lose, says our panel -- or 60.4 percent of our panel, anyway.
It's no surprise to see so many votes for a team that has the reigning MVP and won 66 games last season. On the other hand, the Cavs had the same points in their favor in May, and were the heavy favorites to win the East at that time, too. But Orlando took care of Cleveland thanks to some amazing shooting and the dominance of Dwight Howard, and the Cavs were left licking their wounds.
After showing indecision in 2008-09 about taking on big contracts, Cleveland moved more decisively into win-now mode after its Orlando humiliation. Directly addressing its defensive weaknesses, Cleveland traded for Shaquille O'Neal, in part to face Dwight Howard -- Superman I versus Superman II -- in a potential playoff showdown, and also acquired wings Anthony Parker and Jamario Moon to provide the kind of length and defense the Cavs needed against the Magic. Whether the moves are too little, too late are what the 2009-10 season will be about, in large part.
Looming over it all will be the question LeBron James won't answer: What will he do when he can become a free agent in 2010? His freedom to walk next year has raised the stakes in Cleveland to a level seldom seen in the NBA, and could contribute to tensions along the way unless LeBron, Shaq and the Cavs can successfully merge their games and their goals: LeBron's first title, Shaq's fifth (putting him ahead of Kobe Bryant and Tim Duncan) and Cleveland's hope of pleasing and keeping LeBron. And with the Cavs having added three rotation players to a 66-win team and probably demoting stalwart Zydrunas Ilgauskas in favor of The Big Disruption, it's not clear how chemically balanced they will be.
But this much we know: The past two Eastern Conference champs, after the Cavs' dramatic run to the 2007 NBA Finals, have been the Boston Celtics and the Orlando Magic, and while those two teams remain in the mix, most of our voters think it's Cleveland's turn again.
---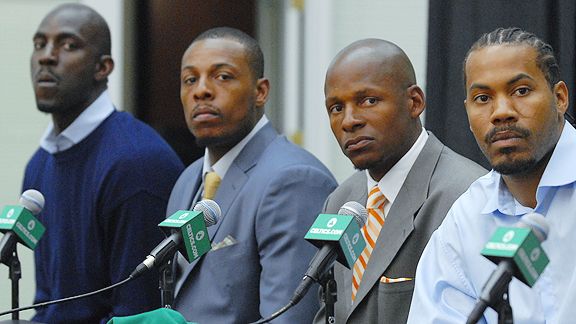 Boston Celtics (13 votes)
Rajon Rondo emerged, for much of the playoffs, as Boston's best player. So what does that mean for a team formerly known as the Big Three?
Here are three ways to see it:
1. The cup-runneth-over version of the story is that the Celtics now have a Big Four, and that Rondo will lead them back to the promised land.
2. The cup-half-full version is that while the Celtics have some issues to solve, they are still a very potent team just 15 months removed from winning it all. Sure, Celtics president Danny Ainge shopped Rondo and criticized him, and it emerged that Doc Rivers found him hard to coach. Sure, the C's need a healthy Kevin Garnett. Sure, Paul Pierce and Ray Allen have trouble bringing it every night the way they used to. But add it all up, and factor in a bench bolstered by the acquisition of Rasheed Wallace and Marquis Daniels, and the Celtics are ready to rock the East again, just as they did when they started 41-9 last season.
3. The leaky-cup version of the story is that, as dynamic as Rondo might be, it's all too telling that Boston needed him to play out of his mind to squeak past the 41-41 Chicago Bulls in the first round of the playoffs. In this version, KG is a 33-year-old with a bad knee, Allen is a 34-year-old shooting guard (a species not known for longevity) and Pierce is soon to be 32. What's more, Sheed will be 35 this month and isn't known for his commitment to conditioning or fitting in quietly.
For 25 percent of our panel, the Celtics' cup runneth over. The other 75 percent disagree.
---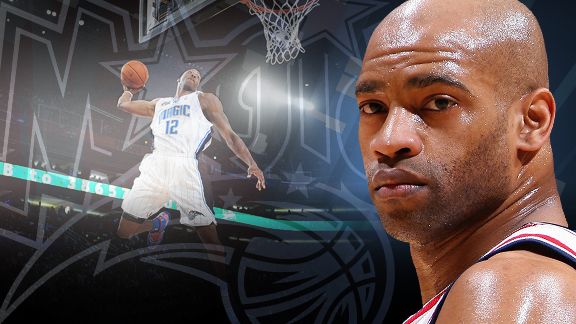 Orlando Magic (8 votes)
At the moment, the big issue in evaluating the Magic seems to be what you think of Hedo Turkoglu and Vince Carter.
We know opinion is divided on these two, because we asked our panel and they both showed up on the lists of Best and Worst Newcomers.
If you are in the school of thought that had Turkoglu as Orlando's true MVP last season, and you saw him as a matchup nightmare and the main ingredient in the Magic's special sauce, then you probably would agree with the 84.6 percent of our panel who think Orlando can't repeat its magical run to the NBA Finals -- and you might agree with the half of our panel that sees Turkoglu's new team, Toronto, making the playoffs.
On the other hand, if you think Turkoglu was Orlando's fourth-best player and overrated, then "So long, Hedo," right?
Likewise, if you agree with those who point out that Carter's statistical record shows him to be a better player in almost every way than Turkoglu, and you think he'll fit in well in Orlando, then you probably think a little Vinsanity is exactly what the doctor ordered. After all, replacing a 0-time All-Star with an 8-time All-Star is a no-brainer, right?
Then again, if you think VC's track record in Toronto and New Jersey makes him more poseur than player, you probably think that Orlando outsmarted itself.
There are other factors to consider, of course. Orlando had the league's best defense last season, on a per-possession basis, and it has an emerging superstar in Howard plus three recent All-Stars -- VC, Jameer Nelson and Rashard Lewis -- and a deep bench surrounding D-12. And the Magic did, after all, beat the Celtics and Cavs on their way to the Finals.
But you know what? All of this, including Hedo versus Vince, might be moot, because according to most of our panel, Cleveland or Boston gets the last word.
---
The voters
Henry Abbott (ESPN.com TrueHoop senior writer), J.A. Adande (ESPN.com senior writer), Kevin Arnovitz (ESPN.com TrueHoop Network editor), Andrew Ayres (ESPN.com NBA editor), Jon Barry (ESPN NBA analyst), Bruce Bernstein (ESPN NBA Studio Production), Alfredo Berrios (ESPN Deportes editor), Dwayne Bray (ESPN Studio Production), Jordan Brenner (ESPN Insider editor), Lisa Brooks (ESPN Stats & Information), Maurice Brooks (ESPN.com NBA editor), Chris Broussard (ESPN The Magazine senior writer), Ric Bucher (ESPN The Magazine senior writer), Michael Bucklin (ESPN Interactive Games), Kevin Calabro (ESPN NBA broadcaster), Kevin Conlon (ESPN Stats & Information), Jay Corbin (ESPN The Magazine editor), Chad Ford (ESPN Insider senior writer), LZ Granderson (ESPN The Magazine senior writer), John Hollinger (ESPN Insider senior writer), Jade Hoye (ESPN Multimedia), Michael Jackson (ESPN Stats & Information), Scoop Jackson (ESPN Page 2 columnist), Avery Johnson (ESPN NBA analyst), Eric Karabell (ESPN.com senior writer), Rob King (ESPN.com editor-in-chief), Seth Landman (ESPN Fantasy basketball writer), Tim Legler (ESPN NBA analyst), Nancy Lieberman (ESPN NBA analyst), Keith Lipscomb (ESPN Fantasy basketball analyst), Patricia Lowry (ESPN NBA Event Production), Mike Lynch (ESPN Stats & Information), Eric Neel (ESPN.com senior writer), Pete Newmann (ESPN Stats & Information), Chris Palmer (ESPN The Magazine NBA writer), Greg Pike (ESPN NBA Studio Production), Chris Ramsay (ESPN.com NBA coordinator), Dr. Jack Ramsay (ESPN NBA analyst), Adam Reisinger (ESPN DB editor), Jalen Rose (ESPN NBA analyst), Bob Salmi (ESPN NBA analyst), Chris Sheridan (ESPN Insider senior writer), Marc Stein (ESPN.com NBA senior writer), Patrick Stiegman (ESPN.com VP/Executive editor), Otto Strong (ESPN The Magazine NBA editor), Mark Summer (ESPN NBA Studio Production), David Thorpe (ESPN Insider NBA analyst), Justin Verrier (ESPN.com NBA editor), Bill Walton (ESPN NBA analyst), Royce Webb (ESPN.com NBA editor), Josh Whitling (ESPN Fantasy Basketball writer), Matt Winer (ESPN NBA anchor) and Matt Wong (ESPN.com NBA editor).