On Wednesday we predicted who would represent the East in the Finals. Today, the West.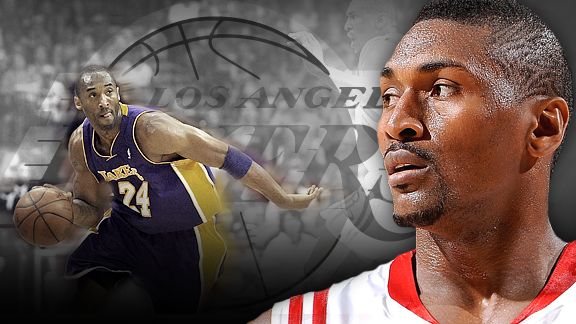 Los Angeles Lakers (41 votes)
As powerful and competitive as the Western Conference has been for the past few years, the Los Angeles Lakers or San Antonio Spurs have almost always been the last team standing. For 10 of the past 11 seasons, the Lakers or Spurs have represented the West in the Finals, winning the whole chalupa in eight of those 10 seasons.
Our panel sees no reason to switch horses now, with 51 of our 53 voters predicting that either the Lakers or the Spurs will win the conference title.
But that doesn't mean the panel sees the Spurs as being on par with the defending champs. Rather, 78.8 percent of our voters like the Lakers to get out of the West for the seventh time in 11 seasons.
It's not hard to see why. The Lakers are less than three months removed from winning the 15th title in franchise history, and the fourth in 10 years. Despite some scares along the way, the 2008-09 Lake Show dominated the season and postseason to such a degree that it ranks as the ninth-best team since the NBA-ABA merger (ninth of 66 Finals teams in all), according to John Hollinger.
If you want to put away stats and history and focus on personnel, start by looking at Phil Jackson, only the most accomplished NBA coach ever, and Kobe Bryant, the second-best 2-guard in history, both of whom were there for all four of L.A.'s ring ceremonies this decade. Then move on to Pau Gasol, the All-Star who is 86-22 with the Lakers (in regular-season games he's played, plus 30-14 in the postseason), and Lamar Odom, one of the most talented sixth men ever to lace 'em up.
Which brings us to the question that hangs over the Lakers, and might ultimately haunt them: Was it wise to add Ron Artest to this championship mix?
That is, should we consider him the league's Best Newcomer or Worst Newcomer?
On paper, the multifaceted Artest is an upgrade, of course, even over a talented player like Trevor Ariza, whom Artest is replacing as the Lakers' small forward and defensive stopper. But Ron-Ron has a well-earned, well-known rep as a disruptive, often maniacal force: Just four months ago, he was ejected twice in the playoffs versus the Lakers.
The offseason has been no quieter. Stories emerged about Artest visiting the Lakers' shower in Boston unannounced to address Kobe while Artest was a member of the Sacramento Kings, and taking a team bus in his underwear while with the Houston Rockets, both incidents happening in the past 15 months. Then there was his head-spinning torrent of tweets and a bizarre rap tribute to Michael Jackson, for whose album "Thriller" Artest selected his latest uniform number and latest Twitter name, ThugRaider37, replacing his former moniker, 96TruwarierQB (Google it), which itself was a small reminder of what took place at his previous stop, Indiana, which was very eager to move him to his next destination on his one-of-a-kind NBA journey.
Could this be the beginning of a beautiful friendship between the Lakers and Ron-Ron? Could Artest play the tough-guy role that Dennis Rodman perfected for three Bulls championship teams under Phil Jackson? Sure.
But all in all, it's quite a roll of the dice by a team that was sure to be favored to win it all anyway.
---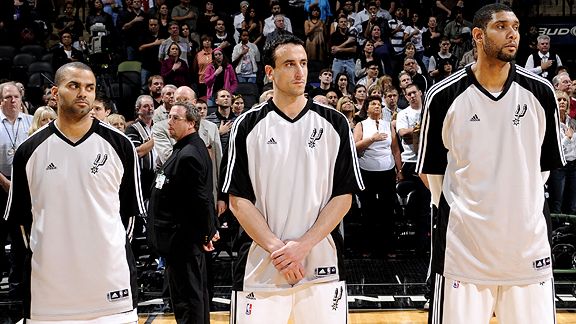 San Antonio Spurs (10 votes)
For San Antonio, the questions are far more prosaic:
• Should we really expect Manu Ginobili to be 100 percent after his troubling ankle injury?
• Is Tim Duncan's knee OK?
• Will Tony Parker, the slight point guard, continue his dazzling offensive dominance?
• Can a rotation with players age 37, 37, 35, 34, 32, 30, 30 and 29 (their ages by the end of June) handle the 100-game, eight-month grind of the NBA season and postseason?
If the answers are "yes, yes, yes and yes," the Spurs are in great shape. But a single "no" might well doom them in the deep Western Conference.
But as they move beyond April's humbling first-round exit at the hands of the rival Dallas Mavericks, there are plenty of reasons for Spurs fans to have a sunny outlook this summer.
First, there's the arrival of Richard Jefferson -- our pick for Best Newcomer and the kind of athletic wing player the Spurs have been looking to add for several seasons -- and Antonio McDyess, still a capable big man.
Then there is the infusion of youthful energy and talent from draft steal DeJuan Blair and second-year guard George Hill, along with the potential emergence of Ian Mahinmi, who's still only 22.
And finally there is the cluster of reasons the Spurs have a halo in the eyes of many NBA observers: the peerless San Antonio front office, steady-as-a-rock coach Gregg Popovich, the players' nonstop commitment to teamwork and defense and the inspired on-court leadership provided by Duncan, Ginobili and Parker.
So far the formula has added up to four rings in 11 years, and who's to say they can't win one for the thumb?
---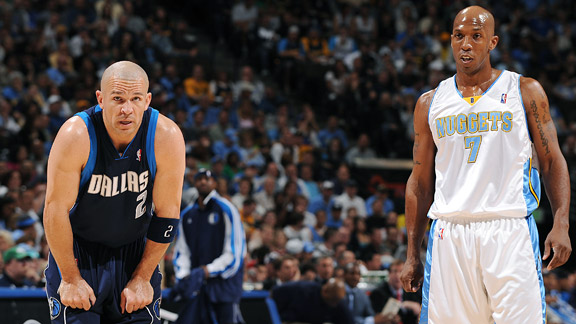 Dallas Mavericks and Denver Nuggets (1 vote apiece)
The non-LA, non-SA portion of the Western Conference comprises 13 teams and managed just two votes from our panel. Yes, that's a dis.
But the second tier of the West is deep and potent enough to rate a mention here, as our voters have guesstimated that seven teams will win 47 or more games.
So we'll let these two votes, for the Nuggets and Mavericks, stand in for the votes that could have been cast for the Blazers, the Jazz, the Hornets, the Suns, or -- yes -- even the Clippers.
Time after time, we see surprise teams jump from "afterthought" to the NBA Finals: in recent years, the Magic (2009), the Lakers (2008), the Cavs (2007), the Heat (2006), the Pistons (2004), the Nets (2002), and so on.
So the first week of September is no time to give up hope, sports fans.
---
The voters
Henry Abbott (ESPN.com TrueHoop senior writer), J.A. Adande (ESPN.com senior writer), Kevin Arnovitz (ESPN.com TrueHoop Network editor), Andrew Ayres (ESPN.com NBA editor), Jon Barry (ESPN NBA analyst), Bruce Bernstein (ESPN NBA Studio Production), Alfredo Berrios (ESPN Deportes editor), Dwayne Bray (ESPN Studio Production), Jordan Brenner (ESPN Insider editor), Lisa Brooks (ESPN Stats & Information), Maurice Brooks (ESPN.com NBA editor), Chris Broussard (ESPN The Magazine senior writer), Ric Bucher (ESPN The Magazine senior writer), Michael Bucklin (ESPN Interactive Games), Kevin Calabro (ESPN NBA broadcaster), Kevin Conlon (ESPN Stats & Information), Jay Corbin (ESPN The Magazine editor), Chad Ford (ESPN Insider senior writer), LZ Granderson (ESPN The Magazine senior writer), John Hollinger (ESPN Insider senior writer), Jade Hoye (ESPN Multimedia), Michael Jackson (ESPN Stats & Information), Scoop Jackson (ESPN Page 2 columnist), Avery Johnson (ESPN NBA analyst), Eric Karabell (ESPN.com senior writer), Rob King (ESPN.com editor-in-chief), Seth Landman (ESPN Fantasy basketball writer), Tim Legler (ESPN NBA analyst), Nancy Lieberman (ESPN NBA analyst), Keith Lipscomb (ESPN Fantasy basketball analyst), Patricia Lowry (ESPN NBA Event Production), Mike Lynch (ESPN Stats & Information), Eric Neel (ESPN.com senior writer), Pete Newmann (ESPN Stats & Information), Chris Palmer (ESPN The Magazine NBA writer), Greg Pike (ESPN NBA Studio Production), Chris Ramsay (ESPN.com NBA coordinator), Dr. Jack Ramsay (ESPN NBA analyst), Adam Reisinger (ESPN DB editor), Jalen Rose (ESPN NBA analyst), Bob Salmi (ESPN NBA analyst), Chris Sheridan (ESPN Insider senior writer), Marc Stein (ESPN.com NBA senior writer), Patrick Stiegman (ESPN.com VP/Executive editor), Otto Strong (ESPN The Magazine NBA editor), Mark Summer (ESPN NBA Studio Production), David Thorpe (ESPN Insider NBA analyst), Justin Verrier (ESPN.com NBA editor), Bill Walton (ESPN NBA analyst), Royce Webb (ESPN.com NBA editor), Josh Whitling (ESPN Fantasy Basketball writer), Matt Winer (ESPN NBA anchor) and Matt Wong (ESPN.com NBA editor).