Commentary
Team-by-team look at the West playoffs
What to like and what not to like about the eight teams still standing in the West
Originally Published:
June 20, 2008
By
Marc Stein
| ESPN.com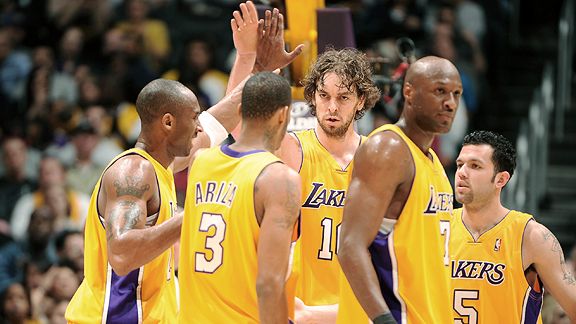 Andrew D. Bernstein/NBAE/Getty ImagesHealthy and focused, the Lakers are expecting a return trip to the Finals this year.
With first-round matchups firmed up at last after a wild final night of the regular season, we can start your playoff preparations with a team-by-team spin through the Western Conference field.
One man's likes and dislikes:

No. 1 Los Angeles Lakers
What I like: What's not to like?
Especially for Lakers fans. Followers of other teams might not enjoy the view, but it must be hard to stop your mind from wandering ahead to June when looking at the playoff pairings through a strictly Lakers prism.
Utah is in disarray and unlikely to give them much of a workout.
The rest of the first-round matchups in the West are virtual tossups that, with the Lakers' recent fortune, will all go six or seven games, further draining a field that has been wracked by injuries and lacks a clear-cut No. 2 threat as it is.
And now Boston has lost Kevin Garnett for perhaps the whole postseason because of ongoing knee trouble, adding to the season's depressingly long list of casualties and realistically deleting the defending champs from the title discussion.
The Lakers, meanwhile, have regained the services of Andrew Bynum, who missed their whole playoff run last season because of his own knee problems. Bynum's return enabled them to move Lamar Odom back to a bench unit that was slipping without him and, if Odom plays well, could well set up L.A. to make it to June without getting a playoff push from anyone on its side of the conference divide.
So, to repeat, what's not to like if you're looking from an L.A. angle?
EAST PREVIEW

For a team-by-team look at the East playoffs, check out Marc Stein's East preview.
What I don't like: You can nitpick about a few things if you wish. Bynum still has some rust to chip away. Derek Fisher is in a shooting slump. The Lakers' killer instinct has been questioned all season, with Phil Jackson questioning it louder than anyone.
But it's tough to get worked up about any of that when three of the four teams that initially looked capable of giving the Lakers some lasting discomfort have lost huge personalities: Garnett in Boston, Manu Ginobili in San Antonio and Jameer Nelson in Orlando.
I suppose that the Lakers might be in for a jolt in the NBA Finals against the Cavs if the West playoffs prove to be as hospitable as I (and many others) fear and then they find themselves in a cauldron at Cleveland's Q. Yet I'm guessing that they'd happily take that scenario and worry about making the adjustment later.

No. 8 Utah Jazz
What I like: Positivity about the Jazz is not easily delivered these days.
Not after they cratered to eighth in the West, dragged down by home losses to Minnesota and Golden State in a building that is supposed to be the toughest in the league for visiting teams to conquer.
Not when they've suddenly got the Lakers as a first-round opponent, quickly erasing the club's February/March status as a popular dark-horse pick.
So we quietly proceed to the next section, since Utah has dropped into an unwinnable series.
What I don't like: Carlos Boozer has struggled physically since his Feb. 23 return from knee surgery. But Utah's nosedive didn't start until March 31, more than a month after Boozer returned to the lineup.
Rumblings in front-office circles around the league are growing louder that the uncertain futures of potential free-agent forwards Paul Millsap, Mehmet Okur and Boozer -- since it's unclear who's staying and who's going -- have caused tensions in the locker room that have seeped into Utah's play. An increasing lack of togetherness would certainly help explain what's been happening at the defensive end, judging by the 125, 118 and 130 points the Jazz gave up in three of their final four regular-season losses.
Interest in this L.A.-Utah rematch from last season, when the Lakers needed six games to prevail, thus figures to be minimal. Any intrigue surrounds what happens with the Utah roster from here, with Deron Williams' new contract extension kicking in next season but a flurry of changes potentially looming for a team that continues to fade farther and farther from the level it reached by advancing to the Western Conference finals in 2007.
---

No. 2 Denver Nuggets
What I like: Chauncey Billups.
As you might have guessed.
He claimed the fifth and final spot on my MVP ballot as the driving force behind the Nuggets' culture change, arriving one week into the season and immediately bringing order, focus and a concept known as passing to a perpetually wild team that was supposed to miss the playoffs before he got there and maybe sneak in as a seventh or eighth seed after the trade.
Carmelo Anthony, J.R. Smith, Nene and Chris Andersen all had big seasons, individually, and Kenyon Martin played in 66 regular-season games as the first player to come back from microfracture surgery on both knees. Yet it is Billups, on top of his still-solid game at 32, who keeps the locker room unified. It doesn't sound like anything revolutionary until you talk to folks close to the team and find out how much work is involved in helping edgy Nuggets coach George Karl maintain a lasting peace with the likes of Melo and Smith.
All this is especially pertinent now because Billups, whose work as a diplomat has been crucial to Denver's rise to No. 2 in the West, will be facing the imperious Chris Paul in Round 1. The same Paul who, in the toughest call on my MVP ballot, lost out to Billups for the No. 5 spot despite his otherworldly statistical production.
For selfish reasons, Billups versus Paul spices up what was going to be a tasty series anyway.
What I don't like: So much for the No. 2 seed's favorable opening-round matchup. Karl keeps saying his team has never been so flush with confidence, but this start will be far tougher than the Nuggets envisioned in the first round after breaking through to win the Northwest Division and expecting Dallas or Utah for days.
They're not going to say so publicly, as you can imagine, but rest assured that the Nuggets preferred seeing Dallas for starters after sweeping the Mavs during the regular season. Whether it's hounding CP3 or trying to win a game on the Hornets' floor, if necessary, Denver has a lot to do to reach the second round for the first time since 1994.
The key? Given the unpredictable nature of some of the main Nuggets, I'd say winning the first two games at home is a must. Karl's relationships with Anthony, Smith and Martin are tenuous at best. A bad loss early, depending on the circumstances, could ignite any of them.

No. 7 New Orleans Hornets
What I like: The Hornets just might be the most dangerous lower seed in either conference, in spite of their many injuries, thanks largely to their placement in the bracket opposite the Lakers.
Opening with Denver isn't an easy draw, given the Nuggets' aptitude in the altitude at home and the Hornets' fragile health. Yet you wonder whether the Nuggets are more worried about Paul's upset potential than the Hornets are fearful of Denver.
The second round, meanwhile, looks fairly promising if the Hornets are sturdy enough to get there, whether it's a rematch with the Spurs -- who wouldn't have Manu Ginobili this time -- or a Dallas team they've handled repeatedly.
Frontcourt depth has always been a big worry for coach Byron Scott, even when Tyson Chandler is healthy. But the Nuggets have size issues, too, giving the Hornets a real opportunity.
If you believe they're healthy enough to beat the Nuggets four times.
What I don't like: The Hornets were frequently accused early in the season of coasting and/or paying too much attention to all the positive offseason media coverage generated by their memorable seven-game series with San Antonio in Paul's first-ever playoff run and the free-agent signing of James Posey away from Boston.
None of that, though, is the story now. The Hornets' iffy health, with apologies for being repetitive, is the constant focus, with Chandler (foot) and Peja Stojakovic (back) far from 100 percent and unlikely to get closer without some serious time off in the summer.
The minute load Paul and West carry as a result, with so little in the form of consistent help on the bench beyond Posey, makes you wonder how fresh they can be, too.
Posey, meanwhile, has been bothered this month by a persistent elbow problem, but the Hornets need him now more than they ever did during the regular season, not just because of the championship pedigree he brought to New Orleans but also because he'll be at the heart of the Hornets' coverages of Melo, whether as a helper or as the primary defender.
---

No. 3 San Antonio Spurs
What I like: Snagging the No. 3 seed in the West on the final day of the regular season to set up a rematch of the '06 second-round epic with Dallas was the best available scenario for San Antonio.
So the Spurs will actually be pleased to see their old rivals from North Texas on Saturday for Game 1, strange as it'll undoubtedly seem to be facing the Mavs so early.
San Antonio actually might be the only team on the NBA map that still retains the sort of respect for Dallas that it had for the Mavericks back in 2006. That's probably because, to this day, the Spurs still don't have a consistent answer defensively for Dirk Nowitzki.
The positives of the matchup, though, are undeniable. Travel will be easy for the Spurs' vets. Dallas has as much (or more) trouble guarding Tony Parker as San Antonio has with Nowitzki. And all this means that San Antonio is out of L.A.'s bracket until the West finals.
You might say that's just delaying the inevitable, since Tim Duncan (knee) is still ailing and with Manu Ginobili out for the rest of the season thanks to persistent ankle trouble, but the Spurs don't do surrenders. Certainly not when they have what might be their deepest supporting cast in the Duncan era and not after San Antonio just escaped landing in L.A.'s bracket and opening the playoffs on the road in Portland.
What I don't like: The overriding source of distress, of course, is the state of Tim Duncan's knees. Having Ginobili out and Duncan at a reduced capacity heaps a ton on Parker, who has been advised by his bosses that they need him scoring big throughout the playoffs to have any chance of hanging around.
The secondary source of concern is the real possibility that the Mavs, no matter how favorable it seemed for San Antonio to land this matchup, have a better shot at beating the Spurs in their current state than their potential first-round foes in the other bracket. I would have picked San Antonio to beat Portland or Houston in a series, even without Ginobili, because I believe in the Spurs' veteran know-how that much, especially against playoff neophytes. But this is a little bit different.
Happy as the Spurs were to get this draw compared with the other options, Dallas has been to South Texas too many times to be unsettled by the crowds down there. Comfortable might be stretching it, but this will be a setting and an opponent that the Mavs know infinitely well. Which should only enhance their chances.

No. 6 Dallas Mavericks
What I like: What's even better than the history that tells us the Mavericks are one of just two teams this decade to win a playoff series against the Spurs when Duncan is playing?
The strong finish.
It's been awhile since we've seen one from the Mavs.
"I think the last two years," Mavs sixth man Jason Terry says, "we kind of lost steam going into the playoffs."
Not this time. Presumed to be locked in a battle with Phoenix for the No. 8 spot in the West, Dallas instead wound up surging into the No. 6 slot and a playoff reunion with the Spurs. The Mavs thought for sure that they were headed to Denver to start the playoffs against a team that oozes athleticism and swept the teams' four meetings this season, so they're as pleased with Wednesday's late shuffle of the seeds as anyone. They didn't want to deal with Denver's athleticism so soon.
What I don't like: You could argue that the Mavs haven't entered a playoff series with as much confidence as they have right now since the Finals in 2006 after toppling the Spurs and Phoenix back-to-back. That kind of self-belief was clearly not there in the first round against Golden State in 2007 and again in 2008 when Dallas was ousted in the first round by New Orleans.
However ...
You can't ignore the issues that had Dallas near the No. 8 spot for the bulk of the season until the late push. Three biggies:
1. Josh Howard's uncertain health is the biggest worry. He's been a huge spark in April, playing with more energy and passion than the Mavs have seen since he made it to the All-Star Game in 2007. But it's also evident that he's bothered by the ankle injury, which Howard says will likely require offseason surgery. He'll be monitored on a day-to-day basis throughout the playoffs.
2. The Mavs' 32-9 home record -- 32-5 since starting out 0-4 at home this season -- is not as gaudy as it looks. Their play at home has been lackluster more often than not. And San Antonio is more capable than most teams of capitalizing, even without Ginobili.
3. How do we know? The Mavs' vulnerability was exposed in a road loss to the Spurs in February with both Duncan and Ginobili sidelined.
---

No. 4 Portland Trail Blazers
What I like: The Blazers have so many commodities crucial to playoff success. Already.
They are feared on their home floor. They have Brandon Roy as a closer who has somehow earned that rep before he ever played in a playoff game. They also have copious amounts of length and depth to surround Roy.
Add it all up and you have a team that, in spite of its virtually nonexistent collective playoff experience, is being increasingly nominated as the West team best equipped to give the Lakers problems in a series.
It's a theory that obviously might never have made it into circulation so soon if, say, San Antonio, New Orleans or Houston weren't weakened by injury. But none of that diminishes the wow factor here. Nate McMillan won 54 games with a ridiculously young team and wound up in the right bracket to test that L.A. theory if it can get to the second round.
How can you not like all that?
What I don't like: The flip side is that when it comes to playoff experience, I actually am one of those stubborn old-school purists. I generally need to see it on the postseason stage before I can believe it.
So I inevitably presume that the young Blazers won't look quite as good as they have once the glare and expectations of this postseason hit them. I'm convinced that the lack of experience has to be a key factor in Houston's favor, even when Portland is facing a group whose own cornerstone still doesn't know how it feels to win a first-round series, either. (This will be Yao Ming's fourth attempt to reach Round 2.)
Complicating matters for the Blazers, who still have some holes in their defense and perimeter shooting, is the fact that they probably won't be able to play with the nothing-to-lose looseness that you'd expect for a team in their situation. The support they receive in Portland from Blazers maniacs is tremendously loud and loyal -- and the Blazers are lucky to have it -- but that also means expectations are tremendously high in spite of the experience issues.
Remember back in February when Roy basically said "just making the playoffs and giving ourselves a chance on that stage" was the general aim this season? Don't think Blazers maniacs would sanction that sentiment after what they saw in a rousing March and April.

No. 5 Houston Rockets
What I like: Home-court advantage is Portland's. Most of the other advantages belong to Houston.
Shane Battier and Ron Artest represent two top-shelf defenders to throw at Roy. The Blazers have struggled to cope with Yao Ming -- even with Joel Przybilla and Greg Oden as Portland's two-headed center -- and know that LaMarcus Aldridge will be hounded by the pesky Chuck Hayes in relief of Luis Scola. Backcourt speed (Aaron Brooks, Kyle Lowry, Von Wafer) is another Rockets strength.
The Rockets obviously wanted Game 1 at their place. But I've had the feeling for a while now that Portland is the first-round opponent they wanted given the choices available, setting up Houston -- which has its own well-chronicled playoff psyche issues -- to be the bully for once.
What I don't like: The usual complaint about the McGrady-less Rockets is that they have no late-game closer without him. That's not my complaint, though, since T-Mac has never advanced past the first round in his career, just like Yao.
How can you miss what you never really had?
The bigger obstacle for the Rockets is figuring out how to combat the Blazers' surging confidence at home to win at least one game in Portland. They have to make sure they aren't punished by their own lack of polish at the point with Brooks and Lowry.
And let's face it: Doubt can creep into Houston's team mindset rather easily if -- after avoiding the Utah team it desperately didn't want to see for a third straight year -- Portland roughs the Rockets up first.
Marc Stein is the senior NBA writer for ESPN.com. To e-mail him, click here.
ESPN Senior Writer
• Senior NBA writer for ESPN.com
• Began covering the NBA in 1993-94
• Also covered soccer, tennis and the Olympics