King James granted Dallas a royal favor by making just three buckets and scoring a postseason career-low eight points in Miami's Game 4 loss. What happened to LeBron? Did he give the game to Dallas? How will he respond in Game 5?

We chose five writers to answer five questions on the Chosen One:
1. OK, so why did LeBron score only eight points?
Henry Abbott, TrueHoop: It is common for NBA stars to hurt their teams by hunting too aggressively for scoring opportunities, at the cost of missing easier shots for their less talented, but more open, teammates. James hurt his team by doing the opposite of that.

John Krolik, Cavs: The Blog: Because he wasn't aggressive enough. He missed some easy shots, which sapped his confidence in his own shot, and his teammates had it going, which led to him thinking he could facilitate the Heat to victory. Still, that's no excuse for not being aggressive and putting pressure on Kidd and the Mavericks' defense.

Rob Mahoney, Two-Man Game: Against an aggressive, well-prepared defense, he backed down, erring on the side of passivity. While that's better than his taking shots just to take shots, LeBron needs to be himself, even in deference. It doesn't matter whether he or Dwyane Wade or Chris Bosh is the source of the most offense, but all three need to be involved.

Michael Wallace, Heat Index: Perhaps the infamous elbow injury cropped up again. Or maybe he was mourning Terrelle Pryor's departure from Ohio State. There had to be something more than the routine defense of Jason Kidd, Shawn Marion and Soulja Boy. Because the reasons James offered after that Game 4 performance -- or lack thereof -- just don't cut it.

Brian Windhorst, Heat Index: Shawn Marion and the Dallas scheme are working on him. But the major reason was his complete vacant approach, especially in the second half when the Heat were in trouble. To avoid the ball and to not attempt to take advantage of mismatches is extremely out of character.
---
2. Fact or Fiction: 8 points + 9 boards + 7 dimes = bad game for LeBron.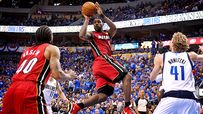 Henry Abbott, TrueHoop: Fact. Among his worst in recent memory.

John Krolik, Heat Index: Fact. Absolute fact. LeBron had some nice passes and had a few good rebounds, but he is not a role player, and he played like one. He seemed content to play more like the guy guarding him, Jason Kidd -- the 38-year-old version of Kidd -- than Michael Jordan. That's unacceptable.

Rob Mahoney, Two-Man Game: Fiction. That stat line itself isn't necessarily indicative of a bad game. If LeBron put up those same numbers while playing in the flow of the game and played great D in the process, it could still be a passable performance. But James was never really a functional part of the offense, and the Heat paid the price.

Michael Wallace, ESPN.com: Fact. Those numbers would represent a great game for Jason Kidd. And it would get Mario Chalmers a lengthy contract extension. But that's a C-minus game from LeBron at this stage of the season. Sure, he flirted with a triple-double. But he failed his team with that Shane Mosley-type performance.

Brian Windhorst, ESPN.com: Fact. Not because of the stats. But because of the way he played. Anyone can have a bad shooting game. However, playing as detached and passive as LeBron did, with a Finals game at stake, is very hard to explain. It is out of his character 99 percent of the time. But this is not the first time we've seen it.
---
3. Fact or Fiction: LeBron lost this game.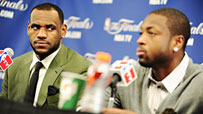 Henry Abbott, TrueHoop: Fact. Anything that would have gotten the Heat four points would have done. But the low-hanging fruit came from James, who passed on chances to use his considerable physical advantages to make athletic plays at the rim, even while he was guarded by an exhausted-looking, 38-year-old Jason Kidd.

John Krolik, Heat Index: Fact. In a game that close, a 3-for-11 shooting performance from LeBron, and zero points in the fourth quarter, sticks out like a sore thumb. Wade looked dominant, the Miami bench outplayed the Dallas bench, and Bosh did his part. This one was 100 percent on LeBron.

Rob Mahoney, Two-Man Game: Fiction. LeBron wasn't the singular reason why Miami lost. Dallas' defense locked in (on LeBron and on everyone else), and the Heat never had an answer for the zone aside from Wade's isolation brilliance. Miami's inability to convert shots in the first half turned out to be a killer, as did its poor defensive rebounding in the second half.

Michael Wallace, ESPN.com: Fact. I understand that anyone is capable of having an off night. But Dwyane Wade's off nights result in 3-for-20 shooting efforts from the field with five or six turnovers while trying to force the action. LeBron wasn't even aggressive enough to stink up the joint. If he scores just four more points, Miami wins that game.

Brian Windhorst, ESPN.com: Fiction. I never think any one player wins or loses a game. But of all the star players on both sides, LeBron was the only one not to show up. The Heat clearly needed something, anything, from him in the fourth quarter, and he vanished.
---
4. Suggestion box: What should LeBron and the Heat do to get him going?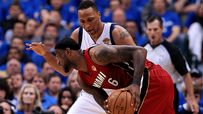 Henry Abbott, TrueHoop: This time of year I find there's nothing like two shots of espresso. In all seriousness, we all know that you work hard every day, and get great results some days. Just life. If he just keeps working, most nights he'll get dramatically better results.

John Krolik, Heat Index: Run him off some pin-downs and screens, but mostly it's on LeBron -- he needs to be aggressive and set the tone of the game himself, rather than trying to let his teammates and opponents dictate the flow of the game. He's far too good to be content to just be a part of a game plan. He needs to make things happen so that the game plan is built around him.

Rob Mahoney, Two-Man Game: Utilize more James-Wade pick-and-rolls. Erik Spoelstra hasn't been willing to fully integrate the 2-3 pick-and-roll into his offense, but James needs a jump start. Use James in either capacity, but by involving him in plays directly with Wade, the Mavs' defense will be forced to adjust its pick-and-roll strategy and make some difficult decisions.

Michael Wallace, ESPN.com: (A) Show him film when he was attacking against Boston and Chicago. (B) Plant him in the post every time Jason Kidd or Soulja Boy is guarding him. (C) Get him off the ball and make him a finisher instead of a facilitator. (D) Forward him that post-Decision email from Dan Gilbert.

Brian Windhorst, ESPN.com: LeBron is at his best when he has the ball in his hands and is going to the basket. The Heat need to try to get him some confidence by getting him in a comfortable position. Force him into attacking mode instead of deferring mode. Don't even let him go into that corner for a while.
---
5. What do you expect from LeBron in Game 5?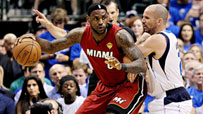 Henry Abbott, TrueHoop: A concerted effort to ignore the avalanche of goofy insinuations that he is somehow incapable of shining under pressure -- even though at the age of 26 he has already authored several of the best individual playoff runs in NBA history.

John Krolik, Heat Index: Honestly, I don't know. I've followed LeBron's career as closely as anybody since I've been in middle school, and I officially have no idea what to expect from him at this point. I've seen him back down from challenges. I've seen him step up and do amazing things when it matters most. I feel like LeBron loves winning more than he hates losing, loves passing as much as he loves scoring, and doesn't really care what others think of him. He could go for 40 next game, he could go for four. Neither would surprise me.

Rob Mahoney, Two-Man Game: A good, but not great, LeBron James performance. Dallas' defense has done a good job, but James is the best basketball player on the planet. It's only a matter of time before he makes a serious impact on this series, and that could start in Game 5.

Michael Wallace, ESPN.com: It would be easy here to say a breakout game. But LeBron had all the motivation in the world to come up big in Game 4 and passed -- literally -- on the opportunity. First and foremost, I'd expect LeBron to apologize personally to Dwyane Wade if he hasn't done so already. Beyond that, your guess is as good as mine.

Brian Windhorst, ESPN.com: LeBron averaged 25 points a game in the regular season and 25 points in the first three playoff series. In six games against Dallas this season, including the regular season, the most he's had is 24. I'm not so sure we should expect a "breakout" scoring game; clearly, Wade is finding better success. But I do expect LeBron to play with a lot more energy. It might be impossible to play with less.
---


ESPN.com and the TrueHoop Network
Henry Abbott writes for ESPN.com and TrueHoop. Michael Wallace and Brian Windhorst write for ESPN.com and the Heat Index. John Krolik and Rob Mahoney write for the TrueHoop Network.
• Follow ESPN's NBA coverage on Twitter | On Facebook