In Big D, the long-suffering local faithful are called MFFL: Mavs Fans For Life. And now their team can finally be called champs.

The Dallas Mavericks capped their 11th straight season with 50 or more wins by knocking off the favored, much-reviled Miami Heat in six games to take their first NBA title, five years after the Heat scorched them in the Finals.

To sum up a thrilling series and put Dirk Nowitzki, LeBron James and the two teams in perspective, we asked five seasoned writers for their takes on the 2011 NBA Finals -- and we asked who should be favored to hoist the trophy in 2012.

Here's 5-on-5:
1. How do you explain the dark horse Mavericks' surge to the NBA title?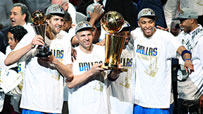 J.A. Adande, ESPN.com: I'll go with Jason Kidd's explanation (after all, he was there). When Caron Butler and Dirk went down, the Mavericks realized they had to get mentally tougher. That resolve got them through dire situations throughout the playoffs. They never felt out of it. Reminds me of an upgraded version of the 2001 76ers. Plus, Rick Carlisle made winning coaching moves, like the early zone in Game 6.

Henry Abbott, TrueHoop: Rick Carlisle pulled all the right strings, Dirk Nowitzki was the best he has ever been, Jason Terry was en fuego. And worth noting: The Mavs were killer in the first part of the season. Then Dirk got banged up, and they fell in the standings a bit. But when healthy, they always rolled.

John Hollinger, ESPN.com Because timing is everything. They weren't the best regular-season team, but at the right time everything came together for them, and their offense went up another level.

Brian Windhorst, Heat Index: There was no deeper team this season than Dallas, with a quality player at every spot, 1 to 9 -- they were even able to cope with the loss of Caron Butler and then Brendan Haywood.

It took them years to get there but Mark Cuban's asset collection finally found a perfect rhythm. It was a flexible, dependable and experienced team at every position. That, plus Dirk Nowitzki had one of the best postseasons of the last 25 years, and you need greatness from stars to win.

Marc Stein, ESPN.com: Dirk has never played better. No Mavs team has ever played defense like this. Almost every single player on the roster, all the way down to Corey Brewer, made a game-turning contribution at some stage. And they won at least one game in each of the last three rounds that they "shouldn't" have won: Game 1 in L.A. against the Lakers, Game 4 in OKC and Game 2 in Miami.
---
2. Can you explain how the Heat lost a Finals they were expected to win?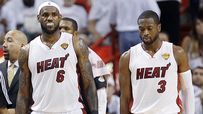 J.A. Adande, ESPN.com: The playoffs reveal the essence of men and teams, and all the flaws we witnessed with this Heat team during the low parts of the regular season returned with a vengeance in this series. We saw a team with an inexperienced head coach, a team that had trouble closing games, and by Game 6, a team that once again didn't keep Chris Bosh involved in the offense. Meanwhile, they lost their greatest trait: a lockdown defense.

Henry Abbott, TrueHoop: LeBron James was a shadow of himself. And you know how the Mavericks benched Peja Stojakovic entirely due to matchup problems? The Heat had already done that to half the roster, and could have done the same thing with Joel Anthony, Mike Miller (in Game 6) and Mike Bibby. Too many players gave very little.

John Hollinger, ESPN.com They weren't able to score on Dallas as easily as they should have, for which there are three causes: (1) LeBron's passivity, (2) LeBron's lack of trust in his post game and (3) Miami's riding Mike Bibby for five games.

Brian Windhorst, Heat Index: The Heat won the Celtics and Bulls series in five games, but that was deceptive. Closing out so many games brilliantly covered up some holes. Against Dallas they ran into a bit of a slump, yes, but they also were dealing with a team that closed games better. That eliminated Miami's margin for error.

Marc Stein, ESPN.com: I had the Mavs in six going in. Doesn't happen often that I hit 'em that squarely, but that means I obviously get to mock this question. Actually, though, my other big pre-Finals prediction came in, too. I firmly believed that the Mavs' only hope for winning it all depended on Dallas knocking LeBron out of the zone he was in, because we had never seen him play so well for such an extended period like he had in the first three rounds of the playoffs. The combination of the Mavs' constant switching between hard blitzes on pick-and-rolls and sagging back into a zone -- along with the physical toll chasing Jason Terry around caused -- indeed knocked LeBron off stride.
---
3. How will LeBron's first post-Decision postseason be remembered?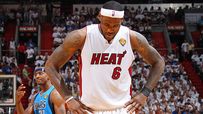 J.A. Adande, ESPN.com: This is the year LeBron James separated himself from the all-time greats … and not in a good way. We'll remember this for the regression in June rather than the apparent breakthrough versus Boston in May. This is the third consecutive year he's lost a playoff series in which he had home-court advantage. The greats don't do that.

Henry Abbott, TrueHoop:
This is the best team he has ever played on, and making it to Game 6 of the Finals more than justifies switching teams. But this whole season has been a referendum on his character, and because he still lacks a ring and was near-paralyzed as the pressure ratcheted up, it will be seen as a disaster, and proof of the theory that he is flawed.

John Hollinger, ESPN.com Nobody will remember that James tore up the Celtics and Bulls, because what we saw last was James disappearing in the fourth quarters of five straight games against Dallas. It will be seen as a failure, and given expectations, that's deserved.

Brian Windhorst, Heat Index: Fair or not, it will be remembered for these Finals. He had an excellent regular season and played some dynamic defense all year long. He had his best year ever shooting the jumper. It was by far his most complete and versatile season. But his finish stains the whole thing, largely because it appears as if he choked under pressure, and that's a cardinal sin for most fans.

Marc Stein, ESPN.com: As a flop on the brink of some real told-you-so glory in Year 1. And as the prelude to a season of even greater scrutiny and pressure. Assuming we get to next season eventually.
---
4. What is Dirk Nowitzki's place in NBA history?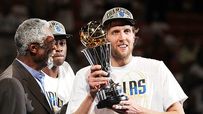 J.A. Adande, ESPN.com: We'll start with calling Dirk the greatest European player in NBA history. That might sound overly specific, but we should acknowledge the unique challenges of flourishing without a great basketball culture in his region, then doing so well in a foreign land. Can't put him in the Jordan-Magic-Bird category, though … not when the playoff disappointments far exceed this stellar run.

Henry Abbott, TrueHoop:
He has long been stellar, but a huge chunk of the NBA thought leaders adhere to the theory that 100 percent of truly great players win titles. Now he gets to move into the pantheon. His career has been full of hassles. Not crises, but nagging challenges. Now he gets some daylight.

John Hollinger, ESPN.com
He's moved up a notch in the pantheon and now has a legitimate argument as one of the 20 best players of all time. I'm not sure he can do much of anything at this point to move much further up or down the list.

Brian Windhorst, Heat Index: His trophy case has an MVP, a Finals MVP and a title. He's been one of the best power forwards the game has ever seen. He's stayed with the same team and gotten better with age, overcoming some trying times after he had been a part of blowing a Finals. And he's the greatest European player the league has ever seen.

Marc Stein, ESPN.com: Too soon to say because I fully expect Mark Cuban to somehow acquire a new, young star that will allow Dirk to move into the Robin role as he gets a little older, not unlike David Robinson getting his Tim Duncan in 1997. Which means that Dirk is the rare Mav for whom this was not a last chance.

But even if it turns out to be the only ring he wins, it still takes his résumé to amazing new places, especially since he won it with the sort of roster that defies the logic of modern NBA team-building. The new editor over at Grantland.com threw out the notion that Dirk is a top-20 player all time now. No argument here.
---
5. What memories will you take from the 2011 NBA Finals?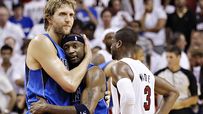 J.A. Adande, ESPN.com: I'd rank this No. 3 among the 14 NBA finals I've covered (1. 1993; 2. 1997.) I'll remember the back-and-forth in all the games, the uncertainty that surrounded the series, and the fact I've never seen the balance of power shift so dramatically, when it looked like the Mavs couldn't win after the first three games, then seemed as if they couldn't lose over the last three. And, of course, I'll remember LeBron. To him it must feel like waiting for the next Olympiad to get his shot at redemption.

Henry Abbott, TrueHoop:
I just watched Dirk Nowitzki -- off-camera, just a guy -- carry the Larry O'Brien Trophy across the court. The few fans still lingering saw him and hollered. He hoisted it high, and gave the most incredibly profound grin. Pure satisfaction. Not that he will, but if he were to retire tomorrow, I believe he'd do so entirely fulfilled.

John Hollinger, ESPN.com An outstanding series that saw one all-time great's legacy burnished (Nowitzki), one's tarnished (LeBron), and one's largely unchanged (Wade). And an ironic series, in that it played out almost exactly opposite the 2006 Dallas-Miami series.

Brian Windhorst, Heat Index: The remarkable story of Jason Terry. People don't always like trash talkers, but he backed up everything he said. He was never afraid of the moment and never backed down from a tough shot. After missing the last shot of Game 6 in 2006 and admitting he'd thought about it so much for years, coming back and playing a huge game in Game 6 to close out the Heat was poetic. And memorable.

Marc Stein, ESPN.com: The Dallas comeback in Game 2 that changed everything. How smooth LeBron's 3-point stroke looked in Game 1 … and how briefly that lasted. Dirk's play with the flu in Game 4. Wade and LeBron mocking Dirk's sinus infection on camera before Game 5. Dirk's fourth-quarter dominance. Ian Mahinmi's one-legged Dirk imitation in Game 6. And Chris Bosh feeling so good about himself at the end of a long season of punch-taking that he became the Heat's voice of reason at the interview podium.
---
Bonus Question: Who should be favored to win the 2012 NBA title?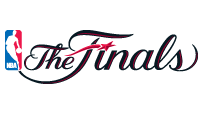 J.A. Adande, ESPN.com: The Miami Heat. They'll have had a full year together and now have the added motivation of revenge.

Henry Abbott, TrueHoop: I'll take Bulls over Thunder in the Finals.

John Hollinger, ESPN.com Pending the new CBA, I'll say Oklahoma City.

Brian Windhorst, Heat Index: The NBA owners.

Marc Stein, ESPN.com: I'll answer as soon as you tell me where Dwight Howard is playing. Realistically, though, it won't be the Mavs, since this group was clearly built to win now, and Dallas -- cold as it sounds -- has to dive in and start thinking about how it intends to retool with some youth and speed around Dirk.
---


ESPN.com and the TrueHoop Network
J.A. Adande, John Hollinger and Marc Stein write for ESPN.com.
Henry Abbott leads the TrueHoop Network. Brian Windhorst writes for the Heat Index.
• Follow ESPN's NBA coverage on Twitter | On Facebook