The 2012 postseason has featured two instant-classic performances: Rajon Rondo's amazing 44-8-10 game and LeBron James' cold-blooded 45-15-5 follow-up to save Miami's season.
To put these games into perspective, we asked our writers to select the best playoff performances ever in the modern era, 1978 to 2012.
Here are our selections for the top 25:
25. Dwyane Wade, Heat: 2006 NBA Finals, Game 3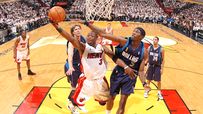 Dwyane Wade drew favorable comparisons to Michael Jordan after Game 3 of the 2006 NBA Finals. With his Heat down 2-0 in the series and trailing the Dallas Mavericks by double digits late in Game 3, Wade went to work. He scored 15 fourth-quarter points to deliver the victory and salvage the series, finishing with 42 points, 13 rebounds, two assists and two steals. A week later the Heat won the title and Wade was named NBA Finals MVP.
---
24. LeBron James, Cavaliers: 2009 Eastern Conference finals, Game 1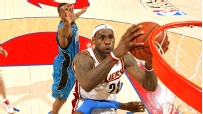 The Cleveland Cavaliers came into this game undefeated for the postseason, having swept the Pistons and Hawks in the first two rounds of the 2009 NBA playoffs. Cavs forward LeBron James was well-rested and ready for Game 1 of the East finals against the Orlando Magic. He made 20 of 30 field goals, scored 49 points and tallied eight assists, six rebounds and three blocks. Still, the Cavs lost the game and the series to Dwight Howard's Magic.
---
23. Michael Jordan, Bulls: 1988 Eastern Conference first round, Game 2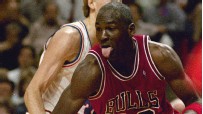 Michael Jordan victimized every team in the NBA during his reign with the Chicago Bulls. But he might have had a special thing for the Cleveland Cavaliers. He broke Cavs fans' hearts on a number of occasions, including Game 2 of the 1988 Eastern Conference first-round playoff series. Jordan dropped 55 points on the Cavs, shooting 24-of-45 from the field. He also hauled in six rebounds, had four steals and dished out three assists.
---
22. Rajon Rondo, Celtics: 2012 Eastern Conference finals, Game 2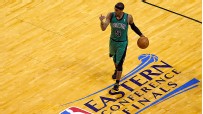 At times, Boston Celtics point guard Rajon Rondo appears to have superpowers. Rondo makes plays that mere mortals should not be able to make. In Game 2 of the 2012 Eastern Conference finals against Miami, Rondo put in a superhuman effort. He played all 53 minutes, scored 44 points, handed out 10 assists and grabbed eight rebounds. Rondo scored all of Boston's 12 points in overtime, but the Celtics lost to the Heat.
---
21. Michael Jordan, Bulls: 1993 Eastern Conference semifinals, Game 4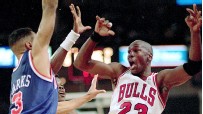 Michael Jordan was immensely talented as a basketball player. Yet despite his overall greatness, MJ was not known as an outstanding 3-point shooter. For his career, Jordan shot just 32 percent from downtown. But with the Chicago Bulls down 2-1 to the hated New York Knicks in Game 4 of the East semifinals, Jordan made 6 of 9 3-pointers on his way to 54 points in the 105-95 win. His line: 54 points, 6 rebounds, 2 assists, 2 steals.
---
20. Michael Jordan, Bulls: 1992 Eastern Conference first round, Game 3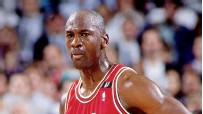 Maybe this is why there's a banner with Jordan's name and number on it in AmericanAirlines Arena in Miami. Jordan and the Chicago Bulls swept the Miami Heat 3-0 in the first round of the 1992 Eastern Conference playoffs. In the clincher, Jordan made 20 of 30 field goals and 16 of 18 free throws for 56 points. He also had five rebounds and five assists and chipped in on the defensive end with four steals and two blocks.
---
19. Kobe Bryant, Lakers: 2001 Western Conference semifinals, Game 4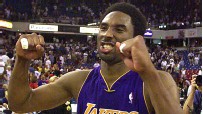 Kobe Bryant's impressive 48-point, 16-rebound, 3-assist outing helped the Los Angeles Lakers sweep the Sacramento Kings in the 2001 Western Conference semifinals. Bryant's dominant performance would launch him to the second of three straight NBA titles with the Lakers. L.A. lost only one game in the entire '01 playoffs ... a surprising overtime defeat at the hands of the Sixers at home in Game 1 of the NBA Finals.
---
18. Sleepy Floyd, Warriors: 1987 Western Conference semifinals, Game 4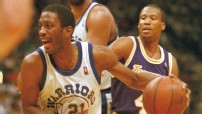 "The Sleepy Floyd Game" has a special place in NBA history because it was so unexpected. Floyd set the NBA playoff record for points in a quarter (29) and half (39) in a Warriors win over the Lakers. Floyd had scored just 19, 11 and 14 points in the first three games of the 1987 Western Conference semifinals; then, in Game 4 he exploded for 51 points, 10 assists, 4 steals and 3 rebounds.
---
17. Charles Barkley, Suns: 1993 Western Conference finals, Game 7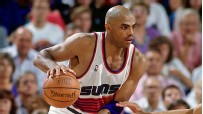 With a trip to the NBA Finals on the line, Charles Barkley delivered for the Phoenix Suns. Sir Charles scored 44 points and grabbed 24 rebounds in this Western Conference finals Game 7 victory over the Seattle SuperSonics. Barkley put loads of pressure on the Sonics' defense and earned many trips to the free throw line. He made 19 of 22 free throws while helping to get Shawn Kemp to foul out after 39 minutes of action.
---
16. Michael Jordan, Bulls: 1989 Eastern Conference first round, Game 5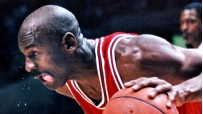 Known simply as "The Shot," this one still gives Cleveland sports fans a stomachache. Michael Jordan's game-winning, series-clinching jump shot over a helpless Craig Ehlo lifted the Bulls to a 101-100 victory against the favored Cavaliers in this 1989 Eastern Conference first-round series. Jordan finished with 44 points, nine rebounds and six assists. The shot, the make, the leap and the wild, fist-pumping celebration are among the most iconic images in NBA history.
---
15. Isiah Thomas, Pistons: 1988 NBA Finals, Game 6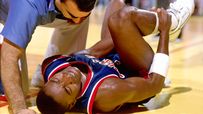 The pictures are burned into our basketball memory banks. Detroit Pistons guard Isiah Thomas making shot after shot while hopping up and down the court on one foot. It was Game 6 of the 1988 NBA Finals against the Los Angeles Lakers and Thomas, playing on a sprained ankle, somehow produced a 24-point third quarter that nearly gave Detroit an upset victory and title. Thomas finished with 43 points, eight assists and six steals, but the Lakers won the game and the title in seven.
---
14. Tim Duncan, Spurs: 2003 NBA Finals, Game 1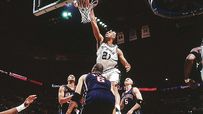 When you talk about total domination in an NBA playoff game, this ranks at or near the very top. San Antonio Spurs big man Tim Duncan completely frustrated the New Jersey Nets at both ends of the floor in Game 1 of the 2003 NBA Finals. Not only did he have a big offensive night, but his effort on the defensive end of the floor was equally noteworthy. His line: 32 points, 20 rebounds, 6 assists, 7 blocks, 3 steals.
---
13. Charles Barkley, Suns: 1993 Western Conference finals, Game 5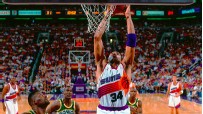 In his prime, Charles Barkley was a bucket-getter extraordinaire. He was a high-volume, high-percentage scorer. And that's what he did in Game 5 of the 1993 Western Conference finals between the Phoenix Suns and the Seattle SuperSonics. Sir Charles muscled his way to a tremendous 43-point night, shooting 16-of-22 from the floor and a perfect 11-for-11 from the line. He also managed to pick up 15 rebounds and 10 assists in the Suns' 120-114 victory over the Sonics.
---
12. Dirk Nowitzki, Mavericks: 2011 Western Conference finals, Game 1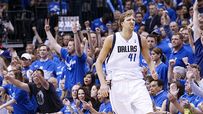 Dallas Mavericks forward Dirk Nowitzki was unstoppable at the start of Game 1 of the 2011 Western Conference finals against the Oklahoma City Thunder. Nowitzki made 10 of his first 11 shots en route to a 48-point night. Nowitzki also made an NBA playoff-record 24 straight free throws. The Mavs had nine days off before the start of the Thunder series. Nowitzki said he got in some extra shooting practice during the layoff between rounds.
---
11. Michael Jordan, Bulls: 1993 NBA Finals, Game 4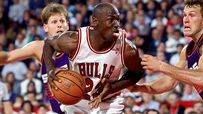 Michael Jordan exploded for 55 points against Charles Barkley and the Phoenix Suns in Game 4 of the 1993 NBA Finals in Chicago. The Bulls, who were going for their third straight title, picked up their only home win in the series in this game. Jordan became the first player to score 40 or more points in four straight NBA Finals games. He averaged 41 points for the series, along with 8.5 boards and 6.3 assists, and amazingly committed only 16 turnovers in the six games.
---
10. Shaquille O'Neal, Lakers: 2000 NBA Finals, Game 1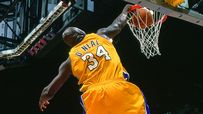 Los Angeles Lakers center Shaquille O'Neal set the tone for the 2000 NBA Finals in Game 1 with a 43-point, 19-rebound statement against the Indiana Pacers. O'Neal was at or near his powerful peak at the turn of the century and, on this night, Pacers center Rik Smits could not handle the Mighty Diesel. The Lakers took the series in six. It was the first of three straight titles for Los Angeles.
---
9. LeBron James, Heat: 2012 Eastern Conference finals, Game 6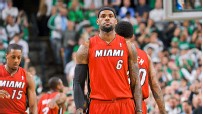 LeBron James scores in any number of ways. He uses post-ups, turnarounds, pull-ups, half hooks, drives, dunks, putbacks, 3s, bank shots, floaters and more. It seemed like James unleashed his entire arsenal of scoring weapons against the Celtics in Game 6 of the 2012 Eastern Conference finals. James ended up with 45 points (19-of-26), 15 rebounds and five assists in a game his Miami Heat needed to win to stay alive in the playoffs.
---
8. Hakeem Olajuwon, Rockets: 1987 Western Conference semis, Game 6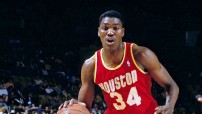 It is not easy to get on this list ... especially if you have a great performance but your team ends up losing the game. That's the situation here with Houston Rockets center Hakeem Olajuwon. The Seattle SuperSonics beat the Rockets 128-125 in double overtime in Game 6 of the 1987 Western Conference semifinals, and the loss knocked the Rockets from the playoffs. But Olajuwon's brilliant 49-point, 25-rebound, six-block game is certainly worthy of high honors.
---
7. Charles Barkley, Suns: 1994 Western Conference first round, Game 3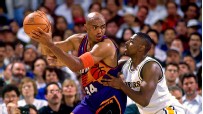 As far as pure offense goes, this might be the very best playoff performance of all time. Against the Golden State Warriors in the first round of the 1994 Western Conference playoffs, Phoenix Suns forward Charles Barkley poured in 56 points on 23-of-31 shooting. Barkley shot an incredible 74 percent from the field, 75 percent on 3s and 77 percent from the free throw line. Barkley was one of 11 players in double figures and the Suns beat the Warriors, 140-133.
---
6. Michael Jordan, Bulls: 1998 NBA Finals, Game 6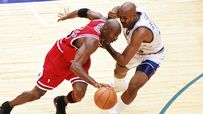 This game will be remembered for Michael Jordan's "push-off and pose" jumper that sent Utah Jazz defender Bryon Russell sliding toward the lane and the Chicago Bulls to their sixth championship of the MJ era. Jordan piled up 45 points on 15-of-35 shooting and, in typical Jordan fashion, was money down the stretch. As the final seconds ticked off the clock, Jordan scored on a drive, stole the ball from Karl Malone and then offered his iconic game-winning shot to earn the 1998 NBA championship.
---
5. James Worthy, Lakers: 1988 NBA Finals, Game 7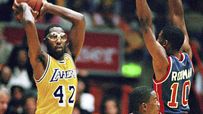 It doesn't get any bigger than Game 7 of the NBA Finals, so "Big Game" James really earned his nickname in this one. Playing for the title at home against the Detroit Pistons, Worthy had 36 points, 16 rebounds and 10 assists. Worthy's first triple-double was good enough to lead the Lakers to back-to-back championships and earn him the 1988 NBA Finals MVP award.
---
4. LeBron James, Cavaliers: 2007 Eastern Conference finals, Game 5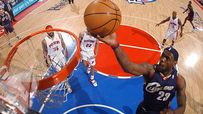 LeBron James scored 29 of the Cavaliers' final 30 points against the Pistons at The Palace of Auburn Hills to lift his team to within a game of the NBA Finals. In this double-overtime thriller, James attacked the rim time and time again, throwing down numerous thunderous dunks. James finished with 48 points on 18-of-33 shooting from the field. He also had nine rebounds, seven assists and two steals.
---
3. Michael Jordan, Bulls: 1986 Eastern Conference first round, Game 2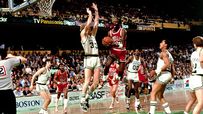 "That was God disguised as Michael Jordan." Larry Bird said that after Jordan put up 63 points on the Celtics in a double-overtime, first-round playoff game at the Boston Garden in 1986. Jordan had been out almost the entire year with a broken foot but returned late in the season to get the Bulls into the playoffs. The series went the minimum, as the eventual champs swept Chicago, but Jordan's spectacular performance set a playoff scoring record that still stands.
---
2. Michael Jordan, Bulls: 1997 NBA Finals, Game 5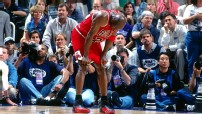 This is Michael Jordan's legendary "Flu Game" against the Utah Jazz from the 1997 NBA Finals. Jordan was clearly ill when he came to work the night of Game 5. He got off to a very slow start and the Jazz built a double-digit first-half lead. But as the game wore on, Jordan started to stack up points, despite obvious health issues, and led the Bulls back into contention. The Bulls edged out the Jazz in Game 5 and ended up winning the series in six games.
---
1. Magic Johnson, Lakers: 1980 NBA Finals, Game 6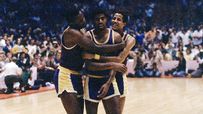 With MVP center Kareem Abdul-Jabbar out of the lineup with an ankle injury, things didn't look great for the Lakers heading to Philadelphia for Game 6 of the 1980 NBA Finals. That's when Earvin "Magic" Johnson uttered his famous line, "Never fear ... E.J. is here." The Lakers' rookie point guard started at center in Game 6 and drove L.A. to the series-clinching victory over the Sixers. Johnson stuffed the stat sheet with 42 points, 15 rebounds, 7 assists, 1 block and 3 steals.
---
---
Honorable mention: Best single-game performances pre-1978
Kareem Abdul-Jabbar, Lakers: 1974 Western Conference finals, Game 2
Abdul-Jabbar had 44 points (20-for-29) and 21 rebounds. The Bucks led by 20 points four minutes into the third quarter, but the Bulls got within three points twice in the final period at 94-91 and 104-101. The Bucks won the game, 113-111.
Wilt Chamberlain, Lakers: 1972 NBA Finals, Game 5
It wasn't so much Chamberlain's stat line that stuck out; it's the fact that he took an anti-inflammatory injection before the game and played with his hand heavily bandaged (and reportedly broken). The Lakers won the game 114-100 over the Knicks, giving them their first title since moving to Los Angeles.
Walt Frazier, Knicks: 1970 NBA Finals, Game 7
Overshadowed by Willis Reed playing with a torn thigh muscle, Frazier tallied 36 points (12-for-17 from the field, 12-for-12 from the line), 19 assists and seven rebounds, leading the Knicks to a 113-99 win and their first NBA championship.
Jerry West, Lakers: 1969 NBA Finals, Game 1
West went off for 53 points (21-for-41) and 10 assists as the Lakers beat the Celtics 120-118 to take Game 1 of the NBA Finals.
Bill Russell, Celtics: 1962 NBA Finals, Game 7
The memory is Bob Cousy burning time off the clock at the end of overtime by dribbling around the backcourt, but it was Bill Russell's 30 points and 40 rebounds that helped the Celtics beat the Lakers 110-107 in OT and win the NBA title.
Elgin Baylor, Lakers: 1962 NBA Finals, Game 5
Baylor set a Finals record, and then-postseason record, with 61 points (22-for-46 from the field, 17-for-19 from the line) against the Celtics in Boston for a 126-121 Lakers win that gave Los Angeles a 3-2 series lead. He also grabbed 22 rebounds.
Bob Pettit, Hawks: 1958 NBA Finals, Game 6
Pettit scored 50 points, including 19 of his team's last 21 points, in a 110-109 win that gave the Hawks their only NBA championship. His final basket came on a tip-in with 15 seconds remaining. He also collected 19 rebounds.
Bill Russell and Tom Heinsohn, Celtics: 1957 NBA Finals, Game 7
The Celtics won their first NBA title behind the play of two Boston rookies. While the Celtics beat the Hawks 125-123 in double overtime, Russell had 19 points and 32 rebounds and Heinsohn had 37 points and 23 rebounds. The Hawks had a final shot to win, but Bob Pettit's shot rolled off the rim.
Joe Fulks, Warriors: 1947 NBA Finals, Game 1
In the first NBA Finals, Fulks put on an exhibition for the home fans in Game 1, scoring 37 points -- with 29 in the second half. The Warriors won 84-71 in Game 1 and won the series in five games.
Statistical support provided by NBA.com.
John Hollinger and Peter Newmann contributed to this report.


Voting panel from ESPN.com and TrueHoop Network:
J.A. Adande, Kevin Arnovitz, Jovan Buha, Chris Forsberg, D.J. Foster, Israel Gutierrez, Tom Haberstroh, John Hollinger, Rahat Huq, Dave McMenamin, Rob Peterson, Robert Silverman, Michael Wallace, Ryan Weisert, Brian Windhorst.
Follow the NBA on ESPN on Twitter | On Facebook | On Google+