The reigning league MVP, Derrick Rose, is done for the playoffs, but does that mean the Bulls should lower their expectations? Our 5-on-5 crew weighs in on the Bulls-versus-Sixers series and predicts just how far Chicago can advance this postseason.
1. Fact or Fiction: The Bulls are still the favorites in this series.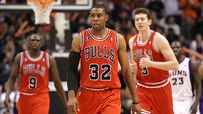 Nick Friedell, ESPN Chicago: Fact. The Bulls have more talent and they will rally around each other in Rose's absence. In the words of Tom Thibodeau, they still have "more than enough to win with."
Zach Harper, Daily Dime Live: Fact. Without Rose this team is still very formidable to a team like Philly, which has failed to find consistency since its hot start. Chicago is a really good offensive rebounding team, so more John Lucas III jumpers means it has more chances for putbacks. See what I did there?
Matt McHale, By The Horns: Fact. The Bulls have a 27-game sample without Derrick Rose this season, and their winning percentage in those games (.666) is better than Philly's overall winning percentage (.530). The Rose-less Bulls are better than these Sixers and should win a close series.
Tom Sunnergren, Philadunkia: Fact. While the gap between the two teams has been narrowed, the Bulls, minus their MVP, are still the sounder squad. I'm gonna get reductive on this: In one corner, we have a Philadelphia team that went 15-22 in the back end of the season; in the other, we have a Chicago group that went 18-9 as presently constructed -- sans Rose. The fact that the Bulls are already up a game doesn't hurt either.
Ethan Sherwood Strauss, HoopSpeak: Fact. The 76ers weren't quite at the level of the Rose-less Bulls this season, so my imaginary money is on Chicago. Don't sleep on Philadelphia, though, even if its half-court offense feels like a gallon of tryptophan down the gullet.
---
2. Fact or Fiction: The pressure is now on Tom Thibodeau.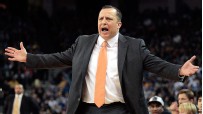 Friedell: Fiction. He lost his best player. Granted, he is taking a lot of heat in Chicago for keeping Rose on the floor late in Game 1, but the truth is that nobody expects much from the Bulls now. Thibodeau can show once again why he is such a good coach if he continues to win without Rose.
Harper: Fiction. This team just got a free pass for the rest of the playoffs with the Rose injury. The Bulls shouldn't have any pressure right now because nobody is expecting them to contend anymore. Thibodeau will be under fire for a bit because he left Rose in, but it's rare that a coach would get extra pressure for a series.
McHale: Fiction. Rose's injury has radically altered expectations. The Bulls have gone from championship contenders to scrappy underdogs … at least in the minds of everybody outside of their team huddle. All of which means any winning the team does now will increase his prestige much more than losing will diminish it.
Sunnergren: Fiction. The pressure on Thibodeau has never been lower. Suddenly robbed of his superstar, the rug pulled out from under them, I don't think the media would blame the Bulls for anything at this point -- save maybe a Richie Tenenbaum-style breakdown from Joakim Noah. So the expectations have been lowered from "Title or Bust" to "Let's make sure our center keeps his socks on." The Rose injury adds frustration, but definitely not pressure.
Strauss: Fiction. For job-security purposes, this tragic event is nothing but upside for Thibs. Expectations are tempered, and high expectations get more coaches fired than unhappy superstars.
---
3. Fact or Fiction: If it loses this series, Philly should fire Doug Collins.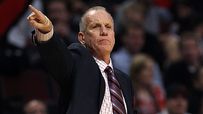 Friedell: Fiction. Talent wins in this league, and the Sixers don't have enough of it right now to win consistently. Collins is still a great tactician -- give him another year, add another scorer and see what happens.
Harper: Fiction. Some want Philadelphia's young assets to grow up much faster than what is possible. Going from the end of November in the 2010-11 season to where they are now is a really nice progress. Collins' getting them to buy into what he wants is a big reason for that. Patience makes the heart grow fonder … or something.
McHale: Fiction. Coaches shouldn't be fired based on the outcome of a single playoff series. Still, Philly's front office will probably need to evaluate the situation considering there were reports last month of players arguing with Collins and possibly even turning on him. To me, that's much more of a concern than whether the Sixers can beat the Bulls.
Sunnergren: Fiction. Lest we forget, Doug Collins inherited what looked to be one of the least talented rosters in the NBA headed into 2010-11 and molded that worthless lump of clay into -- well, not really a juggernaut -- but a squad that has gone a respectable 76-72 since. How many coaches squeeze more wins out of this group?
Strauss: Fiction. I say "fiction" because these are not calls you make from afar. But I do hate his uncreative, long-2-heavy offense. Collins seems like Scott Skiles -- a hard-driving, defense-heavy coach who wears out players. It's great until your team has the talent to compete for something other than the eighth seed.
---
4. Fact or Fiction: The Bulls will make the conference finals.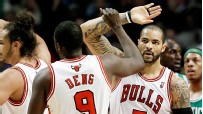 Friedell: Fact. The Bulls have enough to get past Philly and Atlanta/Boston. They've already beaten all those teams without Rose this season. Obviously, the playoffs are different, but the Bulls' bedrock principles remain the same. If they play solid defense and rebound, they have enough to make it to the Eastern Conference finals.
Harper: Fiction? I honestly have no idea how to judge their path to the ECF. They get the winner of Atlanta and Boston, and I don't know what to think there, either. I don't trust the Hawks to take advantage of this Bulls team. And I don't know that the Celtics can solve the Chicago defense that much. Then again, both teams could easily put them away.
McHale: Fact. Even without Rose, the Bulls are 10 deep, control the boards and feature a dominant defense. Oh, and they own home-court advantage in every possible playoff series. The Celtics and Hawks are both flawed teams with injury woes of their own. All things being equal, the Bulls should still be able to advance past whichever team survives that series.
Sunnergren: Fiction. Despite its inauspicious start, I see Boston grinding by Atlanta in Round 1, then having too much for CJ Watson & Co. in the semis. And yes, the fact the Bulls can now be referred to, non-ridiculously, as "CJ Watson & Co." influenced my pick.
Strauss: Fact: The Hawks and the Bulls are also depleted. The Celtics at their best pose a more formidable threat, but it's difficult for me to choose a bad offense against what Chicago still has, a poor rebounding team against one that crushes the glass like a recycling plant.
---
5. Fact or Fiction: The Bulls will make the NBA Finals.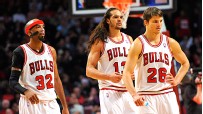 Friedell: Fiction. Ultimately, stars win in the postseason. The Bulls have only one superstar in Rose, and he tore his ACL on Saturday. Hard work and determination can only take the Bulls so far. The Bulls don't have enough star power to get past LeBron, D-Wade and the Miami Heat in a seven-game series.
Harper: Fiction. Did LeBron and Wade retire?
McHale: Fiction. The Bulls can't beat the Miami Heat without Derrick Rose. It's not even a given they could beat Miami with him.
Sunnergren: Fiction. The Bulls weren't going to get past the Heat with Rose and -- let me check my analytics handbook here -- yes, it looks like teams evidently get worse when you remove their best player from them. So that's a no.
Strauss: Fiction. I'm picking the Heat here, a team I would have fit for this spot before Rose got hurt.

ESPN.com and the TrueHoop Network
Nick Friedell covers the Bulls for ESPN Chicago. Zach Harper is the host of Daily Dime Live. Matt McHale, Tom Sunnergren and Ethan Sherwood Strauss contribute to the TrueHoop Network.
• Follow the NBA on ESPN on Twitter | On Facebook | On Google+