Entering the fourth quarter, the talk on Twitter was about how little LeBron James had done in Game 2 of the NBA Finals, despite the Miami Heat leading the San Antonio Spurs by five points. James quickly ended all that talk with one dynamic sequence, started with a block of Tiago Splitter at the rim. James followed that up with an assist on a Ray Allen 3-pointer and then a breakaway dunk, helping the Heat turn a close game into a blowout to even the best-of-seven series at 1-1. But it was the block that drew the biggest reaction from James' NBA colleagues.
Wow. What a block by LeBron. Simply sensational #NBAPlayoffs

— Meyers Leonard (@MeyersLeonard11) June 10, 2013
Block of the year!!!!!!!!!!!

— Jared Dudley (@JaredDudley619) June 10, 2013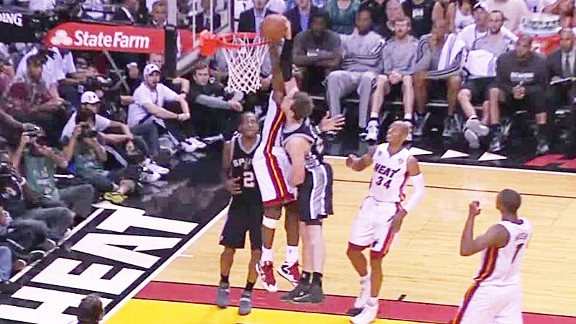 Lebron styling on them tonight

— Josh Selby (@joshselby32) June 10, 2013
Block, assist, dunk, up 24.

— Kendall Marshall (@KButter5) June 10, 2013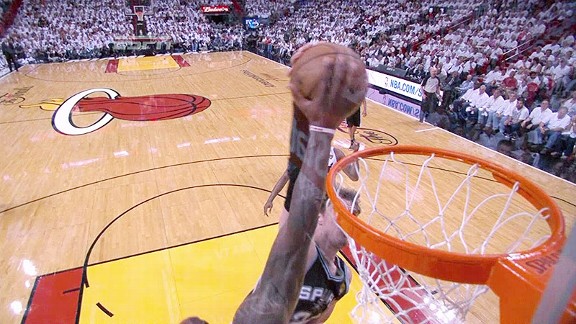 That block by Bron doe 😳

— vernonmacklin (@vernon_macklin) June 10, 2013
That sequence right there, by LeBron, is why he is the BEST.

— Justin Harper (@Tru_Harp32) June 10, 2013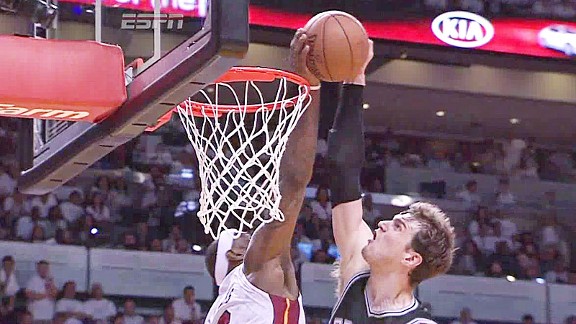 LeBron just gave y'all what ya really want to see smh #ontogame3

— Chris Wright (@SELF_MADEest89) June 10, 2013
Lebron said #NoSoupForYouTiago

— Ben Gordon (@BenGordon8) June 10, 2013
That was a NICE block

— Andrew Nicholson (@nicholaf44) June 10, 2013
That was one dope block! #BlocksOverDunks all day

— Roy Hibbert (@Hoya2aPacer) June 10, 2013
For full social media coverage of the NBA Finals, connect with the NBA on ESPN on Facebook, Google+ and Twitter.