Kobe Bryant may not have been in uniform, but he was still a vocal participant in the Los Angeles Lakers' Game 1 matchup with the San Antonio Spurs. Bryant, held up in his house after surgery to repair a complete tear of the Achilles tendon in his left leg, fired off a number of in-game tweets, most of which served as friendly suggestions on how to succeed against No. 2-seeded San Antonio. Were his tips on the mark? We take aim at a few choice #MambaTweets from the past few days:
To tweet or not to tweet.. I CHOOSE not 2. Focus should be on the team not my insight. @georgelopez voice "Can't DO nothin!"#vinospeare

— Kobe Bryant (@kobebryant) April 22, 2013
---
1. Fact or Fiction: Kobe was right to shut down his in-game tweeting.
J.A. Adande, ESPN.com: Fact. Sometimes there doesn't need to be any other reason besides the partner in the relationship doesn't like it. As fun and insightful as his in-game tweets were to the rest of us, any hint of Kobe trying to supersede the coach freaks out Mike D'Antoni. The Lakers' coach can find humor in almost anything, except the idea that Kobe is coaching the team via cellphone. The tweets aren't worth the discomfort they cause the coach.
Brett Koremenos, HoopSpeak: Fiction. I really didn't see anything wrong with Kobe putting his thoughts on the game out there. It was interesting to get his perspective on things while the game was happening, and it was good for fan interest. The only reason it came off as a distraction was that too many people wanted to make it one.
Aaron McGuire, Gothic Ginobili: Fiction. When you boil it down, the NBA is an entertainment league. Kobe's tweets were irreverent and edifying, giving the world at large a fun look into the mind of one of the NBA's most popular players. It's his decision, of course, but it's always sad to see entertaining things die. Sort of cuts against the heart of professional sports.
Andrew McNeill, 48 Minutes of Hell: Fiction. It's rare that we get such a smart basketball player like Bryant sitting on his couch watching the game like the rest of us, offering up his opinions in a public forum with little to no filter. Whether you agree or disagree with Bryant, the honesty was refreshing.
Darius Soriano, Forum Blue and Gold: Fact. Although Kobe didn't say anything inflammatory, the desire to make the tweets a bigger deal than they were was, as Kobe said, a distraction. While I trust the players and coaches to take what Kobe tweeted in stride, they don't need to be answering multiple questions about those statements in the middle of a playoff series.
---
Post. Post. Post.

— Kobe Bryant (@kobebryant) April 21, 2013
---
2. Fact or Fiction: L.A. needs to play more through its post players.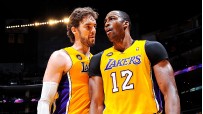 Adande: Fact. Especially now that their best shot creator has been reduced to their best tweeter. Not only can Dwight Howard and Pau Gasol score on the blocks, they can generate open looks for the jump shooters by drawing double teams. It's a no-brainer.
Koremenos: Fact. Without Bryant in the fold, all the Lakers guards and wings just don't have the skills to function as creators. That leaves all the heavy lifting for L.A.'s big men. Gasol and Howard need to dominate on the block early and often for this series to be competitive.
McGuire: Fact. But it's not that easy. L.A.'s best players are their two towers -- the more possessions they can put on the block the better. But Spurs coach Gregg Popovich is no fool. There's a reason San Antonio packs the paint and makes entry passes exceedingly difficult. Popovich knows that if the Spurs make post play intractable, the Lakers can't make them pay elsewhere.
McNeill: Fact. Then again, they don't have much of a choice. Steve Nash isn't healthy enough to run a pick-and-roll-heavy offense, so Los Angeles has to go into the post. The problem lies in the lack of a perimeter threat to keep the Spurs' wing defenders from doubling down when Gasol and Howard put the ball on the floor.
Soriano: Fact. Though what's needed isn't more desire to play through Gasol and Howard, but creativity in scheme to be able to do so. Simple post-ups will be taken away by a smart Spurs defense, and it's now on the Lakers' coaches to figure out adjustments to counter and limit San Antonio's ability to go inside.
---
What I would say if I was there right now? "Pau get ur ass on the block and don't move till u get it" #realtalk

— Kobe Bryant (@kobebryant) April 21, 2013
---
3. Fact or Fiction: The Lakers need more from Pau Gasol.
Adande: Fiction. They also don't need him taking up residency on the low block. He can be just as effective from the high post, feeding Howard down low. #mixitup
Koremenos: Fiction. The Lakers need more from their perimeter shooters. In Game 1, the team was 3-for-15 from beyond the arc. That just won't cut it.
McGuire: Fiction. The Lakers should be quite happy with 16-point, 16-rebound, six-assist nights from Gasol; the man has little more to give. Where the Lakers are lacking is in their backcourt and bench production. Dwight and Pau combined for 15-for-28 shooting (54 percent), 31 rebounds and solid defense. Everyone else? They combined for 15-for-45 shooting (33 percent). That simply doesn't cut it.
McNeill: Fiction. His 16-16-6 is an excellent line. It would be nice to keep Gasol down on the low block, but he's better suited playing 15-18 feet from the basket than Howard is. More pressure should be on the Lakers' wings to knock down shots on the perimeter than Gasol to improve on his Game 1 performance.
Soriano: Fact. Gasol's varied skill set allows him to play multiple roles within the Lakers' offensive attack. However, when he's not sharing the floor with Howard -- and especially when he's being guarded by Matt Bonner or DeJuan Blair -- the Lakers need to find ways to get him going in the post to maximize his scoring chances.
---
I like how Nash is moving so far. Both teams a lil out of rhythm to start

— Kobe Bryant (@kobebryant) April 21, 2013
---
4. Fact or Fiction: Steve Nash is just not the same.
Adande: Fact. We can see it and we've heard it from Nash himself, who says he isn't moving as well as he'd like. Which brings up a good point about Kobe's tweets: Although he's a great player and is candid on social media, it doesn't mean his observations are always correct.
Koremenos: Fact. There were subtle signs of slippage in his last two seasons in Phoenix, but the injuries this season have completely robbed Nash of his prime skills. I hate to say it, but the former MVP doesn't even look like a starter anymore.
McGuire: Fact. Perhaps he'll be better next season after he has some time to rest his old bones. Or perhaps he's simply an aging player doing what aging players do. They fall off the proverbial cliff and lose their edge. Steve Nash is one of my favorite players, and I wish it wasn't so, but this isn't M-V-Steve.
McNeill: Fact. He showed flashes of what you would expect from the Nash of old, but Steve Blake seemed far more of a threat offensively. This despite Nash outscoring Blake 16-12. The Lakers will need Nash to improve as the series goes on in order to make their offense more dynamic.
Soriano: Fact. Nash is clearly not fully recovered from his back, hip and hamstring issues. He looks gimpy when running in the open court and lacks the same lift on his jumper. I credit Nash for trying his all to help the team, but it's obvious he's not the player he was before these latest injuries.
---
I can't be on the bench because I cannot travel yet #surgery

— Kobe Bryant (@kobebryant) April 23, 2013
---
5. Fact or Fiction: The Lakers can't win this series without Kobe.
Adande: Fact. Not only have the Lakers lost Kobe, but the Spurs have regained Manu Ginobili. The Lakers lose big on that exchange, although it will be interesting to see how Manu handles the upcoming stretch of three games in five days. The Lakers are too dependent on numerous players performing far above their usual standards. There's not enough room on the podium for all of the players the Lakers would need to get there.
Koremenos: Fiction. Bryant had a fantastic offensive season, but he was brutal on the defensive end, and his use of real estate near the paint on offense was a key reason Howard and Gasol failed to play at their best in his presence. At the very least, they should remain on the same middling level they were before Bryant's injury, which might be enough to upend a rather ordinary-looking Spurs squad.
McGuire: Fact. If a single member of L.A.'s backcourt had been able to make shots, L.A. would've stood a puncher's chance of winning on Sunday. San Antonio shot 37 percent from the floor. That's the underdog's cue for an upset. Instead? The Lakers were blown out! I'm not entirely sure they'd win even with Kobe, but at least they'd have a chance.
McNeill: Fact. Unless Nash has a Joakim Noah-level bounce-back in this series, the Lakers won't have enough offense to score on the Spurs with any consistency. There may be a game or two in which the perimeter shots fall and things click, but it isn't likely to happen in four out of the next six.
Soriano: Fiction. The Lakers are clear underdogs for a reason. However, if they can continue to play the caliber of defense that they have been while a couple of role players hit the perimeter shots the Spurs are daring them to take, the Lakers have a chance -- albeit a slim one -- of winning enough games to pull off an upset.


ESPN.com
J.A. Adande is a senior NBA writer for ESPN.com. Brett Koremenos, Andrew McNeill, Aaron McGuire and Darius Soriano contribute to the TrueHoop Network.
• Follow the NBA on ESPN on Twitter | On Facebook | On Google+