Our 5-on-5 experts tackle some of the most-talked-about topics of the postseason.
1. Good call or bad call: OKC intentionally fouling Omer Asik.
Danny Chau, Hardwood Paroxysm: Bad call, though I suppose it was an idea worth exploring. The Thunder were desperate to break up Houston's rhythm, and it makes sense to continue to put pressure on their worst free throw shooter. But OKC wasn't really able to capitalize, and Asik made enough to nullify the entire plan. It wasn't one of OKC's finest moments.
Nick Friedell, ESPN Chicago: Bad call. After Scott Brooks saw Asik make a few in a row, why the heck did he keep fouling him? The Turkish big man had clearly found a rhythm and was getting more confident the more he went to the line. Brooks rolled the dice and came up empty … one of his assistants should have told him to put the dice down at some point.
Danny Nowell, Portland Roundball: Bad call. On top of backfiring scorewise -- Asik shot 13-of-18 on the night -- it marked a visible turning point in OKC's confidence. The Thunder pride themselves on their defense and confidence in their process; last night, in the biggest game of their season to date, they lost both. Not a fatal blow, but a low point the team will have to recover from.
Ethan Sherwood Strauss, ESPN.com: Bad call. As ESPN stats whiz Alok Pattani points out, such a strategy would only make sense if Asik were a 45 percent free throw shooter or worse. The big man shot 56 percent on freebies this season, well above that threshold. There just wasn't a firm logical basis for what Scott Brooks did. It conveyed a lack of trust in his defense while not helping Oklahoma City in any tangible way. Awful move.
Michael Wallace, ESPN.com: Bad call. It is easy to play the result on this one. But fact is it's the only way to evaluate whether the strategy worked. Bottom line: It didn't. Asik made enough free throws to prevent OKC from gaining much ground.
---
2. Good call or bad call: OKC trading James Harden in the preseason.
Chau: Good call. Russell Westbrook's knee injury was unfortunate, but that shouldn't obscure the progress OKC (and especially its superstars) made this season. For a good stretch of the season, the Thunder had the best offense in the league, even without Harden. The team got better. It's just a shame the Thunder won't be able to prove just how good this season.
Friedell: Bad call: Why not give it until the end of the season and then see what happens? What was the rush? Obviously, the Thunder could use him now and could have figured out a deal later on. It didn't make much sense then -- it makes less sense now, given the circumstances.
Nowell: Bad call. Russell Westbrook's injury hasn't affected this; it was always a bad call. The Thunder got better because their star trio matured, but they could have had a star quartet and chose not to use the amnesty provision on Kendrick Perkins. But what could go wrong with paying a slow-footed, overrated center instead of a 23-year-old All-NBA scorer and creator?
Strauss: Bad call. I favored keeping James Harden over Russell Westbrook, although acknowledging that the choice between them is exceedingly difficult. That decision remains difficult, as both have had excellent seasons. My real issue with the trade, though, is OKC's return haul. The Thunder likely aren't getting a high enough pick back to justify swapping out a top-10 offensive player.
Wallace: Bad call. OKC insists this was about economics. The Thunder couldn't afford to pay Harden his market value. On the other hand, if you want to be a major title contender, you have to spend whatever it takes. But forget Harden for a second. How much could the Thunder simply use Jeff Green right now? Yet they let him go for unproductive Kendrick Perkins.
---
3. Good call or bad call: Knicks wearing all black to Game 5.
Chau: Bad call. Dressing for a funeral is a very suggestive gimmick, but sometimes (most of the time) it's better to save those types of statements for the game. The Knicks haven't made it out of the first round since 2000, so it wasn't exactly a wise decision to spur on the opposition before the deed is done.
Friedell: Bad call. It was stupid to begin with -- and that was even if they won. Now it looks even dumber because they lost. Who had enough sway in the locker room to make that happen? Carmelo? J.R. Smith? Yikes.
Nowell: Bad call. Really, I'm pretty apathetic here, but I'm in favor of indulging as few ostentatious gimmicks as possible. Particularly when the gimmick is just a costume change with almost no upside.
Strauss: Good call. I'm pro taunting, even in some instances when the taunts backfire. If the Knicks lose this series, they'll get pilloried no matter what. The "wearing black" ploy will merely be the stand-in for whatever New York media humiliations are coming their way. If they hadn't worn black, it'd be something else. Might as well have fun out there with theme jerseys.
Wallace: Good call. It was completely inappropriate and unprofessional. But it was an honest byproduct of the ill feelings the Knicks and Celtics share in this series. Let's be honest: It was a hilarious gesture. The Knicks took their shots at Boston. But it was just as funny the way Jason Terry fired back with his game and his mouth in the aftermath.
---
4. Good call or bad call: Mark Jackson calling out Denver for dirty play.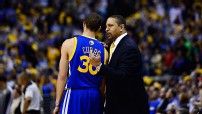 Chau: Good call. There is a special kind of drama that unfurls when two teams are forced to face each other repeatedly. Sure, history favors the champions, but it also archives good drama. The Warriors-Nuggets series has been this season's most memorable, by far. Jackson knows this. He's just giving the people, and history, what they want.
Friedell: Good call. That's how the playoffs work. Teams are always working to find an edge. They're always trying to be a step ahead. Jackson had his eyes focused on Game 6 and was hoping the refs were listening.
Nowell: Bad call. I've watched as many angles as I can find of any allegedly objectionable plays, and the Nuggets' actions looked well within the bounds of accepted postseason message sending. Of course, Jackson is gaming fans and refs, but the Nuggets' actions were all run of the mill. I'd prefer the series without the ginned-up drama.
Strauss: Good call. I'm not sure what the downside is, aside from incurring the meaningless wrath of annoyed casual fans. Jackson believes the Nuggets are targeting Curry's ankle, and he's doing everything in his power to alert the league (and the refs, by extension) to Denver's off-ball contact. His rhetoric might be extreme, and it might be tiresome, but it is pragmatic.
Wallace: Good call. It never hurts to plant a few seeds with the officials that could reap a favorable call or two in the next game. That said, Mark Jackson is a complete hypocrite for complaining about the same sort of physical play he championed just a few weeks ago when asked, hypothetically, how he would defend his own team.
---
5. Good call or bad call: Shane Battier's mustache.
Chau: Great call. Battier's going through a late-career crisis, and there is only a finite window of time left for him to express himself. It's a young man's league, and high fashion has become the preferred method of expression. But for Battier, the mustache, although nowhere near as lush as it should be, is a perfect extension of his character.
Friedell: Good call. Why not? Few people actually like to shave when there's nothing going on. Battier is just doing what many in his position would do when they have a week and a half of free time during work.
Nowell: Good call. Why not? With all the tough guy posturing and self-involved melodrama the playoffs bring out, it's nice to see a player take himself a little less seriously.
Strauss: Great call. Are you not entertained? Lovers of novelty should unite and praise Battier's decision. The only downside is that his long-range shots might only count for "two" now that he's sporting that time machine 'stache.
Wallace: Bad call. But that's Shane being Shane. He promises to shave whatever that is on his face by the time the Heat take the court for Game 1 of their second-round series.


ESPN.com and the TrueHoop Network
Michael Wallace covers the NBA for ESPN.com. Nick Friedell covers the NBA for ESPN Chicago. Danny Chau, Danny Nowell and Ethan Sherwood Strauss contribute to the TrueHoop Network.
• Follow the NBA on ESPN on Twitter | On Facebook | On Google+