Manu Ginobili went from goat to hero. Steph Curry continued to introduce himself to the basketball world with 44 more points and 11 more assists. And the Spurs showed their resilience yet again, rallying from 16 points down late in the fourth quarter to win in double overtime. Our 5-on-5 crew breaks down the wildly spectacular Game 1.
1. Game of the year?
Graydon Gordian, 48 Minutes of Hell: Yes. Only a handful of games have had the combination of spectacular individual play, a wildly unexpected conclusion and tooth-and-nail competitiveness we saw last night. In none of the others have the stakes been as high. We'll be talking about this one for years.
Chris Palmer, ESPN The Mag: Yes. Absolutely. Respect to the Nets-Bulls triple-overtime thriller. But this one moved me more. I watched the last 20 minutes standing up. I was jumping up and down with the volume blasting and the neighbors complaining. The comeback. The collapse. Steph Curry. It had everything.
Ramona Shelburne, ESPN.com: Game of the playoffs, and that's actually saying a lot after the Bulls' triple-overtime win over the Nets in the first round became an instant classic. As great and compelling as the Spurs' win was Monday night, it was just a Game 1 win. I'd still point to the Heat's comeback wins against the Celtics and Cavs during their 27-game win streak, or the Lakers' 25-point fourth-quarter comeback against the Hornets in "Game of the Year" talk.
Marc Stein, ESPN.com: Yes. The last greatest game you saw is always Game of the Year. I could probably go back and try to find something comparable that we've all forgotten about … but why bother?
Ethan Sherwood Strauss, ESPN.com: So far, yes. The swings made this one incredible. Curry's virtuoso third quarter gave way to a late squandered lead, capped off by the tying Danny Green 3. It all gets hazy after that. A clutch Kent Bazemore layup was involved. Manu Ginobili redemption was involved. My brain is still tingling, and my stomach is still bouncing like Jarrett Jack's perpetual high dribble.
---
2. Stephen Curry's performance was _____________.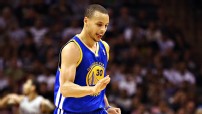 Gordian: Transcendent. Everyone knew Curry was a talented player. We were beginning to discuss the idea that he'll be the greatest shooter of all time. But with his performance last night, he showed that he's capable of defining his generation in ways we had not imagined.
Palmer: Historic. He's the first player since Michael Jordan to have 44 points and 11 assists in a playoff game. I was a kid recording games on Betamax the last time MJ did it. Curry was 3. Honestly, he's so good we don't realize what we have in him.
Shelburne: Evocative. Evocative of another sharpshooter with a lightning-quick release who had a knack for warming up in the playoffs, that is. Guy by the name of Reggie Miller. That's all I could think about as I watched Curry's ridiculously magnificent, 22-point third quarter against the Spurs. Curry has been the breakout star of these playoffs. He has had a few of these monster games already. But this was the most memorable.
Stein: A perfect illustration of his new stature. Doing what he has been doing on the playoff stage has subjected his game to new levels of praise and scrutiny. Real national scrutiny for the first time in his NBA career. Which means copious amounts of fawning for all the shot-making and now rampant speculation about the effect playing all 58 minutes had on his cold spell from the field after the third quarter.
Strauss: Fire. That which burns brightly needs fuel. After his incandescent third quarter, Curry could have stood to have a rest. Instead, he kept playing and tired to the point that he couldn't drive on Boris Diaw. I loved the ridiculous third-quarter shot-making, but man was haggard Steph bad at the end of regulation. He was moving around Draymond Green's screens at Bogut speed.
---
3. Did the Warriors blow it?
Gordian: Yes. There's no excuse to lose a game when you have such a large fourth-quarter lead and an at-will scorer like Curry. Beating San Antonio will require four full quarters of focus and intensity, not three and a half.
Palmer: Definitely. They have shown a remarkable ability to collapse at game's end. When did inbounding the ball become so hard? But that's why this is so much fun. If they were as savvy and experienced as the Spurs, we wouldn't have gone to two overtimes. This matchup is so incongruently perfect.
Shelburne: No. Don't get me wrong, this was a devastating loss. But these Warriors are a resilient bunch. I was ready to break out the brooms after they dropped a similar heartbreaker to Denver in Game 1 of their first-round series on the same night David Lee was lost to a serious hip injury. But the Warriors rallied back to win the next three games and eventually take the series. The Spurs aren't the Nuggets. You can't let them up off the mat when you have 'em down. But Golden State has shown too much character already to count the Warriors out now.
Stein: Most assuredly. If you can't close your 16-point lead with four-ish minutes to go and Tim Duncan ill in the locker room, that's going to leave a mark.
Strauss: Not really. The Warriors can't get to the rim, and they live by the 3-pointer. Hence, Golden State is prone to booms and busts. I can cite various things they should have done better in the fourth quarter (fewer isolations, better defensive communication), but I believe this was more a function of team tendency than a haywire process. When the going gets tough, the Warriors struggle to get layups or free throws. When the shots rim out at the end, we call it a collapse.
---
4. What's your takeaway on the Spurs from Game 1?
Gordian: It's hard to draw too many conclusions after one game, even one of that magnitude. However, I wouldn't be surprised if the Spurs played more small ball going forward. San Antonio's small units score very efficiently and, if the Spurs struggle to slow the Warriors' hot shooting, they're going to need to match it.
Palmer: They're the Evander Holyfield of the NBA. Heart of a champion. I hear Rudy T in my ear when I watch them.
Shelburne: They're still the Spurs. The original "next man up" team got key buckets from Danny Green and defensive play from Kawhi Leonard to make up for an awful shooting night from Manu Ginobili and a flu-ridden Tim Duncan. It wasn't pretty, and the Spurs don't want to try that again, but they came out ahead in a game they had no business winning to hold serve in what promises to be a rugged series.
Stein: That the Spurs, as rusty as they looked, really are in Golden State's head. Because the Dubs -- as slow as San Antonio looked at times trying to keep tabs on Curry -- must think by now that they're never going to win a game in that building. I know those of us in the media tend to overreact about how mentally damaging any one loss is, but this ain't just one loss. This is 30 straight losses in San Antonio dating to Valentine's Day 1997 as well as the second straight playoff game on a massive stage that Golden State unraveled in a huge way in the fourth quarter.
Strauss: Without Tim Duncan or Tiago Splitter, this isn't the Spurs. Because Duncan was ill and Splitter was out, San Antonio looked weak defensively on pick-and-rolls. That probably will change in the future. The Warriors likely lost to San Antonio at its weakest point.
---
5. How do you see the series shaping up now?
Gordian: I said Spurs in 6, and I stand by that. San Antonio is more consistent on both ends of the floor and will control games more easily than it did Monday night. However, Curry looks capable of stealing whole games all by himself.
Palmer: Had it going seven games, and I'm sticking with that. Will they get 44 out of Steph in Game 2? Probably not, but I do think they will learn from their mistakes and steal the game. They'll take either Game 3 or 4 in Oakland and we'll come back to San Antonio tied at two games apiece. However it goes, it will be fun.
Shelburne: I picked the Spurs to win in five before the series, thinking their veteran experience would be enough to knock the Warriors off kilter. Clearly, that was not the case in Game 1. As tough a loss as that was to swallow, if you're the Warriors, you've got to be feeling pretty confident about your chances after that one. Here's guessing they play all seven.
Stein: Struggle to see Golden State bouncing back quickly from Game 1 for all the reasons stated in my last answer. As shaky as San Antonio looked coming off a long layoff, I'd say Monday night's outcome only further cemented Spurs in 5.
Strauss: I said Spurs in 5, and although this game gave me pause, that still sounds about right. If Duncan and Splitter can be their old selves, San Antonio is the better team. If not? Well, get ready for a continued interesting series.


ESPN.com and the TrueHoop Network
Marc Stein and Ramona Shelburne cover the NBA for ESPN.com. Chris Palmer writes for ESPN The Magazine. Ethan Sherwood Strauss contributes to ESPN Insider. Graydon Gordian contributes to the TrueHoop Network.
• Follow the NBA on ESPN on Twitter | On Facebook | On Google+