The conference semifinals are reaching a choke point. How will Tuesday's matchups -- between the Knicks and Pacers, and the Warriors and Spurs -- play out? We weigh in on the big debates heading into Games 4 and 5.
1. Fact or Fiction: The Knicks are playing too selfishly.
Jim Cavan, KnickerBlogger: Fiction. Compared to the iso-heavy attack that defined their six-game series with the Celtics, the Knicks' offense has been relatively free-flowing in the second round. Indiana's pitch-perfect D is simply forcing the Knicks into bad shots. Tyson Chandler's comments reflect frustration with a number of things -- the Knicks' 2-1 predicament, Roy Hibbert's next-level stuff, Chandler's own hobbled play. But they aren't accurate.
Israel Gutierrez, ESPN.com: Fiction. They're playing selfishly at times, yes, but that's unavoidable with Carmelo Anthony and J.R. Smith on the same team. The problem is they're clearly not committed to their offensive system, which they were for good segments of the regular season, and that's a Mike Woodson issue. His Hawks teams were similarly bipolar, particularly in the postseason.
Andrew McNeill, 48 Minutes of Hell: Fiction. It's a little late in the season to be making wholesale changes to the offense, no? This is an isolation-heavy team and always has been with Anthony. New York had the second-worst assist ratio in the league during the regular season, according to NBA.com. Was that supposed to be different in the postseason?
Ethan Sherwood Strauss, ESPN Insider: Fact, though this is all a little more complicated than New York suddenly deciding to share. It's up against a great defense, and cracking it will take J.R. Smith finally returning to form. The Knicks could also stand to rebound better against a beastly team on the boards. Getting Hibbert into foul trouble is a must, too.
Jared Wade, 8 Points, 9 Seconds: Fiction. They have drifted from the ball movement that makes their offense great, but "selfish" implies intent. Even Chandler said it: "I'm not saying that anyone is doing it maliciously." It's just that Anthony and Smith revert to their comfort zone -- isolation play -- under pressure, and nobody else is stepping up. Semantics aside, the Knicks do need to get back to playing team offense.
---
2. Fact or Fiction: The Warriors have a better backcourt than the Spurs.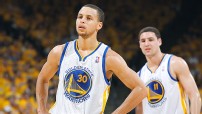 Cavan: Fiction. Let's not mistake "more dangerous" for "better." With Stephen Curry hobbled and Klay Thompson being guarded by Kawhi Leonard, the Warriors turned to Jarrett Jack early and often in Game 4, and it paid off. But the Spurs got an equally key contribution from Manu Ginobili, long the Spurs' postseason bellwether. In the end, experience and guile will trump ascendance and fire -- at least this year.
Gutierrez: Fact. Curry, Thompson and Jack slightly outrank the Spurs' combo of Ginobili, Tony Parker and Danny Green. Green is the least dynamic of the group, and this version of Ginobili is too inconsistent. Jack, however, really makes the difference because he's a steady floor general who can also create and make a string of big shots.
McNeill: Fact. Curry is about as unguardable as a 6-foot-1 player can be (there's no way he's 6-3), and Thompson has a similar skill set while possessing a lot of height for his position at 6-7. Throw in the contributions of Jack and you have a backcourt that is producing more consistently than the Spurs' group.
Strauss: Fiction. Although I believe that Curry is better than Parker by a thin margin -- if only we could test this out by having these guys switch teams for a month -- I'm siding with Ginobili over Thompson by a wider margin. Ginobili has had a rough postseason, but the broader track record says he's a better ball handler, passer and scorer than Thompson. For all the good Thompson does from beyond the arc and on defense, there are large holes in his skill set. For instance, he hasn't attempted a free throw in three games.
Wade: Fiction. Curry is amazing and Thompson has shown that he is ready to thrive in big moments, but Parker and Ginobili still come out ahead collectively. Ginobili is struggling to hit shots, but his ability to create and break down a defense still make him a more dynamic option than Thompson.
---
3. Fact or Fiction: Roy Hibbert is the best center in the playoffs.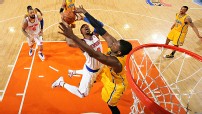 Cavan: Fact. Heading into the series, many a pundit -- this guy included -- cited Chandler's history of handling Hibbert as a difference-maker for the Knicks. Well, I got news for ... uh ... me: This isn't that Roy Hibbert, and it's certainly not that Tyson Chandler. Indiana's wings have funneled the ball perfectly into Hibbert on D, while Indiana's anchor has consistently negotiated deep, solid position on O.
Gutierrez: Fiction. I understand that Tim Duncan doesn't technically start at center, but he's essentially the pivot man on the Spurs, so it's between him and Marc Gasol. Hibbert, while he has the body to be absolutely dominant, doesn't do it often enough and is far too prone to foul trouble. He also could use a Gasol-like touch from the midrange.
McNeill: Fiction. Gasol is still around, right? Hibbert is doing a good job anchoring the Pacers' defense in stymieing the Knicks, but Gasol is the better defender and plays a bigger role in his team's offense. Hibbert has recovered from a disappointing regular season, but Gasol is the better of the two.
Strauss: Fiction. Having played well in the (small sample size that is the) playoffs doesn't necessarily mean you're the best. Not only that, but Gasol has been better in both the regular and postseason. Gasol leads Hibbert in postseason PER and, in my opinion, is a more complete defensive player. Hibbert is a great paint protector, but he struggles when leaving the key.
Wade: Fiction. There is a lot of big-man talent out there. Marc Gasol. Tim Duncan. Chris Bosh. Joakim Noah. Hibbert has games where he is better than any of those guys -- especially when the Knicks blow their double-team coverage and don't box out -- but he still ranks below all four overall.
---
4. Fact or Fiction: If Steph Curry stays healthy, the Warriors will advance.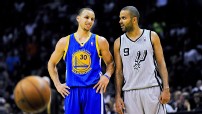 Cavan: Fiction. You can make the argument that, granting a few more breaks, the W's would be up 3-1 and on the brink of the conference finals. But an equally easy narrative is this: The Warriors let off the hook the one team they couldn't afford to. Gregg Popovich has just enough adjustments left up his sleeve -- a good number of them for Curry specifically -- to make hay with home court.
Gutierrez: Fiction. Not that it won't happen, but Curry's health isn't the only factor. There are far too many elements that could decide this series, including Parker and Ginobili's shooting, Green's defense, Andrew Bogut's defense, the scoring of Thompson and Harrison Barnes, and Golden State's late-game execution. Curry can be explosive, but as Game 1 showed us, it doesn't necessarily translate into a win.
McNeill: Fiction. The Spurs have gradually taken control of the style of play in this series, despite losing Game 4, and that has little to do with Curry's health. As long as the Spurs can consistently hit shots, they'll move on to the conference finals no matter how healthy or not Curry is.
Strauss: Fiction. If Steph Curry stays healthy, the Warriors have a fantastic shot at upsetting San Antonio. But I'd still pick the team with two more home games to win this. The Spurs have made some needed adjustments, putting Leonard on Thompson and Green on Curry. They've largely shored up the leaky 3-point defense and likely will pull this out.
Wade: Fiction. The Warriors are the best story in the NBA, but other than Curry, the Spurs still have the four best assets in the series: Parker, Duncan, Ginobili and Popovich.
---
5. Fact or Fiction: Game 4 will decide the Knicks-Pacers series.
Cavan: Fact. A 3-1 deficit would simply be too much for the Knicks to overcome. To reverse the tide in Game 4, they'll need Melo and/or J.R. to step up big. They'll also need a bounce-back effort from Raymond Felton, whom the Pacers stifled and stymied throughout Game 3. I think they get at least two of those three Tuesday, and the Knicks still take it in seven.
Gutierrez: Fiction. It will almost guarantee a seven-game series if the Knicks find a way to pull this out, but it won't mean New York will definitively advance. The Pacers are good enough to win in New York again, especially against the unpredictable Knicks offense. Game 4 will go to the Pacers anyway, and they'll win the series in six.
McNeill: Fiction. If the Pacers win Game 4, sure, it's over. But I don't think the Pacers dropping Game 4 means the Knicks are any more likely to win the series than Indiana. I trust good defensive teams a lot more than good offensive ones when the odds aren't in their favor. I expect the Pacers to win Game 4 and finish the series in six games.
Strauss: Fiction. The Pacers are good enough to beat the Knicks even if they drop this game. They've already won decisively in Madison Square Garden. New York's spread floor attack breaks many defenses, but on most nights Indiana can handle the Knicks. On that note, I predict Indiana takes Tuesday's game 87-76.
Wade: Fact. On their home court, the Pacers will take care of business and put the Knicks into a 3-1 hole from which they cannot climb out. Look for a breakout game from Paul George with steals, dunks and around four 3-pointers.


ESPN.com and the TrueHoop Network
Israel Gutierrez covers the NBA for ESPN.com. Jim Cavan, Andrew McNeill, Ethan Sherwood Strauss and Jared Wade contribute to the TrueHoop Network.
• Follow the NBA on ESPN on Twitter | On Facebook | On Google+