All tied up after two games, who has the edge in the Eastern Conference finals? Our panel weighs in on the big debates surrounding the Indiana Pacers and Miami Heat heading into a sizable Game 3.
1. Who's been the best player in this series?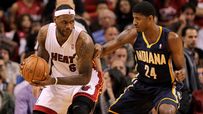 Tim Donahue, 8 Points, 9 Seconds: LeBron James. Paul George and Roy Hibbert have both been splendid, but James is the best in the game for a reason. In a series in which the Pacers are proving the gap between Miami and the No. 2 team in the East to be smaller than most thought, the gap between James and the rest of the league looks much larger.
Tom Haberstroh, ESPN.com: James, but that's no surprise. Hard to argue with a 30-point triple-double in Game 1 and then a 36-point outing in Game 2.
Jared Wade, 8 Points, 9 Seconds: James. The two late turnovers in Game 2 were brutal, but he has made the biggest play of the series (the buzzer-beating layup to win Game 1) and scored 66 points on 44 shots in two games. On top of that, he has sat for only nine minutes total. Nobody is better -- in this series or on this Earth.
Michael Wallace, ESPN.com: James. George might be having his national coming-out party, but LeBron is hosting the show. A 30-point triple-double in Game 1 was followed by a 14-of-20 shooting effort in Game 2. George has provided more highlight-reel moments, but James has been the best player in this series.
Brian Windhorst, ESPN.com: It's obviously LeBron. I don't think this is a discussion. However, what is a discussion is who the next three best have been. I would say that's clearly been George, Hibbert and David West. After Game 2, George said he would take the Pacers' "big five" over the Heat's "Big Three." I'm not sure I agree the Pacers really have that big five; I would say their top-three players have collectively outplayed the Heat's so far.
---
2. Is Paul George a top-10 player in the NBA today?
Donahue: Yes. I've watched him his entire career, and it's just impossible to keep up with how much and how fast he grows. George is an elite defender who is still trying to learn his offensive identity. He has incredible physical gifts married to a bright, hungry mind and an immense reservoir of composure.
Haberstroh: No. I feel better about top 15 due to his lack of efficiency. This guy's still just 23 years old, and there's no shame in being a top dozen or so player in the game as a third-year player. That's amazing considering we ranked him 28th best in #NBArank a month ago.
Wade: Not yet. One defensive gaffe aside (on LeBron's buzzer-beating layup to win Game 1), he has performed tremendously against Miami. He could be the second-best two-way wing in the NBA as soon as next season, but the turnovers, unreliable shooting and road woes keep him a tier below the league's truly elite.
Wallace: Let's see, I'll roll off the names as they come to mind until I get to 10. LeBron, Kevin Durant, Chris Paul, Kobe Bryant, Dwight Howard, Russell Westbrook, Dwyane Wade, Carmelo Anthony, James Harden and George. So yes, I give George the slight edge right now over Stephen Curry, Blake Griffin, Derrick Rose and Rajon Rondo.
Windhorst: Not ready to go there yet. He's still inefficient on offense too often, shooting at a low percentage with turnover issues. He's gotten much better there but he lacks the dominant scoring attribute that is badly needed in this conversation. I do believe he's headed there, however, and I think this postseason has proven that.
---
3. Are you worried about Dwyane Wade?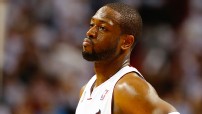 Donahue: Pacer observers have to worry about the kind of resurgence Wade had in the second half of last season's series. Heat observers have to worry about Wade wearing down. There were several plays in Game 2 on which he simply looked slow, unable to exploit switches and isolations on bigger, (normally) slower players. So, yeah, there's something for everyone to worry about with Wade.
Haberstroh: Yes. The Heat's offense can usually withstand a bad shooting night from its shooters, but that's only if Wade can be his All-NBA self. Unfortunately for the Heat, he's nowhere near that right now. He can't shake the knee issues, but we thought the same last season.
Wade: Not really. He is getting old and might never be fully healthy again, but the guy still makes plays. His days as an elite first option have passed, but Miami doesn't need that. Remember: We were asking this same question last season -- and then he dropped 30, 28 and 41 points in three Miami wins as the Heat closed out the Pacers.
Wallace: No. Is he hurt? Yes. Is he injured to the point at which he can't contribute at a high level? I don't believe so. Two months ago, we were talking about how this was sort of a renaissance season for Wade, who shot a career-best 52.1 percent this season despite a slight dip in his scoring average. Few players respond to doubt as well as Wade.
Windhorst: Me personally? No. He's got two rings, two great sons, tens of millions of dollars, an actress/model girlfriend and the adulation of millions of fans. He's doing quite well. Am I worried about his game? I've been saying for weeks now that the Heat should be worried about his knee and that they were covering for it by just branding his play as "unselfish." That pretense, at least, has been mostly dropped. But Wade is making frustration mistakes and has passively complained about not getting enough shots. If you're able, go ahead and prove you deserve more, Dwyane.
---
4. Fill in the blank: This series has been ___________.
Donahue: Everything NBA watchers could possibly want. It has had two incredibly tight basketball games involving two teams that don't like each other. It's a clash of styles -- not only of play, but of team building. With great plays and controversy, cheap shots and spots to second guess players and coaches, there has been something to hook everyone.
Haberstroh: Dramatic. Can we ask for anything more? We've been spoiled in the first two games with George and James trading late-game heroics and blunders. Young versus Champs. Big versus small. This is basketball theatre at its best.
Wade: Spectacular. And you have to pronounce it either like Marv Albert watching Michael Jordan or Terri Hatcher guest starring on "Seinfeld." Either way, it's the one word that captures what it has been like to watch such aesthetic heights, captivating storylines and total entertainment. I can't look away. Already, this series outranks any other Eastern Conference matchup in years.
Wallace: Mesmerizing. Even the officiating has been intriguing. The Heat and Pacers have played eight quarters, and I can't think of a time when there's been a legitimate lull in the suspense. The storylines have been endless. The highlights have been great. If Games 1 and 2 were that good, I can't wait to see how Games 6 and 7 will turn out.
Windhorst: As expected. The Pacers started playing very well in the last two games of their series with the Hawks and have put together three solid weeks. The Heat have played only maybe 10 quality quarters by their standard in the postseason. I expect them to round back into form to a certain extent. When I predicted they'd win two games against the Heat, it was a compliment -- at least I intended it to be. I will stick with my prediction of the Heat in 6, though I recognize the Pacers have plenty of things going for them.
---
5. Who wins Game 3?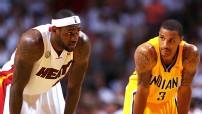 Donahue: The Heat will be coming hard for Game 3, but the Pacers will be ready. Indiana had to prove it could compete in Miami. Now, perversely, the best team in the league will have to prove it can compete in Indiana. It will be no holds barred, but I expect the Pacers to capitalize on this opportunity.
Haberstroh: Indiana. Because they don't lose at home and the Heat still haven't figured out how to make small-ball work to their advantage. In Indianapolis, the riddle will be tougher to solve.
Wade: Indiana. The Pacers have been marvelous at home all postseason, and the Heat's role players are not shooting well enough to make them a road favorite. Miami might return to South Beach with home-court advantage, but I doubt they regain it in Game 3. When playing in The Fieldhouse with this much confidence, Indiana is tough to beat.
Wallace: Pacers. Indiana is 6-0 in the playoffs at home, and there's no reason to pick against them right now. On the other hand, the Heat haven't lost a road game, so something has to give. The Pacers showed that their effectiveness against the Heat so far has been the result more of formula than fluke. I expect another tight finish.
Windhorst: Whomever is going to lose Game 4. I see this as a split in these two games in Indy. The Pacers will be the favorite on Sunday, and for good reason. They play with more aggressiveness offensively at home, and that typically is one of their weaker points. The Heat are battling a bit right now and not playing together very well. Last postseason, it took them getting down 2-1 to the Pacers before they tapped their potential. Perhaps it will repeat itself.
---


ESPN.com and the TrueHoop Network
Tom Haberstroh, Michael Wallace and Brian Windhorst cover the NBA for ESPN.com. Tim Donahue and Jared Wade are part of the TrueHoop Network.
• Follow the NBA on ESPN on Twitter | On Facebook | On Google+