Can the Indiana Pacers stun the Miami Heat, or will LeBron James and Co. head to a third straight NBA Finals? Our experts examine Monday night's Game 7 in Miami (8:30 p.m. ET on ESPN Radio).
1. Going into Game 7, the Indiana Pacers are ...
J.A. Adande, ESPN.com: Confident, but unproven. They know they're controlling the paint on both ends of the floor. They had fourth-quarter leads in the first two games of this series played in Miami, and realize it took an otherworldly effort by LeBron plus a virtual no-show by the Indiana backcourt for the Heat to win Game 5. The problem is this is the first Game 7 for so many members of this group, and you just don't know how people will respond to the pressure of a Game 7 on the road.
Kevin Arnovitz, ESPN.com: As confident as any team that's faced Miami during the LeBron James era. That doesn't necessarily mean they're going to win Game 7, but it's a statement of how amped up the Pacers are from the satisfaction of dictating the terms in Game 6. They solved the riddle. They still have to execute, but if they do, there's a strategy they know works.
Ethan Sherwood Strauss, ESPN Insider: Long. They might be long odds to win a road Game 7, but they're also, quite literally, long -- which works in Indiana's favor. David West has nearly removed Chris Bosh from the series, thanks in part to West's 7-foot-4 ¼ inch wingspan. Roy Hibbert casts a longer shadow over the paint than anyone else. Should they win, Indiana's vertical advantage will be a major factor in why it happened.
Marc Stein, ESPN.com: Due an apology from me. I really didn't think they could wear the Heat down like they have. Most of all, I didn't think defensive stud Roy Hibbert could have this kind of impact offensively. His struggles throughout the first half of the season, which Hibbert has always said were being caused by a bad wrist, are officially a memory. But as one rival GM told me Sunday in an attempt to console me: "Don't worry. About 15 teams were wrong about Hibbert [in the draft], too."
David Thorpe, ESPN Insider: Kicking themselves because Hibbert sat out the final ticks of Game 1. But they firmly believe their formula for winning can produce one more win.
---
2. Going into Game 7, the Miami Heat are ...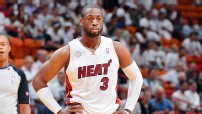 Adande: The opposite of the Pacers: tested, but wobbly. They got through a Game 7 against a more experienced Boston team last year. They also added Ray Allen, who was on the other side of that one, plus five other Game 7s while with the Celtics. But are Allen, Dwyane Wade and Chris Bosh still capable of converting that experience into performance? You'd think that those three won't keep missing shots. But there's no recent evidence to guarantee they'll snap out of it.
Arnovitz: Not really them. There are occasional nights when the Heat don't have it, but we still recognize the blueprint. What was jarring about Game 6 was how there wasn't a piece of trace evidence that would tip you off to the fact that, most of the time, they're the best team in basketball.
Stein: A team that is forcing us all to ask, with complete justification, if they peaked during the 27-game winning streak. They look like a shell of that team at the minute. They frankly look like a one-man team heading into this Game 7. Even if they dig out of this mess and figure out how to win it all again, there are suddenly so many questions about Miami's future.
Strauss: Stretched. The Heat are stretched to the brink, which they will try to stave off by stretching the floor. Even if Game 6 against Boston was a tougher spot, that Miami team seemed more potent than the current version. Dwyane Wade has all the burst of a golf cart, and Chris Bosh has turned either shaky, gimpy, or both. Miami should win a home elimination game, but it certainly won't be easy, based on what we've seen.
Thorpe: Hoping LeBron's decision to attack Hibbert, finally, will continue. They also hope someone gets hot from the perimeter, because that forces Indy to play well on offense too, which may be too tall an order.
---
3. Does Indiana's Game 6 win tell you anything about Game 7?
Adande: It's a perfect reminder to the Pacers that they can win if they stick to their game plan. They have the blueprint. They already had a combined four regular-season and postseason victories over the Heat, but there's nothing like some positive reinforcement.
Arnovitz: Tough to say because apart from some small-scale fixed truths in the series, previous games have not been a reliable predictor of what's going to happen next. One possible takeaway from Game 6 is the value of Chris Andersen.
Stein: Not really. Would it really come as a huge surprise if the combination of Miami going home and Chris Andersen coming back from suspension provides the platform for the Heat, along with the obligatory LeBron eruption, to nudge them into the Finals? As ugly as the second half of Game 6 looked for the Heat, I don't think so.
Strauss: It tells me that Bosh struggles against David West, and that Paul George can find his offense in transition. It also tells me that Dwyane Wade can't simply turn it on when needed. On the upside for the Heat, they missed a lot of close shots that they normally make. I expect Miami to try and draw contact from Roy Hibbert outside the paint, as the Heat had success with that in the second half of Game 6. When Roy's not vertical, it's easy to get fouls on him.
Thorpe: No. Nothing previous games didn't already show. They began the series with a plan, and have executed it well despite moments where Miami exploited it.
---
4. What do you expect from LeBron James in Game 7?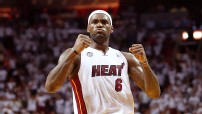 Adande: His demeanor at the podium following Game 6 indicated that he was not going to let his team lose Game 7. He looked realistic, but not discouraged. (He also looked much better in that tuxedo-style jacket than the too-tight shirt he wore after Game 5). If I'm the Heat, I'm tapping into LeBron's confidence and following him into the NBA Finals.
Arnovitz: Whatever tendencies he might have had to defer in spots during his early career, that hasn't been the case for a while. Wade and Bosh aren't well. The Heat can keep testing them, and maybe Bosh can drain a few face-up jumpers from midrange, but elimination games tend to see teams return to their most reliable options, which means a ton of time on the ball for James.
Stein: There isn't much on the Miami side that inspires faith right now. But I'd say that James guy still qualifies. He knows he'll probably have to be something resembling the LeBron who went into Boston's TD Garden last spring when the Heat were facing a 3-2 deficit on the brink of elimination. And I suspect he will.
Strauss: I expect him to attack the rim. He was better about doing so last game, and botched a few layups that he usually converts. James has been reluctant to drive at Hibbert all series, save for last game. Desperate times call for desperate measures. Look for James to throw his body into the fray as he tries to save Miami's season.
Thorpe: If he learned anything from Game 6, it was that he can go at Hibbert more than he has. A lot more. Sure, he'll get some shots blocked. He may charge Hibbert a time or two. But if he focuses on making shots and not just getting them off, he'll earn 15 free throw attempts and put Hibbert on the pine with foul troubles. Plus, he'll create even more open teammates. Put it like this: Indy hopes LeBron shoots 25 perimeter shots. Spoelstra hopes he takes that many combined free throws and dunks.
---
5. Who wins Game 7?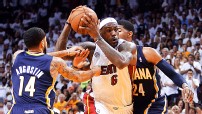 Adande: Miami. They'll get more from the other two-thirds of the Big Three, they'll get calls going their way (because they're at home, not because of some grand conspiracy) and they'll have LeBron.
Arnovitz: With the aforementioned idea that the immediate past hasn't told us much about the future in this series, along with the home floor, Miami looks like a slight favorite.
Stein: Miami. And why wouldn't you listen to a guy who hasn't gotten a thing right prediction-wise since roughly the conference finals began?
Strauss: Miami. Hey, I'm just playing the historical odds. Most Game 7s go to the home team, and for all the Heat are lacking, they still retain that. The Heat also have the experience of pulling out a Game 7 conference finals win last year. It helps to have been there before.
Thorpe: Miami is the superior team and has the biggest margin for error, so I lean Miami. But seeing Indy win would not shock me in the least. A healthy and aggressive Wade could be the difference.


ESPN.com and the TrueHoop Network
J.A. Adande, Kevin Arnovitz, Marc Stein, Ethan Sherwood Strauss and David Thorpe cover the NBA for ESPN.com.
• Follow the NBA on ESPN on Twitter | On Facebook | On Google+