For the third straight year, the Heat are the beasts of the East. How'd it happen? Our panel breaks down Game 7 of the Eastern Conference finals in Miami.
1. What was the key to the Heat's Game 7 victory?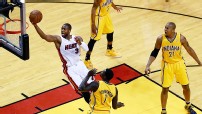 J.A. Adande, ESPN.com: They owned the inside, for a change. Miami outrebounded the Pacers by seven and almost doubled them on the offensive boards. They also wound up tied in points in the paint, which is still a victory.
Henry Abbott, ESPN.com: On offense, they challenged Roy Hibbert and the Pacers' interior D for once, while getting a bit of "that's more like it" production from Ray Allen and Dwyane Wade. But the real story was a massive spike in defensive intensity, frustrating Paul George and Roy Hibbert while creating turnovers -- and fast breaks -- in bunches.
Andrew Lynch, Daily Dime Live: Their willingness to attack Hibbert. Hibbert was excellent this series at staying vertical in the paint and not drawing a foul. But in Game 7, the Heat took the risk of rejection at the rim and reaped the reward of free throws and foul trouble for the Pacers.
Ethan Sherwood Strauss, ESPN Insider: Defense, the swarming variety. The traps were devastating, as Miami finally exploited Indiana's lack of competent dribblers. The Heat flew around the court, combining for 11 steals and harassing Indiana into quite a few bad possessions. It has been a while since we've seen championship-level defense from Miami, and it returned not a moment too soon for them.
Jared Wade, 8 Points, 9 Seconds: Pressure defense. The high traps on Indiana's wing players, specifically George Hill and Paul George, kept the Pacers from running their offense all night. The Heat forced turnovers but, more importantly, disrupted everything the Pacers were trying to do.
---
2. In Game 7, LeBron James was ____________.
Adande: Up to the task. If you're going to wear the crown as the best in the league, you can't let your team lose a Game 7 at home. With 32 points, eight rebounds and four assists, LeBron made sure the Heat didn't.
Abbott: At last, undeterred and fully empowered. He's strategic and judicious, perhaps sometimes to a fault. This time he attacked Hibbert and George time and again, and it made all the difference.
Lynch: Decisive. His pregame calm belied the fatalism of his approach in Game 7. He planned to put his head down and make better, smarter, more athletic plays than his opponent, and he dared them to stop him.
Strauss: Determined. LeBron started driving near the end of Game 6, and repeated that tenacity in Game 7 -- this time, with more success. The approach resulted in free throws, and easier offensive rebounding opportunities ("Kobe assists") for teammates. Indiana has a great starting lineup, but foul trouble gets them in, well, trouble. By forcing George and Hibbert to foul, James did much to cripple Indiana's attack.
Wade: Marvelous. LeBron was everything. He is the best player in the game and also one of the most versatile two-way players ever. He was aggressive on defense and got his teammates involved early. Then, when it was called for, he did his thing and conjured buckets out of nowhere.
---
3. In Game 7, Roy Hibbert was ____________.
Adande: Normal. He's a very good big man who has worked so hard to get better, but Miami had been treating him like he was Shaquille Abdul-JaChamberlain. The Heat finally started going at him on offense and swarming him on defense. They drew fouls and frustrated him. The Pacers stopped dictating the terms of the series.
Abbott: Dethroned as the undisputed king of the paint. Foul trouble and the Heat's aggressive paint attack forced him to move, react and commit fouls. Which made him timid at times. The end result was a very good center (18 points on 11 shots) where for six games there had been an MVP candidate.
Lynch: Overwhelmed. When he had the ball, Hibbert found himself constantly surrounded. When he attempted to grab a rebound, he found himself victim of a re-doubled effort from Bosh and Wade. And when he played defense, he found himself the victim of a driving onslaught from Wade and James.
Strauss: Frustrated. He had an incredible seven games, but had difficulty avoiding foul trouble and turnovers against the Miami swarm on Monday night. Hibbert still had a fine game overall, and more of the blame should go to his teammates, if it's even fair to "blame" young players who went hard all series.
Wade: Marginalized. It was more the Heat defense than him not being aggressive, but Miami managed to limit his touches. The Pacers' wings were unable to get him the ball in the half court, and Hibbert wasn't able to find his own looks on the offensive glass.
---
4. For fans, was this the best Heat series of the Big Three era?
Adande: No. Even though the Heat were tested, they never trailed. This didn't have any performances as legendary as LeBron's Game 6 against the Celtics last year or that LeBron-Dwyane Wade combo effort in Game 4 of the conference semifinals last year. I'd take those two series, and last year's NBA Finals, over this one.
Abbott: It's right up there with last year's conference finals against the Celtics, which was similarly intense. Not to mention, a good chunk of America sure seemed to enjoy seeing the freshly formed Heat lose to Dallas in 2011.
Lynch: Was it any better than last year's Eastern Conference finals against Boston that went seven games? That series had all the drama of this one, with the added intrigue of whether the Heat would get over the title hump. This series was certainly no worse, but it shares lofty company.
Strauss: No. The 2012 Boston series was incredible, as it packed a lot more doubt, and an astounding 45-point LeBron performance to save Miami's season on the road. This year's Pacers are likely better than last year's Celtics, but it's hard to top the drama of pre-title LeBron James.
Wade: No. I think the series win over Derrick Rose and the Bulls in the 2011 East finals was the Heat at their best, but given the series-long struggles of Wade and Bosh, this may have been their grittiest win. Indiana outplayed Miami in many ways all series long, but Erik Spoelstra's team showed its championship pedigree to overcome that adversity and advance.
---
5. Will the Pacers be title contenders next season?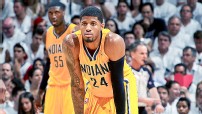 Adande: Yes. They'll build off this defeat the way the Heat built on their 2011 NBA Finals loss. Paul George won't disappear in big moments as he did in Games 5 and 7 of this series. George Hill will be better. They can either incorporate Danny Granger or trade him to add depth. They'll have their breakthrough within the next two years.
Abbott: They're the class of the non-Heat East for the foreseeable future. They have some decisions to make about how much money they want to spend to keep this team together, and David West can't keep playing at this level forever. But the nice thing is key pieces are young, and $13 million man Danny Granger appears to be this team's Rudy Gay -- the guy who has real trade value, but, thanks to a big playoff run in his absence, is inarguably non-essential to a big playoff run.
Lynch: Yes. They're definitely threats to once again reach the Eastern Conference finals. Granger has his detractors, but through either his performance or his trade value, his health next season represents increased value for the Pacers. West seems like he wants to come back. And the core will continue to grow. Indiana isn't going anywhere.
Strauss: Sure, why not? All this team needs is a little more on offense and a competent perimeter player or two. I'd argue for retaining West and replacing Lance Stephenson in the starting lineup some time in the future. Easier said than done on both counts. Even if Indiana fails to do either, Hibbert, George and George Hill comprise a great foundation.
Wade: For sure. West will be back, and this team should be even better next season. Rose coming back is a wild card, but the Pacers could easily play in the next three Eastern Conferences finals. The defense is that good, and they have a young core that will only improve.


ESPN.com and the TrueHoop Network
J.A. Adande and Henry Abbott are senior NBA writers for ESPN.com. Ethan Sherwood Strauss covers the NBA for ESPN Insider. Andrew Lynch is the host of Daily Dime Live. Jared Wade contributes to the TrueHoop Network.
• Follow the NBA on ESPN on Twitter | On Facebook | On Google+