That makes three trips in a row to the NBA Finals for the Miami Heat in the Big Three era. Will this one end bitterly, like it did in 2011? Or will it end with a title, like it did in 2012? Our panel tackles all the big questions facing the Heat.
5-on-5: Heat primer | 5-on-5: Spurs primer
1. The key for the Heat this series is …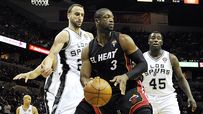 Henry Abbott, TrueHoop: Athleticism and the turnovers they can create. The Oklahoma City Thunder deployed athletes against the San Antonio Spurs and won four straight in last year's Western Conference finals. The Heat could, in theory, do something like that too. If the Heat can't force a lot of turnovers, though, the Spurs seem to have a good ability to find high-percentage shots.
Tom Haberstroh, ESPN Insider: Health. We act like Dwyane Wade and Chris Bosh redeemed themselves in Game 7, but LeBron James still outscored them 32-30 for the game (and 203-185 for the series). That 21-point outing from Wade needs to be the norm against the Spurs and the Heat will need more from Bosh, but will their flat tires let them?
Ethan Sherwood Strauss, ESPN.com: Chris Bosh, he of the dismal 37 percent shooting last series, is the X factor. In his Miami Heat career, Bosh has averaged 23.6 points while shooting 60.5 percent against the Spurs. San Antonio has a great defense, but it certainly doesn't want its bigs defending out in space -- as we saw at the beginning of the Golden State series. If Bosh can take advantage of the better matchup, it'll do wonders for Miami's spacing and its altogether chances.
Michael Wallace, Heat Index: Containing Tony Parker. Miami's biggest weakness is defending quick, efficient point guards and skilled, aggressive big men. Parker is coming off a series where he had his way with one of the best defensive point guards in Mike Conley and one of the league's top defenses. He's as big a weapon for the Spurs as LeBron is for Miami. For real.
Brian Windhorst, ESPN.com: Controlling Tony Parker. The Heat prefer to use a pressure defense and it was that style that ultimately got them past the Pacers. But Parker is maybe the best trap splitter in the game today and has fantastic ability to scramble through pressure with his dribble. It will be strength versus strength.
---
2. Chris Bosh or Dwyane Wade: Whose play concerns you most?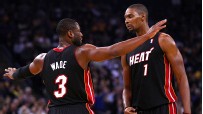 Abbott: Wade's, by far, because his health is a major question mark. At one point early in Game 7 he caught the ball almost alone under the hoop. All he needed was to turn and explode upward for a dunk. He looked over his shoulder and dribbled away from the hoop. This is not Dwyane Wade.
Haberstroh: Bosh. Four single-digit scoring games in a row and absolutely no rhythm to his game. He couldn't score off the dribble or at midrange, an area from where he's normally automatic. Was it a product of Roy Hibbert or the injured ankle? If it's the latter, the Heat will struggle against the Spurs' front line.
Strauss: Wade. Even though Chris Bosh was shaky enough to botch a KG-style practice shot denial last game, Wade's issues appear more long term. Bosh recently sprained his ankle, but such injuries tend to be less problematic than knee problems. Whatever is ailing Wade's knee has been doing so for more than a month. It wouldn't be surprising to see Bosh revert to form in this series. I'd be shocked to see the winter version of D-Wade.
Wallace: Wade. Bosh won't have to face Roy Hibbert or David West for at least another four months, so expect him to break out of his conference finals doldrums. The Spurs play a more free-flowing style that should allow Bosh to find a comfort zone. But Wade's health is always a concern and he has been inconsistent throughout the playoffs.
Windhorst: Bosh. Wade is injured, I think that's quite clear. Bosh is in a much more troubling funk, easily his worst run of games since he was a rookie. It has gotten so bad, he was credited for playing better in Game 7 and he shot 3-of-13 and looked like a fish out of water at times offensively. Now, he's going to have to spend a lot of time dealing with Tim Duncan.
---
Abbott: Whoever has the better-feeling old-man body that night. Let's assume both are around 78 percent healthy, in which case I'd lean Battier, ever so slightly. Best 3-point percentage on the roster, believe it or not, and a bag of dirty tricks that helps win games. But if the Spurs cover Battier closely, then he can't get his shot off, and it'd be time to play the quicker-shooting Miller instead.
Haberstroh: Battier. As we saw in Game 7, hot and cold shooting is very fleeting. Ray Allen couldn't hit a shot and then he could. Mike Miller couldn't miss and then he couldn't nail anything. Battier struggled mightily from downtown, but the Spurs aren't as good at defending the corners as the Pacers. With Gregg Popovich on the opposing sideline, the margin for error will be minimal and no one plays smarter ball than Mr. No-Stats All-Star himself.
Strauss: Battier. Mike Miller is a better all-around player than Battier, but Miller also grimaces upon flicking his wrist on a jumper. The Heat don't play Battier over Miller because Shane's better, they do it because Miller has the bodily constitution of stacked styrofoam cups. Battier will play more because he physically can play more.
Wallace: Battier. The versatility of both teams makes this a tailor-made series for Battier's all-around game. After seeing his minutes drastically dip over the last three games of the conference finals amid his shooting struggles, Battier should benefit from a fresh start against a team that presents a different set of challenges. Miller will be ready if needed.
Windhorst: Battier. He's more effective defensively, more versatile and his teammates have a higher comfort level with him. At some point it would seem likely that he's going to make a shot or two, and when he does the Heat have shown they are quite effective.
---
4. Are this year's Spurs the best team LeBron has faced in the NBA Finals?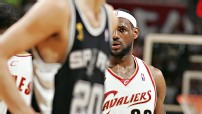 Abbott: You're asking us to rank the 2007 Spurs versus the 2011 Mavericks, 2012 Thunder and 2013 Spurs? Dare you to ask that question to Gregg Popovich! I'll guess that the 2007 Spurs were the best of that bunch, because back then Tony Parker was the fastest guy in the world, Manu Ginobili was drawing MJ comparisons and Tim Duncan could jump. Also, I'm scared of what Pop might do if I pick the Mavs or Thunder.
Haberstroh: I'll take 2012 OKC by a hair. That team had the best regular-season winning percentage of any of LeBron's Final foes, and let's not forget that the Thunder also upended the 2012 Spurs juggernaut that had won 20 straight games and the top seed in the West. I'd be more inclined to go with this year's Spurs if Ginobili was healthy, but they're getting only 26 minutes a game from him this postseason.
Strauss: No, last year's Thunder were a historic collection of talent. That series was much closer than "five games" would suggest, too. Even if San Antonio has a better shot at beating Miami than OKC did, it's hard to view this Spurs team as "better" than Kevin Durant, James Harden, Russell Westbrook, and Serge Ibaka, all in one place.
Wallace: No. Give the edge to the 2007 Spurs, who defended much better. Then again, that Cleveland team of LeBron, Drew Gooden, Sasha Pavlovic, Daniel Gibson, Eric Snow, Zydrunas Ilgauskas and Larry Hughes wasn't exactly lighting up the scoreboard. Dallas, which beat Miami in the 2011 Finals, might be the second-best team LeBron has faced.
Windhorst: I think Duncan, Parker and Ginobili would all tell you they were better when they were all six years younger. And they were in 2007 when they were the last team to sweep in the Finals over LeBron.
---
5. If the Heat win this year's title, are they officially a dynasty?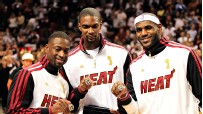 Abbott: Two certainly isn't enough to satisfy that team's biggest fans or biggest detractors. Dynasty or no, it's nose-to-the-grindstone until further notice.
Haberstroh: Officially, no. Not yet. By my own (arbitrary) personal calculus, I think we can have that conversation when they win three titles with the same core. Win two first and then we can talk.
Strauss: Sure. We should stop looking at the past to define "dynasty" and recognize that sustained dominance is harder today, and will be harder going forward. The increased popularity of the 3-point shot makes results less predictable, upsets more likely. The collective bargaining agreement has imposed limits on how great an already-great team can truly get. (As Miami tries to win a second title, we're already obsessing over how the team might soon get broken up.) This could be about as dynastic as it gets in the modern NBA until the league changes its rules or CBA.
Wallace: No. Since when does being a back-to-back champion make you a dynasty? Maybe only in this microwave society we live in today. I'd have to see this Heat team have a bit more of a shelf life before I'd put them in the class of the 1960s Celtics, 1980s Lakers, 1990s Bulls or these Duncan-era Spurs. Right now, it's way too soon to talk dynasty.
Windhorst: No. That's a big word. The Bad Boys won two titles and went to the NBA Finals three straight years. The Kobe/Gasol Lakers did the same. The Rockets won back-to-back titles. Where they all considered dynasties? I don't think so. I think the three-peat, because of Jordan really, feels like the qualifier.


ESPN.com and the TrueHoop Network
Henry Abbott, Tom Haberstroh, Ethan Sherwood Strauss, Michael Wallace and Brian Windhorst cover the NBA for ESPN.com.
• Follow the NBA on ESPN on Twitter | On Facebook | On Google+