Fourteen years after their first trip to the NBA Finals, Tim Duncan and Gregg Popovich are back in the championship matchup. Will they extend their perfect Finals record to 5-0? Our panel tackles all the big questions facing the San Antonio Spurs.
5-on-5: Heat primer | 5-on-5: Spurs primer
1. The key for the Spurs this series is ...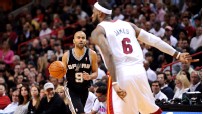 J.A. Adande, ESPN.com: Exploiting the strengths of their big men and point guard. Even though Mario Chalmers played well against Indiana, and Norris Cole had his bold moments, Tony Parker is in a different class. Tiago Splitter won't be the presence Roy Hibbert was, but he's an underrated part of the Spurs' successful playoff run.
Kevin Arnovitz, TrueHoop: (A) Diffusing the Heat's defensive pressure with all that cool motion. (B) Creating nice stretches of road for Parker from the perimeter to the rim, where the Heat don't have much rim protection unless Chris Andersen is in the game. Defensively, the Spurs rotate as well as any team in the league, but the best rotation against Miami is no rotation.
Andrew McNeill, 48 Minutes of Hell: Ball movement. The Spurs more than any team in the league have the ability to make all five Heat players on the floor play defense. The more possessions San Antonio can engage every member of Miami's defense, the better chance they have of scoring efficiently in the half court.
Ramona Shelburne, ESPN LA: To play the series on their terms, and that means relying on all those boring, beautiful "basketball things" the Spurs do so well. They do so many things well, and when it's going well, it can be overwhelming for the opposition. When it's not, things can get ugly in a hurry. With Miami coming off a brutal Eastern Conference finals, the Spurs have to be so very Spurs right from the jump.
Marc Stein, ESPN.com: Their versatility. They can play big. They can play small. They can throw a lot of different looks at Miami. They have more depth, more experience, better execution ... and the best ball movement in today's NBA. They'll need all of that to trump the LeBron Factor and Miami's home-court advantage. But I see them winning the series because they have so many places to turn.
---
2. Which Spurs player faces the biggest challenge this series?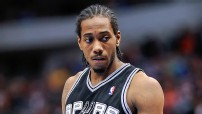 Adande: Kawhi Leonard. A fortnight of guarding LeBron James? Cue the "Mission: Impossible" theme song. Paul George had one of the best playoffs of anyone, and there were times LeBron made him seem invisible. The only good thing for Leonard is he won't be responsible for going at James at the other end; he'll just have to punish him for helping elsewhere by draining open 3-pointers.
Arnovitz: Kawhi Leonard, who will be tasked with defending LeBron, which is as much a mental task as a physical one. What do you take away first? Where do you send him if he gets a step? Who's behind to help? Where are they coming from? Processing all this in nanoseconds is every bit as exhausting as the one-on-one action.
McNeill: Manu Ginobili. The days of consistently good nights from Ginobili are gone, but when he plays well, the Spurs tend to be a more dangerous bunch. If he can string more good games together off the bench than inefficient ones, San Antonio has a much greater chance to win the series.
Shelburne: Tim Duncan. He's the player for whom the Heat don't have an answer. For San Antonio to win this, Duncan has to be great, not just good.
Stein: Tempted to say Kawhi Leonard because of the time he'll get trying to keep up with LeBron and the big weak-side shots that'll inevitably come his way. But I'm going with Manu. Just as we spent much of the Eastern Conference finals psychoanalyzing the amount of help LeBron was getting from Wade and Bosh, Parker and Duncan have to have a little more from the Argentinean wing of their title-tested trio than they've been getting in these playoffs.
---
3. How do you expect the long layoff to affect the Spurs?
Adande: The rust will hurt them in Game 1. Tim Duncan already seemed resigned to that in the wake of San Antonio's sweep of Memphis in the conference finals. You don't go from playing every other day to sitting for a week and a half without feeling the effects. The good news for the Spurs is they shouldn't wear down toward the end of the series the way they did against Golden State.
Arnovitz: Let's do what we do every time this question comes up: Answer it retroactively with the benefit of hindsight, or just channel what Gregg Popovich will say in his first media availability when he's asked whether the layoff helped or hurt: "If we win, we were well-rested. If we lose, we were rusty."
McNeill: I expect rust. Ginobili has said that, for him, it's imperative that he plays basketball every couple of days to stay in rhythm. These days the Spurs are the ultimate rhythm team, no longer content to just dump the ball down low and spot up on the perimeter. How quickly they can get in a groove in Game 1 is important.
Shelburne: It's impossible for the Spurs to be as sharp as they were at the end of the Memphis series, but San Antonio is such a veteran team, I don't think the rust will be a big issue. If anything, I think the layoff will give them time to heal up, take a breath and refocus.
Stein: It's an undeniable issue. But it's much better than the alternative. Throw in the fact that Miami expended a ton in the Eastern Conference finals, and San Antonio will find a way to live with it. The reality is that Game 1 would have probably been a feel-out game even if the Spurs had the optimum amount of rest. I don't know that it'll drastically impact their chances of winning one of the first two games, which is all that matters.
---
4. Would another title change how we look at Tim Duncan?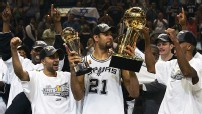 Adande: Yes. It would re-open the case for best player of his generation between Duncan and Kobe Bryant. (The polls have closed on the best player of the 2000-09 decade; Kobe got that one). But if Duncan has an unblemished NBA Finals record and five championships over a 17-year span, which player who entered the league in the 1990s can top it?
Arnovitz: In the immediate aftermath, we'll celebrate his resilience, his commitment last offseason to retool his conditioning, his enduring commitment to the craft. In the long run, probably not. Alas, our collective memory these days doesn't have much room for guys like Duncan who do it with precision, not pyrotechnics.
McNeill: I don't think it would change the way we look at him, it would just reinforce how we already feel. I've never heard anyone disparage Duncan's legacy publicly. Winning a fifth title, 14 years after his first, would simply make his already gaudy résumé that much more impressive.
Shelburne: Because of his personality and the buttoned-up culture in San Antonio, Duncan is destined to be underappreciated. But this year, there's been a notable admiration for what Duncan has done at his age, and over the course of his career, that wasn't there in his past title runs. SportsNation ran a poll Tuesday that showed 65 percent of the country rooting for the Spurs. In the past, I'd chalk that up to anti-Heat sentiment. Now I just think America has finally warmed up to Timmy.
Stein: Doubt it. We will all wax lyrical about how amazing he is if the Spurs stretch their record to a ridiculous 5-0 in the NBA Finals ... but who are we kidding? As soon as it's over, most of us will all go back to obsessing about Dwight Howard's future, what happens to the Lakers with or without him, what Miami's playoff struggles mean for LeBron in 2014, etc. Sad but true. The dude is still somewhat underrated/underappreciated after everything he's achieved. I repeat: sad but true.
---
5. If the Spurs win, should Duncan and Pop ride off into the sunset?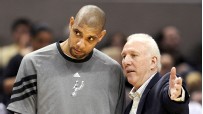 Adande: No. They should stick around and go for the one distinction that's eluded them: back-to-back championships.
Arnovitz: Not if they don't want to. Unlike so many others, neither Duncan nor Popovich need the life, so it's easy to imagine them hanging it up after a title. But so long as Duncan has the capacity and desire to compete, neither of them are going anywhere, which is a win for professional basketball.
McNeill: Never leave a good party unless you've got a better one to go to. Duncan and Pop care only about winning basketball games, and I expect them to continue to do so. That said, if Duncan's left knee is bothering him enough, he shouldn't sacrifice his quality of life down the road just to keep playing today.
Shelburne: It's nice to say you want to ride out on top, but how many really have the courage to do so? For all of our sake, I hope they're back next season, regardless of the outcome. The NBA is better with Duncan and Pop around.
Stein: I really, really hope not. But, man, how could you blame them if that's what they wanted to do? I saw when Tony Parker told TNT's Rachel Nichols that he's been telling Pop he has to spend an extra year or two post-Timmy and post-Manu with the so-called baby of the family. Here's hoping Tony persuades Pop to stick around, because covering this league wouldn't be the same without him tormenting media members.


ESPN.com and the TrueHoop Network
J.A. Adande, Kevin Arnovitz, Ramona Shelburne and Marc Stein cover the NBA for ESPN.com. Andrew McNeill writes for the TrueHoop Network.
• Follow the NBA on ESPN on Twitter | On Facebook | On Google+