Two hundred and eighteen days after the 2012-13 season tipped off, we're finally here: the NBA Finals. Will the San Antonio Spurs or the Miami Heat take basketball's greatest prize? We break down the final series heading into Thursday's Game 1 (9 p.m. ET, ABC).
1. Who faces the most pressure on the Spurs?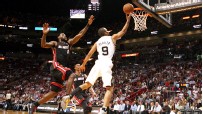 Kevin Arnovitz, TrueHoop: Kawhi Leonard, who'll have to deal with LeBron James for at least 50 possessions or so. Imagine the hardest, most complicated task you've ever faced at the job. Multiply that by 100, and that's Leonard's Thursday night. The thought process will go something like this: Take away the drive, but if you can't, make sure to send him to the right spot, and if that doesn't work, know where the help is, and if he doesn't have the ball, stay on him, but also don't disrupt the general defensive scheme.
Graydon Gordian, 48 Minutes of Hell: Tony Parker. Parker needs to be firing on all cylinders. He needs to attack the rim relentlessly, and either finish if he has the room or make the precision pass if the defense collapses. He needs to punish Miami from midrange if the Heat leave him open, and he needs to do it all while practically never turning the ball over.
Ethan Sherwood Strauss, ESPN Insider: Tony Parker could get a second Finals MVP, after three consecutive disappointing postseasons. That's a pretty big swing. It's difficult to single any one Spurs player out for "pressure" because they're such a collective, process-oriented unit. One gets the sense that, if you merely do your job to the best of your capabilities, all is forgiven in Gregg Popovich's eyes, win or lose.
Michael Wallace, Heat Index: Manu Ginobili. It hasn't been one of Ginobili's more productive postseasons. But the Spurs have been able to push their way to the NBA Finals regardless of the sporadic play of their dynamic wing. Ginobili will need to be a factor on both ends of the court against the Heat for the Spurs to neutralize the impact of James and Dwyane Wade.
Marc Stein, ESPN.com: The consensus answer, I suspect, is Ginobili. Especially when no less an authority than Parker was joking Wednesday about how he's sure Ginobili has been "saving his best for the Finals." But I'd still have to say Tim Duncan, just because of the opportunity to win another championship six years after his last ring and bearing in mind his age. It's an opportunity that will be truly agonizing for him if it slips away. And now that Indiana has shown us how vulnerable Miami is to size, Duncan really has to play big.
---
2. Who faces the most pressure on the Heat?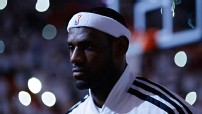 Arnovitz: LeBron James. It's always LeBron James, especially now that neither Dwyane Wade nor Chris Bosh offers his usual reliability. Beyond that, ball movers tend to be the most valuable players on the court against San Antonio's defense, and James is among the best.
Gordian: LeBron James. He is the only player whose legacy is truly at stake. If he goes down as having lost three of the first four Finals he played in, his standing historically will be greatly diminished. He's the greatest player in the game, playing on its biggest stage. Of course the pressure is immense.
Strauss: It's always LeBron. Dwyane Wade and Chris Bosh are getting the recent criticism, but even that comes back on LeBron for choosing these guys as running mates. James has proved he's the best in the world, has proved he can come through in nervy moments, but that's not enough to stave off mockery should his team fail. Too many people have a vested interest in hating LeBron for him to lose quietly.
Wallace: Chris Bosh. With Roy Hibbert and David West now out of the way, Bosh should settle into a rhythm against the Spurs. Not that Tim Duncan and Tiago Splitter aren't a handful themselves, but the Spurs lack the physically imposing presence Indiana had on both ends. The pace of the Finals should be to Bosh's liking. He must deliver for Miami.
Stein: LeBron. It's the same principle as my Spurs answer. No. 6 can't do it alone. He needs Wade and Bosh to play like they did in Game 7 of the Indy series more often than not. But the Heat are relying on LeBron's singular, both-ends brilliance more than anything else to trump San Antonio's tremendous versatility and true T-E-A-M approach. Tall order.
---
3. What's the most intriguing matchup in this series?
Arnovitz: The aforementioned James and Leonard. We're all intimately familiar with why James is fun to watch, but Leonard's defense is a quality show. He's not the guy who claps his hands as he squats in position while his counterpart brings the ball across half court. When Leonard is squared against a scorer one-on-one, he gives off a quiet but intense alertness.
Gordian: LeBron James versus Kawhi Leonard. Kawhi is being given the toughest assignment of his young career: guard the greatest player in the game play after play for an entire series. Whether he can genuinely make an impact on James' productivity is immensely intriguing.
Strauss: I can't wait to see Kawhi Leonard guard LeBron James. He's a different type of defender than Paul George, as Kawhi's arms are much longer and generally more disruptive in passing lanes. Leonard isn't quite the athlete George is, but he'll give Miami more trouble on post entries, should James choose to post up.
Wallace: Tony Parker versus Miami's point guards. Mario Chalmers and Norris Cole have responded well in limited action against Parker. But Parker is playing at an MVP level right now, as he did when he led the Spurs to the 2007 title. Chalmers is coming off an impressive conference finals, and Cole is a bulldog who embraces these challenges.
Stein: I don't know if it's a matchup, per se, but San Antonio has to make LeBron work defensively with its ball movement and other tricks. And with the likes of Manu and Kawhi Leonard causing havoc. The Spurs' wings have to keep LeBron at least a little busy, or he'll have the needed energy to switch on to Parker in crunch time to disrupt the triggerman for everything San Antonio does.
---
4. Who or what is the X factor in this series?
Arnovitz: Gregg Popovich was asked this question at some point earlier this postseason. "I don't know what that is," he growled. The way Pop saw it, players go out and compete, perform their roles, try to take advantage of the opportunities afforded them. Sounds about right, and further evidence that no matter how surly Pop can get, he almost always makes sense.
Gordian: Manu Ginobili. Manu has shown flashes of brilliance this playoffs, but by no means has he been the Manu of old. If we see that brilliance more consistently over the course of this series, it could be a game-changer for the Spurs. An All-Star-level Manu could very well mean a fifth title for San Antonio.
Strauss: Chris Bosh. Is he healthy? If so, he presents a problem for San Antonio. The Spurs' bigs do not like guarding in space, and Bosh enjoys swishing and driving from the perimeter. If Bosh can still explode off that injured ankle, it's a big boost to Miami.
Wallace: Three-point shooting. The Heat and Spurs are at their best when they spread the floor with shooters who punish teams for paying too much attention to James, Wade, Duncan and Parker. This series could swing on the play of Mike Miller, Shane Battier and Ray Allen for Miami, or Ginobili, Leonard, Danny Green and Matt Bonner for the Spurs.
Stein: San Antonio obviously starts this series with some rust to chip away, but don't forget that the collective health of Duncan, Parker and Ginobili is probably as good as it's been all season. That should be a difference-maker.
---
5. Who wins this series and in how many games?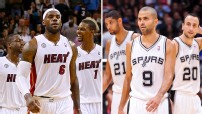 Arnovitz: Heat in 7, and if the Spurs had four home games, they'd be my favorite. It's that close.
Gordian: Heat in 7. San Antonio has a lot of advantages: great shooting, terrific perimeter defense, size and length on the interior. But Miami has LeBron James. And late, in close games, of which there will be several, there is no player in the NBA you'd rather have on your side than LeBron.
Strauss: Heat in 7. There are a few factors in San Antonio's favor: The Spurs possess the 3-point shooting and ball movement that Miami traditionally struggles against. Miami has home court and LeBron James, though. I see this series as a toss-up, so siding with "best player" and "home court" swings it ever so slightly.
Wallace: Heat in 7. But check back in a couple of days. I reserve the right to change.
Stein: Spurs in 6. If Wade and Bosh are "cured" after their struggles in the last round, this pick could well be wrong. But I've seen too much evidence suggesting that neither of them is prepared to provide as much help as LeBron needs. And San Antonio got my attention with a ridiculous four-game sweep of a big, strong, physical and defensive-minded Memphis team. It was the sort of statement I can't ignore.


ESPN.com and the TrueHoop Network
Kevin Arnovitz, Ethan Sherwood Strauss, Michael Wallace and Marc Stein cover the NBA for ESPN.com. Graydon Gordian contributes to the TrueHoop Network.
• Follow the NBA on ESPN on Twitter | On Facebook | On Google+