The Los Angeles Lakers' season ended with a merciful thud on Sunday night, as the Kobe-less Lakers decimated by injuries ended up on the wrong end of a sweep at the hands of the San Antonio Spurs. Our experts go 5-on-5 in examining a fallen franchise.
1. Fact or Fiction: The Lakers would've been contenders if healthy.

Larry Coon, ESPN Insider: Either fact or fiction, depending on how you define "healthy." If Dwight Howard is completely healthy, then fact. But we didn't see that Dwight all season. With a recovering Dwight, the Lakers team that finished the season strong still didn't have enough to get past Oklahoma City or Miami. Kobe's Achilles injury didn't change their fortunes, it just sealed the deal.
Danny Nowell, Portland Roundball Society:
Fiction. Better, yes, but they were too old and too thin and too slow to contend with the murderer's row at the top of the Western Conference. Health doesn't take any years off Steve Nash or make Kobe expend any more defensive energy, and the bench was an eyesore even in top condition.
Chris Palmer, ESPN The Magazine: Absolutely fact. They would have realistically challenged for a spot in the Western Conference finals. That's contending. Look, they had the fourth-best record in the NBA since the All-Star break. They just got hammered so badly by injuries you almost felt sorry for them. They rarely had any genuine continuity. Basketball observers everywhere were robbed of seeing what this kind of talent could really do together.
Darius Soriano, Forum Blue And Gold: Fact. The Lakers were a top-heavy team and injuries cost them their top talent. And then, for good measure, they took away their backups, too. Those injuries also cost them the chance to build the chemistry and togetherness that contending teams need. Give the Lakers good health, and their chances for success increase exponentially.
Marc Stein, ESPN.com:
This is one of those faction situations. Can you define "healthy" for me? If healthy means that Nash and Pau never missed any time … that Dwight made an even faster recovery from back surgery than he did … and that Kobe never tore his Achilles … I'm still gullible enough to say maybe.
---
2. Fact or Fiction: Dwight Howard should stay with the Lakers.
Coon: Another one that could be either fact or fiction, this time depending on how you define "should." The Lakers' roster is somewhat of a mess right now. What's Dwight looking for as he picks his next team? If he's looking to be the centerpiece of the next generation of a premier NBA franchise, then he should stay in L.A. If he wants the best chance to win the title in 2014, then the Lakers have a lot of question marks, and maybe he should look elsewhere.
Nowell:
Fiction. Howard's reputation would be best served by jump-starting an image rehab and staying with the Lakers. But I think he is unlikely to thrive under L.A.'s glare, with a dominant franchise personality and a coach with a fairly fixed system. Dwight leaving will heap yet more scorn on him, but he needs a new start … again.
Palmer:
Fact. Howard can make $118 million with the Lakers or $88 million elsewhere. So there's that. This season his rep was damaged by subpar health, confusion about his role and a total lack of leadership skills. He's got to atone for that without changing jerseys. He just can't continue to run from a less-than-perfect situation every time things start to go awry. Dwight, show us you can lead. And fulfill your potential. You can build an actual legacy in Los Angeles, and the town can be yours. Man up.
Soriano:
Fact. The Lakers can offer Dwight the most money, a fantastic market, and the chance to be the face of a franchise with nearly unparalleled success in the history of the league. No other organization can offer him even two of those three things.
Stein: Fact. But I say it with no conviction. I'm really not so sure. I think he'd be happier and more productive in Houston or Dallas. Not exactly a ringing endorsement about the Dwight fit in Lakerland when the best reason I can come up with for him staying is that he'd unavoidably take another massive PR hit if he walked away from this car crash at the first opportunity.
---
3. Fact or Fiction: The Lakers should bring back Mike D'Antoni.
Coon:
Fiction. We all know that Mike D'Antoni didn't really get a fair shake. He was brought in midseason and had to hit the ground running. He was a controversial choice for many because he isn't Phil Jackson, and because of the way the Lakers handled the hiring process. And his team was cursed by injury. That said, is he really the right guy to be leading this team into the future? Is his system the right one for the Lakers' aged roster? Can he adapt his system to fit his personnel? Does he command the respect of his team? Is he really a championship coach? Those answers are pretty much all negative.
Nowell: Fact. D'Antoni displayed a tremendous amount of stubbornness and a few of the overhyped warts his critics point out, but little changed for the star-crossed innovator. D'Antoni's position is the opposite of Dwight's: He needs some stability for the first time in a long time, and to assemble a culture around his style of play.

Palmer:
Fiction. I've said it several times before: he's just not the man for the job. Yes, he started the season at a disadvantage, but it never felt like he had the players' attention. I don't think they're all that interested in what he's got to say. And how can you be effective with "We Want Phil" chants booming throughout the arena every night?
Soriano:
Fact-ish. With a relatively healthy roster, some personnel upgrades and a full training camp, D'Antoni can put them in position to contend for a title. However, he has lost the PR battle with fans and has had issues with more than one player in the locker room this season. That makes the right decision much more cloudy.
Stein: Fact. I don't see how D'Antoni can possibly be judged fairly on the season we just witnessed when he didn't have anything close to a healthy roster. He deserves a training camp and an interrupted chance at success. He had some bad days this season and didn't choose his words carefully enough on occasion, like pretty much everyone in purple and gold, but I think Phil Jackson is secretly grateful he didn't get this job because he knows he wouldn't have had the pieces to do any better.
---
4. Aside from Dwight, what do the Lakers need to address first?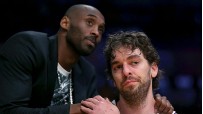 Coon: They need a resolution to their coaching question. If it's going to be D'Antoni, then they need to get to work reshaping the roster to fit his system. They need to be younger, more athletic and a lot better shooters. If it's not going to be D'Antoni, then they need to bring in someone with whom Dwight will be on board. After that, they need to take a serious, sober look at how long Kobe's really going to be out. Do they build their roster with the assumption that Kobe will be back, or with the assumption that he won't?
Nowell: Flexibility in any form. The Lakers were revealed to have a tremendous number of needs, and their money situation is bleak. Of course the salary cap is never the issue in L.A. that it is in some lesser-known markets, but the Lakers need to find a way to clear a lot of money and spend it on rotation spots 2-9.
Palmer:
Get youth and speed. Turns out signing Steve Nash was a huge mistake.
With his frail body and declining skills it just didn't work. Arguably the worst free-agent signing last summer. He has zero trade value so they're stuck with him. Build the team to compete with the fast, athletic teams of the West. In other words, the opposite of what they have now.
Soriano:

This is a tie between perimeter athleticism and outside shooting. The Lakers' inability to defend on the wing on one end of the floor and make defenses pay for collapsing on their big men on the other plagued them all season. If they can shore up these two deficiencies through better complementary parts, they'll be able to maximize their talent.
Stein: First they need to help Phil Jackson find his next job with Toronto or Charlotte or wherever so the "We Want Phil" chants finally die down. Or Jim Buss needs to step back once and for all and let Phil and Jeanie Buss assume control of the organization -- as has been rumored for months -- so the dude with 11 rings is no longer an ominous shadow hanging over this franchise.
---
5. This was the most disappointing NBA team since …
Coon: Since Hector was a pup. Lakers fans will understand the reference -- and agree.
Nowell: A long time ago? I guess I have a hard time assessing comparative disappointment, but when you consider where most fans and slightly fewer wonks thought this team would go, this season is a bitter pill for Lakers nation. I hope they savor it, because perspective is sometimes in short supply for the blessed fans in SoCal.
Palmer: I honestly can't think of a more disappointing team. The expectations were so high, and they failed to meet them on every front. But it's as much about how poorly they handled the failure as the failure itself.
The organization simply got nothing right this season.
Soriano:
In terms of results versus expectations, this Lakers' team may be the most disappointing team ever. Of course injuries, the coaching change and the passing of their owner played a part in why things went wrong and must be part of the post-mortem. But if judging their performance in a vacuum, it's hard to think of a more disappointing group.
Stein: The 2006-07 Mavericks who won 67 games after their 2006 NBA Finals collapse and then lost in the first round to Golden State. But those Mavs were a bigger disappointment. I've been saying it over and over, but only because it's true: All the health woes have spared these Lakers from going down in history as the Biggest NBA Flop Ever (Team Category). There's no question that they had many more shortcomings than any of us know-it-alls who predicted greatness back in August bothered to notice, but judging this team fairly is near impossible when every front-line player missed significant time.


ESPN.com and the TrueHoop Network
Larry Coon writes about salary cap issues for ESPN Insider. Chris Palmer writes for ESPN The Magazine. Marc Stein is the senior NBA writer for ESPN.com Danny Nowell and Darius Soriano contribute to the TrueHoop Network.
• Follow the NBA on ESPN on Twitter | On Facebook | On Google+