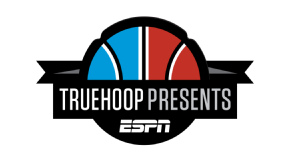 IT WAS LATE, but apparently not too late.
The Cleveland Cavaliers had lost the first two games of the NBA Finals by a combined 48 points. The Golden State Warriors were dominating every phase of the game. And LeBron James was looking for something, for anything, he could say to his teammates to help them believe a comeback was possible.
LeBron had spent the weekend watching old Muhammad Ali fights, in awe at the champ's perseverance. His longtime friend and adviser, Nike executive Lynn Merritt, had suggested he study the way Ali carried himself in those epic 12- and 15-round fights. The way Ali took punches, knowing his opponent would eventually tire. The way he taunted opponents, flaunting his superior skill and talents, knowing he would get into their heads. His teammates needed something else, though. Something they could connect to that would make them believe this series was not over. And so LeBron gathered everyone in the Cavaliers locker room before Game 3 and played a portion of Steve Jobs' commencement address to Stanford University in 2005.
The Apple founder, who died in 2011, had told a story about dropping out of college and how taking a calligraphy class ended up helping him design the elegant fonts and interface of the first Apple computers. "Of course it was impossible to connect the dots looking forward when I was in college. But it was very, very clear looking backwards 10 years later," Jobs said in his address.
"You can't connect the dots looking forward; you can only connect them looking backwards. So you have to trust that the dots will somehow connect in your future. You have to trust in something -- your gut, destiny, life, karma, whatever. This approach has never let me down, and it has made all the difference in my life."
"To be able to have a dream, to be able to have a vision, to make it come into fruition, it's a beautiful thing."

LeBron James, on delivering a championship to Cleveland
As he listened to Jobs' speech, 15-year veteran Richard Jefferson was struck by the events that had transpired to place him in these NBA Finals. The only reason he was in this locker room was because DeAndre Jordan had changed his mind about signing with the Dallas Mavericks over the summer. Jefferson had committed to the Mavs, thinking he'd be teaming up with Jordan, Dirk Nowitzki, Chandler Parsons and Wesley Matthews. He was undergoing a physical in Dallas when he started getting wind that Jordan was having second thoughts.
"When it went sour, I called my agent and was like, 'I can't go there,'" Jefferson said. "And he was like, 'Richard, now is not the time to tell them that you can't go there either.' So we let it wait a couple weeks. There was a conversation about maybe offering me some more money. I was like, 'Look, if Cleveland goes to the Finals and I stay in Dallas for a little more money, I'll kill myself.'"
As it turned out, Jefferson wasn't just along for the ride in these Finals. He played a key role, as the Cavs adjusted to the Warriors' smaller lineups. Afterward, he said he planned to retire. No better way to end his career than on top. The guy Jefferson was taking minutes from, Kevin Love, had been ruled out for Game 3 with a concussion. Love had started reading about Jobs on his own a few weeks earlier. One phrase stuck with him: "Stay hungry, stay foolish." Love started writing it on his shoes as a way to remind himself to loosen up -- to not judge his performances on the statistics he was recording (which weren't even close to his career numbers), but rather by the effort and energy he gave for tasks like rebounding and defense.
"I had just ordered a shirt from a company in Akron with that Jobs quote," Love said. "And then [LeBron] played that [speech] like two days later. I came up to him and was like, 'It's so crazy you played that with all the chaos that was going on with our team, being hungry, but being down in the series."
LeBron had been tasked with delivering a championship to his hometown since he was a teenager. No matter how many titles he won elsewhere, even if he'd won "not five, not six, not seven" rings with the Miami Heat, LeBron's legacy would not be complete until he won a title for Cleveland.
But to do so, he had to learn to lead and be led. To embrace the burden of trying to break Cleveland's 52-year championship drought, not be overwhelmed by it.
"I knew what I was capable of," LeBron said. "I knew what I learned in the last couple years that I was gone. And when I came back, I knew I had the right ingredients and the right blueprint to help this franchise get to a place we've never been. That's what it was all about."
---
THE CAVALIERS HAVE gotten close to a title before. Every team in Cleveland has. Each has its own nightmare story of heartbreak and misery that has served to perpetuate the curse. Remember, LeBron is a native. He can run through these moments off the top of his head.
But this wasn't just about exorcising a city's curse and adding another ring to his jewelry box. It was about changing his town's mentality. Turning pessimism into belief. Negativity into hope.
LeBron is often quoted saying that the fans in Cleveland deserved this title, at long last, because they kept supporting their teams no matter what.
That's usually as far as he goes. It's too emotional for him to say more, so he stops before he says too much -- about his childhood and the struggles of growing up in a single-parent household with little money or resources to make changes in his life.
He can't feel the weight of all that if he is to play at the highest level. Once the game ended and the title was secure, he fell to his knees, lay his head on the court and let it wash over him.
"To be able to have a dream," LeBron said in an interview with ESPN's Rachel Nichols after Game 7, "to be able to have a vision, to make it come into fruition, it's a beautiful thing."
Before this championship run, the best moment in Cavs history was an improbable Game 7 conference semifinals win in 1976 over the Washington Bullets that's affectionately known as "The Miracle of Richfield."
That would be the Richfield Coliseum, a 20,000-seat arena halfway between Cleveland and LeBron's hometown of Akron. Thirteen years later, the building would become the site of Michael Jordan's infamous shot over Craig Ehlo that broke the hearts of Cavs fans.
When the Cavs moved back to downtown Cleveland in 1994, the Richfield Coliseum was largely abandoned. All its memories, the miracle shot the Cavs made to win the series against the Bullets in '76, the heartbreaking shot Jordan made in '89, faded into the collective consciousness.
Over the years, nature has reclaimed the site. Today, there is only a meadow at the intersection of Interstates 77 and 271, where the Palace on the Prairie used to be.
---
ASK CLEVELAND OWNER Dan Gilbert about the city and he's clear on this point: One thing that frustrated him when he bought the Cavs from Gordon Gund in 2005 was the general pessimism about the team and the city.
"It was like they were always waiting for the other shoe to drop," Gilbert says.
Gilbert invested heavily in the team and the city. He was bold in greenlighting trades his front office recommended. The Cavaliers were perpetually in win-now mode, as a team with LeBron on its roster should be.
This season was no different. The Cavaliers spent approximately $160 million in salaries and luxury taxes. And when general manager David Griffin told Gilbert he thought the team needed a coaching change, despite then-coach David Blatt's 31-11 start, Gilbert didn't flinch.
"It was a ballsy move in the middle of the season when we're 31-11," Gilbert said. "It's just, for this team, at that point, it was David Griffin who made the call, and we backed it. That's the thing, if you're going to believe in your general manager, you either believe in him, or you don't. If you believe in him, then you gotta back it, because if you don't, he'll start changing his behavior. He'll start acting differently." It was a difficult move for Gilbert to make. Gilbert, who is Jewish, had been a supporter of Blatt and had taken pride in bringing the Israeli coach to the NBA and giving him a chance to succeed. When Blatt was hired, it was front-page news in Israel. But, says Gilbert: "You have to separate religion. David Blatt, no matter what he does, he's going to be looked at in the history books as one of the most successful coaches, across many different countries and leagues."
Gilbert ultimately trusted his general manager to make the final call.
Griffin had gone out on the road with the Cavs to observe how the team was responding to its coach. He decided that Blatt just wasn't connecting. The team wasn't being held accountable in the way he believed was necessary to win a title, according to team sources.
Tyronn Lue was far more confrontational. He'd been careful not to usurp Blatt's authority while he was associate head coach. But if he saw something, he'd say something.
He'd been like this as a player as well -- which is partly why he had as long a career as he did, then rose up through the coaching ranks as quickly as he did.
In one of the first Cavs practices after Blatt was fired, Lue let LeBron have it during a defensive drill. LeBron started talking before Lue could, correcting his teammates on how the coverage should go. Lue was having none of it. He held up his hand and yelled to LeBron, "I got this," along with a string of expletives.
All things considered, according team sources, LeBron took it well. Coaches and executives throughout his career say LeBron has never minded authority figures challenging him. It's actually one of the traits in Pat Riley that lured him to Miami in 2010.
Keith Dambrot, who coached LeBron his first two years in high school, says LeBron still comes by the gym in Akron during the summers and asks him what he sees. He wants to be coached. And he'll accept it from those who earn his respect.
"The thing that I respect most about him -- all these years people basically enabled him, kissed his behind, told him how great he was, and it didn't affect his desire to be great," Dambrot says. "He might have hit a few bumps where he went backwards, right, where he probably thought his breath didn't stink, but eventually he rallied himself and became a normal human being. I give him a lot of credit for that."
---
LEBRON HAS ALWAYS excelled as a passer and facilitator. But leadership is more than elevating your teammates' play. It took him some time to settle into that role with this much-younger group of Cavs. Those around him say that even after the coaching change LeBron seemed to be frustrated with the Cavaliers' inconsistency. Hence his mysterious subtweets and chummy meet-ups with former Heat teammates that felt a bit like pining for the past.
When Lue called him out on both of those, LeBron made overt gestures to show he was acquiescing. He constantly and overtly praised Kyrie Irving and Kevin Love for good games. During the playoffs, he gave out game balls after each win to focus some shine on his role players.
Still, LeBron saw the Warriors win 24 games to start the season and 39 of their first 43 games and openly wondered how the Cavs would ever be good enough to beat them. All year, Cavs players kept an eye on the Warriors. They knew the road to a championship ran through Golden State.
Cavs players would watch Warriors games and highlights and send group texts to each other about them -- not quite to the level of Magic Johnson and Larry Bird following each other in the box scores each morning throughout their rivalry, but as the season progressed the rivalry between Cleveland and Golden State and LeBron and Stephen Curry hardened.
How deep did it run? Jefferson, 37, is known as one of the most affable guys in the league. But during these Finals, he refused to engage with his former college teammate at Arizona, Luke Walton, the lead assistant coach for Golden State.
"I didn't talk to him in warm-ups," Jefferson said. "I haven't spoken to him since the series started except maybe one time. We were texting and talking before this, but after that, nothing. We had to stay locked in. I can't do anything to desensitize. You're the enemy, you've got to stay there."
---
DAMBROT HAS BEEN to only one Cavaliers home game since LeBron returned to Cleveland in 2014. He tries to stay out of the way. He knows LeBron will always find him when he needs him.
They spent a ton of time together in the fall of 2011, during the NBA lockout. That was the first year after LeBron left for Miami. He was reeling from the continued fallout from his decision to bolt Cleveland and the Finals loss to the Dallas Mavericks that will forever be a stain on his reputation.
"We spent a lot of time together just trying to clear his head," Dambrot says. "His issue was people didn't like him, he's always wanted people to like him. They didn't understand why he left. He was no longer the golden child. And then on top of it, he went into a situation that he was unfamiliar with because Coach [Erik] Spoelstra basically created Dwyane Wade, worked with Dwyane Wade and made him great. Now all of a sudden, LeBron comes, and he has to adjust to that."
Dambrot told him that he had to get over the hatred from fans who didn't understand his decision to leave. The most important thing was to figure out the right way to play with Wade so they could each be comfortable.
He says he still sees some of the same uneasiness with his former star from time to time -- the passivity on the court, the inclination to get teammates going before himself. It may come from a selfless place, but it can be counterproductive.
"He's always had that tendency to make other players around him better, and he's always felt like that's the way to win the most games you can win," Dambrot said. "And I think he did that maybe through four games [in the Finals]. Then he figured out, 'I might have to score 40 and be super aggressive.'"
LeBron, of course, took control of this series, scoring 41 points in each of the Cavs' wins in Games 5 and 6, then dropping his triple-double in Game 7. He imposed his will on the Warriors, on the curse and on any other force that was opposing him. He barked at Curry and goaded Draymond Green. In Game 7, he covered 15 feet in two strides to swat away what could have been a go-ahead layup from Andre Iguodala, then nearly broke his wrist going for a dunk for the ages.
It was as if he was trying to flush away all 52 years of Cleveland's bad fortune with one thunderous slam. So many things led LeBron and the Cavs to that moment. So many fears resurfaced as he clutched his wrist while writhing on the ground.
It could have been another nightmare ending. But the Cavaliers were already ahead at that point. Irving had already hit the clutch 3-pointer over Curry with 53 seconds to go. All LeBron had to do was sink one free throw and Cleveland would be up by two possessions with 10 seconds to go.
When he did, hitting the second of two, the streets of Cleveland exploded. Authorities had starting limiting traffic in and out of downtown at halftime. The crowds inside and outside Quicken Loans Arena were massive. After all these years, the curse was over. LeBron had made good on his promise.
After the game, in the waning hours of Father's Day, LeBron brought his three children to the podium and wherever else he went. He wanted family pictures with the trophy he'd finally delivered to his hometown.
As father and children walked back onto the court, his eldest son, LeBron Jr., stopped at midcourt and performed a set of pushups. He seemed to feel the need, in this moment, to get stronger.
"I got tired," LeBron Jr. said. "While I was holding the trophy."
As his father can attest, it's a heavy weight to bear.