More than six months after the Mavs clinched the first title in franchise history by taking down the Heat in Game 6, the defending conference champs meet again on Christmas.
Where do Dallas and Miami stand heading into Opening Day's marquee matchup (ABC, 2:30 p.m. ET)? Our Heat and Mavs experts debate.
1. Who's higher in your preseason power rankings: Heat or Mavs?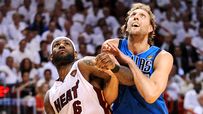 Jeff Caplan, ESPN Dallas: Heat. They were before this mini-preseason and are even more so after watching the Mavs twice get pummeled by the Oklahoma City Thunder, a team that, like the Heat, is virtually unchanged and ready to roll into this compacted regular season. Dallas has yet to even play with a supposed real starting lineup, and ratcheting up the defense to Tyson Chandler levels with unfamiliar pieces is going to prove to be a tremendous uphill battle.
Tom Haberstroh, Heat Index: Heat, and I'm not sure it's very close. As long as Dirk Nowitzki is in uniform, the Mavericks will be a playoff team. But as long as Brendan Haywood is in uniform instead of Tyson Chandler, the Mavericks will struggle to be much more than that. Simply put, the Heat are title favorites and the Mavericks aren't.
Rob Mahoney, The Two Man Game: Heat. Last season's runner-ups will return the same brutally effective core, get a healthier Udonis Haslem and -- eventually -- Mike Miller, and add Shane Battier and rookie Norris Cole to the mix. Honestly, it wouldn't make much sense to put any team over Miami in the preseason power rankings, much less Dallas.
Marc Stein, ESPN.com: Mavs. But that's because the only OFFICIAL preseason NBA Power Rankings on ESPN.com always affords the privilege of No. 1 status to the defending champs no matter what has happened since the championship. I wouldn't expect the Mavs, in their transitional state, to stay in the top spot for long. At Stein Line HQ, though, rules are rules.
Brian Windhorst, ESPN.com: Heat. Last year the Heat had zero preseason rhythm or mojo; it was more like they were in a bunker waiting for the storm to stop. This year is completely different, and things are aligning for them to have a much stronger start. Right now, I'd have the Heat at the top of any list.
---
2. Fair or unfair that many regard Miami's 2010-11 season as a failure?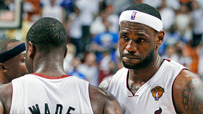 Jeff Caplan, ESPN Dallas: Unfair. For a team in its first season together -- regardless of star power -- to jell as it did after initial turmoil, and beat the old-guard Boston Celtics and the rising Chicago Bulls, and get two wins from winning it all -- and remember the Game 2 blown lead in the Finals -- isn't all that bad. The Heat ran into a hot Mavs squad that came together brilliantly and rode a wave of teamwork and remarkable performances all the way to the championship.
Tom Haberstroh, Heat Index: Unfair. I get it: LeBron probably shouldn't have said the "not one ... not two ..." line. That wasn't his smartest move. But considering its fourth- and fifth-best players were essentially absent last season, I'm not sure Miami should consider Year 1 an epic failure, no matter how much fun it is to say the phrase, "epic failure."
Rob Mahoney, The Two Man Game: Unfair. The Heat were an unprecedented experiment; there was no model, no outline and certainly no instruction booklet. Erik Spoelstra and his stars had to figure everything out on the fly and deserved a bit of a break while they worked out the kinks in their approach. I'm sure losing in the NBA Finals was hardly the preferred outcome of the season, but "failure" seems a bit too harsh for what was otherwise a very successful campaign.
Marc Stein, ESPN.com: Fair. Because they had a commanding 2-1 series lead in the Finals and home-court advantage and really should have won the first three games. When the season started -- or even when the playoffs started -- I wouldn't have described last season as a championship-or-failure campaign for the Heat. But the opportunity they squandered when they got to the Finals changed the equation.
Brian Windhorst, ESPN.com: It's fair. They put themselves in the corner by their words and actions. They were the ones who made it championship or bust. In the end, they got beaten by the better team. I think that should be more recognized.
---
3. Fact or Fiction: The Mavs should be favored to win the West again.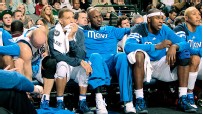 Jeff Caplan, ESPN Dallas: Fiction. Even in a weakened West, too many key pieces are gone, especially two who helped turn Dallas into a top-10 defense. Center Tyson Chandler is credited for changing the culture on that end, and DeShawn Stevenson was a bulldog defender on the perimeter and invaluable in the postseason. Brendan Haywood is not Chandler, and an aging Vince Carter appears set to start at shooting guard. Defense is going to be this team's No. 1 issue.
Tom Haberstroh, Heat Index: Fiction. The Oklahoma City Thunder just got a year older. For them, that's a great thing. For the Mavericks? Not so much.
Rob Mahoney, The Two Man Game: Fiction. Given their previous standing and internal improvement, it's hard to dispute the Oklahoma City Thunder's preseason claim as the West's best. But even beyond that, could we definitively say that a Tyson Chandler-less Dallas squad is a clear-cut favorite over San Antonio, Memphis or either team in L.A.?
Marc Stein, ESPN.com: Fiction. I don't think they're going to fall as far as some of my colleagues do, because the group of players imported on a one-year basis (Lamar Odom, Vince Carter, Delonte West, Brandan Wright and Sean Williams) has preserved the Mavs' impressive depth, but OKC has a mix of talent, continuity, youth and hunger that no one in the conference can match at the moment.
Brian Windhorst, ESPN.com: Fiction. The young Thunder were on the verge last season, and the Mavs have taken some steps back.
---
4. Make one bold prediction for either the Heat or Mavs.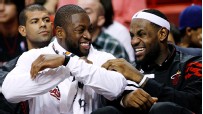 Jeff Caplan, ESPN Dallas: Bold prediction: The Mavs' top-10 defense last season plunges to the bottom 10. Look, any team with Dirk Nowitzki, Jason Kidd, Jason Terry, Shawn Marion and Lamar Odom is making the playoffs. But what propelled Dallas to the championship was a relentless and sometimes smothering defense. So, it's not about who is on the team, but who isn't.
Tom Haberstroh, Heat Index: Bold prediction: Norris Cole will be in the running for winning Sixth Man of the Year. Yes, this year. Call me crazy, but the rook is going to be electric in the reserve role. The Heat won't start him even if he's better than Mario Chalmers (which I think he might be soon enough). They want to run and attack, which is precisely what Cole is all about. You want bold? All aboard the Cole train.
Rob Mahoney, The Two Man Game: Bold prediction: Miami will make a legitimate run at the '95-96 Bulls' win percentage from their legendary 72-10 season. The win total won't look quite as impressive on a 66-game schedule, but 58-8 seems a bit more reachable, particularly with Miami ready to roll over rusty opponents attempting to integrate new players and/or install new systems.
Marc Stein, ESPN.com: Bold prediction: Miami will be one of three teams, along with OKC and Chicago, to win 50 games in the shortened 66-game season. Not bold enough? The Heat will gamble on signing either Gilbert Arenas or Jamaal Tinsley to improve their point guard play.
Brian Windhorst, ESPN.com: Bold prediction: The Mavericks' age will be a negative factor during the shortened season. Bold prediction: If the Heat don't win the title this season, it will be the Big Three's last together.
---
5. Who will win this rematch?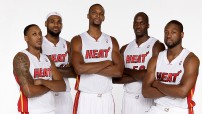 Jeff Caplan, ESPN Dallas: Heat. The Mavs will raise the championship banner before they tip off the season with the Heat in the building. Can they ride that momentum to a victory? Hard to see it from a team that has barely had time to be introduced to one another let alone has to play a hungry team like the Heat. There are going to be some potholes as the Mavs learn one another and as the core adapts to life without Chandler manning the middle and providing swagger not seen in Dallas in decades. Miami, meanwhile, should be primed to run Dallas out of its own gym.
Tom Haberstroh, Heat Index: The Heat. Then again, I picked them to win the Finals so what do I know? Well, I do know this: Watching the Mavericks raise that championship banner will make Dwyane Wade's blood boil.
Rob Mahoney, The Two Man Game: Miami. The Mavs were once a well-oiled machine, but now they're stuck doing a bit of necessary maintenance. No one should doubt Rick Carlisle's ability to get everything sorted out in short order, but asking a team with such significant changes to be battle-ready by opening night is a bit much.
Marc Stein, ESPN.com: The Mavs are in trouble. This is setting up as one of those classic situations where the Heat, forced to watch the Mavs raise their banner, start the season with a vengeance and rout the aging incumbents. Don't forget, furthermore, that Miami hasn't won a regular-season game in Dallas in nine tries dating back to 2002. In other words? The Heat are due.
Brian Windhorst, ESPN.com: It will be an emotional day for the Mavericks, and they are dealing with adjustments to their roster. The Heat return intact, in shape and looking to make a statement. Miami wins this round.


ESPN.com and the TrueHoop Network
Tom Haberstroh, Marc Stein and Brian Windhorst cover the NBA for ESPN.com. Jeff Caplan covers the Mavs for ESPN Dallas. Rob Mahoney contributes to the TrueHoop Network.