While expectations continue to rise in Oklahoma City, tensions grow in Orlando, where Dwight Howard's future with the Magic is always on the mind. Can the Thunder gift a win for the folks at Chesapeake Energy Arena? Can Orlando present a united front? Our team breaks down the Christmas Day showdown (ESPN, 8 p.m. ET).
1. Fact or Fiction: The Magic have to trade Dwight Howard.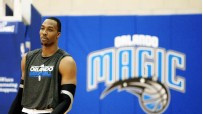 John Hollinger, ESPN.com: Fiction. They can always risk that he values money more than location and take this all the way to the summer. I'm not sure that's a good risk, mind you -- players tend to care less about the Benjamins on their second big contract than on their first -- but it's an option if they aren't getting good offers.
Beckley Mason, HoopSpeak: Fiction. A superstar can only hold a team hostage if that team views losing him to free agency as certain death. Howard wants to trade the swamps of Orlando for the beaches of L.A., but Magic GM Otis Smith needs not barter for mediocre returns -- tanking is its own reward. The Cavs "earned" a top-five pick and flipped Mo Williams for what became Kyrie Irving after LeBron James walked. There are worse fates.
Eddy Rivera, Magic Basketball: Fact. Ownership has made it abundantly clear that it's not going to make the same mistake it did in 1996 -- in which the franchise let Shaquille O'Neal walk as a free agent and got nothing in return. When, not if, Dwight Howard is traded, the only hope for the Magic is that the compensation for him is comparable to what the Hornets received for Chris Paul.
Royce Young, Daily Thunder: Fiction. I'm a believer in the "Let 'em walk" philosophy. The Magic are going to lose any Howard trade they partake in. Whether it's Andrew Bynum or Brook Lopez, they aren't getting a franchise superstar like Howard in return. Blow it to pieces and shoot for the stars trying to find the next Dwight Howard in the draft.
Michael Wallace, ESPN.com: Fact. With the way things have gone the past two weeks, would you seriously trust Howard if he says he'd be willing to stay? As likeable as Dwight is, the fact remains he has rolled his general manager under the bus and played an emotional fan base against the front office and head coach. There's no easy way to end this.
---
2. Fact or Fiction: The Thunder will win the West.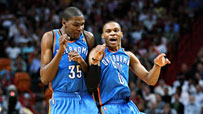 John Hollinger, ESPN.com: Fact. Oklahoma City nearly won it last season and its young troops are only getting more experienced and skilled. In a format that favors young legs, the Thunder's youth will be rewarded.
Beckley Mason, HoopSpeak: Fact. Oklahoma City is young, deep and extraordinarily talented at the top of the roster. Minus Nick Collison, every player who really matters on this team will be better than he was last season.
Eddy Rivera, Magic Basketball: Fact. With so much uncertainty in the Wild West, the Thunder -- with the core of its roster intact from last season -- should be considered the prohibitive favorites to win the conference. With the dynamic duo of Kevin Durant and Russell Westbrook, emerging stars in James Harden and Serge Ibaka, and a healthy Kendrick Perkins, what's not to like?
Royce Young, Daily Thunder: Fiction. Both Russell Westbrook and Kevin Durant are near realizing their gifts entirely, but the secondary stars like James Harden and Serge Ibaka aren't quite there yet. And you need more than two stars to win a title, much less a conference.
Michael Wallace, ESPN.com: Fact. Pushing to get the No. 1 seed in the West is more vital to the Thunder than any other top contender in the conference. Barring serious injury, this young and athletic OKC team is built to survive the compacted 66-game schedule. Kevin Durant and Co. will win the sprint. But we'll see about the playoff marathon.
---
3. What will you be watching most closely on Christmas Day?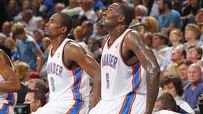 John Hollinger, ESPN.com: Howard, obviously. I want to see if he's fully engaged or if he's in Vince Carter mode. The implications for the Magic's season are enormous.
Beckley Mason, HoopSpeak: How Russell Westbrook and James Harden play together. In last year's playoffs the Thunder stumbled on a bit of magic when Harden took over pick-and-roll duties and Westbrook became a nightmare cutting off the ball. I'll be tracking Thunder possessions when those two share the floor to see if they stick with that strategy.
Eddy Rivera, Magic Basketball: Stan Van Gundy. Thanks in large part to Howard's looming free agency, the head coach has inherited one of the toughest coaching jobs in the NBA this season. He also has the unenviable task of trying to win with a roster that continues to get worse, thanks in large part to general manager Otis Smith's incompetence.
Royce Young, Daily Thunder: How Kendrick Perkins defends Dwight Howard. Perk has a new body. He lost 32 pounds during the offseason. He's quicker and has some hops again. But can he still bang and shove against a man with the power of Howard?
Michael Wallace, ESPN.com: I've seen the pictures. I've heard the rumors. The preseason only gave us a tease. But I'd like to see for myself in a full regular-season game what all the rage is about with Kendrick Perkins dropping considerable weight after an offseason of mega conditioning. If Perk is healthy, fit and productive, he puts OKC over the top as title contenders.
---
4. Make one bold prediction for either the Magic or Thunder.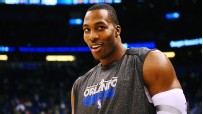 John Hollinger, ESPN.com: Bold prediction: Dwight Howard won't go to New Jersey. What the Nets can offer simply isn't good enough for Orlando to part with its best player. Once you compare the risk of losing Howard for nothing with the risk of getting nearly nothing from New Jersey (especially if Brook Lopez is still damaged goods at the trade deadline), the former just isn't that big a deal. It might be preferable, actually -- Orlando would almost certainly be horrible for a year or two and get to rebuild with very high draft picks.
Beckley Mason, HoopSpeak: Bold prediction: Three Thunder players will average 20 points per game. Doesn't sound like a wild prediction, but that's only happened once in the past 20 years, and the pace of play in the NBA is significantly slower today. If Harden gets enough shots, the Thunder's three will do something those guys in South Beach failed to do last season.
Eddy Rivera, Magic Basketball: Bold prediction: Orlando will struggle to make the playoffs. It sounds crazy, but if the Magic limp out of the gate and Howard is dealt before the trade deadline, it becomes quite plausible. Consider this: The Utah Jazz were 27-14 last season at one point and missed the playoffs after trading Deron Williams midseason. Orlando could experience a similar fate.
Royce Young, Daily Thunder: Bold prediction: Serge Ibaka will win Defensive Player of the Year. That's Dwight Howard's award, but Ibaka led the league in total blocks last season and has gained the much-needed notoriety to take home a trophy like that. Ibaka truly is a block machine and with a full season as the starting power forward coming his way, it's not unreasonable that he could put up three blocks a game.
Michael Wallace, ESPN.com: Bold prediction: Dwight Howard will expand his list of preferable trade destinations to include the Bulls and hometown Atlanta Hawks. With Derrick Rose and that devastating defense locked into the Windy City, there isn't a more tailor-made fit for Howard. Build a trade around a package that starts with Carlos Boozer, Ronnie Brewer, ex-Florida Gator Joakim Noah and multiple draft picks.
---
5. Who will win this Christmas?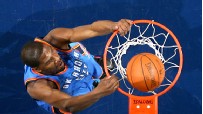 John Hollinger, ESPN.com: Oklahoma City. Combine the Thunder's huge home-court advantage with the fact that they're already the better team, and they have to be a huge favorite in this game.
Beckley Mason, HoopSpeak: Thunder. The Magic just don't have that many good players these days. Unless they collectively put on an incendiary shooting performance (unlikely in the first game after a long lockout and brief preseason), I expect the Magic to sputter against the Thunder's relentless attack.
Eddy Rivera, Magic Basketball: Thunder. The Magic have the better coach in Van Gundy and the best player on the floor in Howard. After that, however, Oklahoma City has Durant and Westbrook and Ibaka and Harden and Perkins and ... you get the idea. This is a poor matchup for Orlando. As such, this should be a blowout in the Thunder's favor.
Royce Young, Daily Thunder: Thunder. Oklahoma City has a ridiculous home-court advantage and you can be sure the fans will be fired up. The Magic looked a bit confused and unfocused in the preseason, while this Thunder team has had zero distractions. Unless OKC just can't handle Howard, the Thunder should take care of the Magic.
Michael Wallace, ESPN.com: OKC will be smoking hot coming out of the blocks like Usain Bolt in this matchup. The Thunder just better hope that Durant didn't burn himself out in all of those flag football and charity basketball games during the offseason. Give the Magic a pass until Howard's situation is resolved.


ESPN.com and the TrueHoop Network
John Hollinger and Michael Wallace cover the NBA for ESPN.com. Beckley Mason, Eddy Rivers and Royce Young contribute to the TrueHoop Network.