Don't tell Amare Stoudemire, Kevin Garnett or Doug Collins that Miami winning the East again is a foregone conclusion. For that matter, don't tell the Heat either, because they're still trying to get better, faster and more unconventional. And don't sleep on the sleepers. Here's an early look at an Eastern Conference that still provides plenty of intrigue.
(For the top storylines to watch in the West, click here.)
1. How position-less are we talking here in Miami?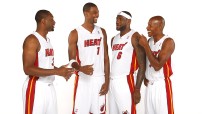 It's amazing what a coach can do when his best player happens to be the league's best player, and said player happens to be perfecting a position never truly seen before: the point-power forward.
But that's what Erik Spoelstra has in LeBron James, the MVP who spent most of last postseason making life difficult for his opposition from the 4 spot, and making the Heat, as Spoelstra calls it, a "position-less" team.
Well, Spoelstra's taking that idea through to this season, which gives the Heat freedom not only with lineup options but also with style of play. We probably won't see that much of James or Dwyane Wade in the preseason, but the idea is for them to anchor an even faster, even more offensively talented version of the position-less team that flummoxed the Thunder.
Anyone can start or finish games -- Ray Allen, Rashard Lewis, Shane Battier -- all because LeBron makes it possible. And it means the true big men aren't even necessary, which makes Joel Anthony and Dexter Pittman luxuries, not liabilities.
2. Key to the Knicks? That's Amare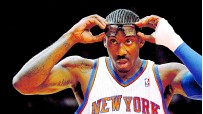 A lot of the talk about the Knicks, and rightfully so, will be about their age. With Rasheed Wallace now on board, they're officially the oldest team ever.
Ever.
All that means, though, is they're in win-now mode, which should be assumed at all times with this franchise. But the fact is, the Knicks' role players are old, not the core. Amare Stoudemire, Carmelo Anthony and Tyson Chandler will be most responsible for the team's success, and all three remain, even if it's at the tail end for two of them, in their respective primes.
Stoudemire, though, is the one who spent the whole offseason listening to others say he's ill-fitting and the reason the Knicks, as constructed, won't work. It's no surprise, then, that the New York big man spent some time with Hakeem Olajuwon refining his post game.
What's most interesting about that isn't that Stoudemire is committed to improving. It's that he's improving a segment of his game that doesn't necessarily make him a better fit alongside Anthony. If he wanted to complement Anthony, he'd work on catching and shooting, not pivoting and Dream-shaking.
Maybe it means Amare can reclaim his spot as a primary scoring option and not some afterthought. After all, if he's an efficient post player, he's probably a better option for a slow-moving team than Anthony, a 43 percent shooter last season who might prefer a faster tempo.
3. What are the Rose-less Bulls?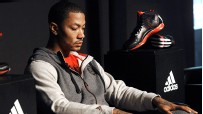 What would be considered a surprising result for the 2012-13 Chicago Bulls?
There really isn't an answer that would be shocking.
Assuming the Bulls remain one of the league's better defensive teams, and one still quite familiar with playing sans Derrick Rose, then it wouldn't be unfathomable for Chicago to have one of the better records in the league even without Rose for half a season.
But if last season's playoff loss to the Sixers was any indication, it's possible the Rose-less Bulls used up all their magic and could end up struggling mightily without their leader. And when he does finally return from his torn ligaments, it still could take significant time to get Rose and his teammates adjusted. Plus, the Bulls changed up the supporting cast significantly, so there's no telling whether this crew can duplicate what happened last regular season.
Once again, Tom Thibodeau has his hands full: He'll either be in contention for Coach of the Year again, or he'll get his first true taste of absolute misery as a head coach. Or somewhere in between. No one knows with these Bulls.
4. Who's the Kobe to Andrew Bynum's Shaq?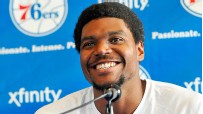 Or better yet, because they're in Philadelphia, who's the Dr. J to Bynum's Moses?
Regardless of what pairing you use to compare, the 76ers need one of their perimeter players to rise up to star, if not superstar, level if they're going to take full advantage of having Bynum, one of the very few quality centers left in the league.
Shaquille O'Neal never starred without a stud on the perimeter. And Bynum is no Shaq, so he might need even more help if the Sixers are going to vault to elite status.
Jrue Holiday has All-Star potential, but his game might not be best suited to complement a big man. Evan Turner is creative and likes to get others involved, but his inconsistent shooting won't create much space for Bynum.
Those are Philly's only two options, unless Nick Young's game matured at a record pace in the offseason. If one of them emerges -- and the guess here is Turner will be in the running for Most Improved Player -- the Sixers can threaten in the East.
Then again, Bynum sitting for three weeks so his knee can fully recover from a procedure isn't the greatest of omens.
5. Just how much is Rajon Rondo capable of in Boston?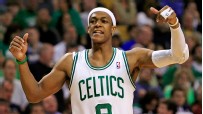 If you watched the Eastern Conference finals last year and nothing else, you'd think Rondo was the league's second-best player and that the Celtics' "Big Three" referred to the numbers in Rondo's points, rebounds and assists columns.
His 20.9 points, 11.3 assists, 6.9 rebounds and 49 percent shooting against Miami left the Celtics just one win away from a shocking Finals appearance.
So why, exactly, can't we expect similar production from Rondo throughout this upcoming season? We've heard others say Rondo's focus tends to drift when the games aren't as critical. But with Ray Allen gone, Paul Pierce losing some of his scoring touch and Kevin Garnett always a medical mystery, Rondo might just be the star in Boston. If he responds to that responsibility and puts up numbers similar to his playoff averages (17.3 points, 11.9 assists, 6.7 rebounds and 47 percent shooting), not only will the Celtics be threatening to come out of the East again, but Rondo will be legitimately in the mix for MVP.
The question is, does Rondo want that, or is he fine just turning it on when necessary?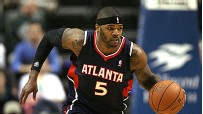 The indecisiveness that turned Howard's standing in Orlando from complicated to comical was in large part because of his inability to make a choice. Well, in Atlanta, Smith's emotions seem to be just as unpredictable.
Going into the All-Star break last season, the sentiment was Smith badly wanted a trade. But after his running mate Joe Johnson was moved to Brooklyn and with the team now seemingly in the hands of Smith and Al Horford, Smith seemed to warm to the idea of staying put.
There still is plenty of uncertainty, though, regarding the future of Smith, a 2013 free agent. New Hawks general manager Danny Ferry doesn't anticipate Smith's contract status getting resolved until the summer, when he'll surely find plenty of suitors. So unless the Hawks somehow become the surprise team in the East, it's quite likely Ferry will be listening to offers for the regularly frustrating but immensely talented 26-year-old.
Regardless of how he gets his numbers, 18.8 points, 9.6 rebounds and 3.9 assists are hard to come by, so expect Smith to be a highly sought-after commodity.
7. Are the Pacers the new Atlanta Hawks?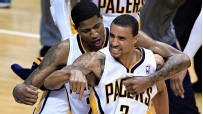 The Pacers talked a big game while losing to the Heat in the Eastern Conference semifinals last year, with Danny Granger leading the attempted intimidation of LeBron James and Co.
It was interesting to watch Indiana develop an identity -- but it still resulted in three straight losses and a 4-2 exit in the series after taking an early lead.
The question now is, how much did this team actually improve this offseason? By matching Portland's max offer for Roy Hibbert, the Pacers are essentially committed to a Hibbert, Granger, George Hill and Paul George core, with David West possibly being retained after this season, too.
What that might make them -- unless George grows into a legitimate superstar -- is the new version of the Hawks: good, possibly very good, but never true contenders. Indiana added some depth with Ian Mahinmi and D.J. Augustin, but nothing that would suggest it's significantly improved.
It might be why last year's Executive of the Year, Larry Bird, called it quits this summer. The growth potential might have found its limit with this group.
8. Is Brook Lopez the key to the Nets or just a serviceable big man?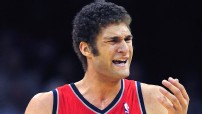 Still wondering why the Magic wouldn't dance with the Nets for a trade that centered on Howard for Lopez? Just read our John Hollinger's scouting report on the Nets' middleman:
• Big, slow post-up center who almost always turns left shoulder. Good shooter.
• Blocks shots but a bad defender. Can't guard floor spacers at all. Won't rebound.
• Poor passer out of double-teams. Takes bad shots. Too focused on drawing fouls.
Does that sound like the skill set of a center who's ever supposed to dominate his conference?
It's part of the reason why some of the excitement in Brooklyn should be tempered, because the anchor in the middle might just be a liability at times.
If the Nets are going to make the kind of leap most expect them to make, it'll be mostly up to the perimeter group of Deron Williams, Joe Johnson and Gerald Wallace. If that group can't help make Lopez a truly elite big man, there might be little hope for him. If he does show some promise, or some kind of toughness, the Nets may be legitimate right away.
9. Which puzzling top-five pick will pan out?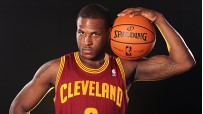 On draft night, there was no question Michael Kidd-Gilchrist would be drafted high. The uncertainty came from projecting the Kentucky star. Was he a franchise-altering talent, worthy of being drafted second overall, despite never really dominating on a loaded Kentucky team?
Then came the No. 4 pick, when the Cavaliers took Syracuse guard Dion Waiters much higher than he was projected to land.
So which one of those two will surprise more? Will it be Kidd-Gilchrist emerging once he gets the chance to be featured? Or will Waiters show off some of that Dwyane Wade-like potential and make Cleveland rock again?
Here's an interesting scenario to play out while we wait and see: If Waiters turns out to be a star and Kyrie Irving continues his path toward superstardom, wouldn't there be a nice opening at the forward position in 2014 for a certain free-agent-to-be with Cleveland ties? Hmm. (It's LeBron James, if you didn't get the obvious reference.)
10. Might the Wizards have something good going?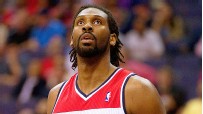 Forget the fact that John Wall is out, potentially, for a couple months with a knee injury. Let's just assume, and we all know Washington deserves some good basketball news, that Wall comes back in top form and the Wizards have their complete roster available this year.
There's actually playoff material in the nation's capital for the first time in a long time.
Bradley Beal is a mature rookie who'll do more creating from the 2-guard spot than people give him credit for. With Nene and Emeka Okafor up front, the Wizards finally have some big men that aren't equal parts potential and comedy. Toss in a Trevor Ariza and an improved Jan Vesely, and all of a sudden Wall has some legitimate pieces to work with.
More important, maybe the former No. 1 pick can actually learn from his teammates rather than be forced to be the grown-up. Either way, the Wizards shouldn't be a joke this year. Some of us are actually going to miss those laughs.