What does the arrival of the Lakers' newest big man savior mean for their previous big man savior? Is time really on Oklahoma City's side? What's next for the Mavericks? Who will spend their winter longing for last summer? There's no shortage of storylines in the Western Conference. Here are my top 10.
(For the top storylines to watch in the East, click here.)
1. Lakers, Lakers, Lakers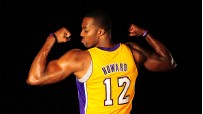 Might as well get this out of the way. We'll be talking about them all year. Even if they take an early exit from the playoffs, we'll be talking about them. They are this year's NBA Topic A, no matter what.
So just a couple of quick thoughts here.
Is it possible that Dwight Howard was the bigger acquisition, but Steve Nash is a bigger part of the equation? Howard is a landscape-shifter, both now and potentially in the post-Kobe era. But all the early talk from Lakers camp indicates Nash will be the key to how well this team works. He's the one who will dictate the offense, and Kobe's willingness to cede that responsibility to him will dictate their flow.
An underdiscussed topic is how often Nash will look for Pau Gasol, and how Gasol will react to a reduced role. He struggled last season, when Andrew Bynum surpassed him for the No. 2 spot in the pecking order. Now Gasol is the fourth option. If he struggles, $38 million over two years would be a lot to pay for a fourth option who doesn't function well as a fourth option.
2. Brace for the end of the Thunder as we know them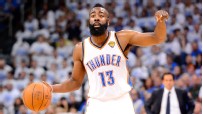 Even if they sign James Harden to an extension before the Oct. 31 deadline, it doesn't mean this team will remain intact for the long term. It would make sense for the Thunder to lock up Harden, remove this potentially distracting discussion point, focus on winning a championship with this group, and then consider trading Harden down the road.
Oklahoma City simply doesn't have the revenue streams to handle the luxury tax as easily as the Lakers or Knicks. The irony could be that the harsher tax undoes the greatest success story of the small-market teams the system was supposedly designed to protect.
If they don't trade Harden they could use the amnesty provision on the two years and $17.5 million that remain on Kendrick Perkins' contract after this season. One way or another, the makeup of this team is going to change. Change is the only constant in the NBA. (Can you believe only three members of the 2010 championship team remain on the Lakers?) So enjoy this version of one of the league's most likable teams. It might be the last time you see it in this form.
3. Mavs moves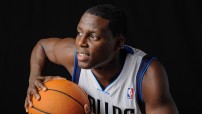 Speaking of change, the Dallas Mavericks are down to four players remaining from their 2011 championship. Mark Cuban didn't get sentimental and try to preserve the core group that won the banner that's already starting to collect dust. He didn't feel compelled to make a drastic move to catch up to the Thunder or Lakers right now. He's all about preserving flexibility for the future.
Taking a cue from Cuban, I'm not curious about what the Mavericks do now; I'm wondering what they do next. They can throw a max contract offer at a free agent next summer or clear the decks for a complete reset in 2014. I still think that when the new tax rules kick in and belts start tightening around the league, Cuban will swoop in and grab talent at discounted rates. But in the meantime, the clock's ticking for 34-year-old Dirk Nowitzki.
4. Denver: better cast, same story?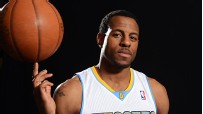 Gotta love Denver's up-tempo flow. Have to be impressed with its depth. Gotta love the feistiness it showed in the playoffs. Amazed that it somehow turned Dwight Howard's turbulence in Orlando into a talent upgrade for itself. And yet …
The Nuggets didn't address their No. 1 issue: their lack of a go-to guy in crunch time. They don't have anyone who finished in the top 50 of 82games.com's rankings of the top clutch-time scorers. Acquiring Andre Iguodala gave them more firepower and a great perimeter defender, but the knock on him was that he didn't play like a superstar in crunch time. They got the 76ers' best player, but they also inherited their main issue.
George Karl hates that whole discussion, because it implies that individuals matter more than teams. His response will be to try to go even faster, rack up even more points so the games don't come down to one shot. It might not succeed in the playoffs, but it sure makes for good League Pass viewing.
5. The Sacramento Kings might have a "Major League" thing going on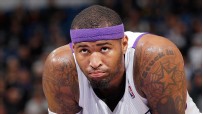 That is, they might succeed in spite of their circumstances.
The owners would rather the team be elsewhere. Even if they do stick in Sacramento, there's no commitment to a new building to replace their hopelessly outdated barn of an arena.
They have been luckless in the lottery, drafting below the spot their record would warrant in four consecutive years. The bad run started in 2009, when the Kings had the worst record in the league and wound up with the fourth pick.
But talented players keep falling to their spots. The latest is Thomas Robinson, whom some folks believed would go to Charlotte with the second pick this year but was still available when the Kings picked fifth.
And DeMarcus Cousins, whose suspect attitude dropped him to the fifth pick in 2010? He's getting it together. Cousins averaged 20 points and 10 rebounds over the last two months of the season and had nights of 28 and 18, 38 and 14, 27 and 14, 41 and 12, 25 and 18, and 23 and 19. Then he showed up to training camp looking slimmer than ever. He and Robinson are going to be ferocious on the boards.
Point guard has gone from a weak spot to a position of strength thanks to the surprising success of Isaiah Thomas and the addition of Aaron Brooks.
It's not that teams will fear the Kings. But they sure won't enjoy playing them.
6. The Clippers and bracketology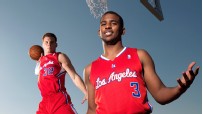 I think the Oklahoma City Thunder will win the Western Conference, taking advantage of the acclimation period for the Lakers. But that's predicated on Oklahoma City avoiding the Los Angeles Clippers in the playoffs.
The Clippers went 3-1 against the Thunder last season, including a pair of home-and-home victories within a five-day span in April. They were successful in part because Chris Paul won the point guard battle. While Paul and Russell Westbrook both scored about 20 points per game, Paul more than doubled up Westbrook in the assists category, with 9.5 per game. The Clippers also had three fewer turnovers per game than the Thunder.
It's a matchup league and this is a favorable one for the Clippers. San Antonio broomed them right out the playoffs. The Spurs were more efficient, relentless, one step ahead mentally -- in short, too Spursy. The Clippers don't want to see them in the spring. But if the Clips can avoid their side of the bracket and square off against Oklahoma City, they could pull off the upset.
7. Warriors rolling in the deep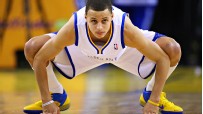 The five players on Golden State's second unit have started a cumulative 59 percent of their career games. Think about it: Wouldn't you kind of like a team that started Jarrett Jack, Brandon Rush, Richard Jefferson, Carl Landry and Andris Biedrins? You wouldn't rush to put a deposit on playoff tickets, but you'd like your team's chances on any given night. Golden State's projected starting lineup actually contains Stephen Curry, Klay Thompson, Harrison Barnes, David Lee and Andrew Bogut. Now things get reeeaallyy interesting.
They can get points from every spot on the floor. (Getting the ball to them might be an issue without a true distributor). They can get double-digit rebounds from both Lee and Bogut. They're getting further removed from the defensive indifference under Don Nelson (it crested in a league-worst average of 112 points per game over a two-year stretch from 2008 to 2010). They will go from 20 games below .500 to contending for the playoffs. If their top five players had more postseason experience than the 10 games split between Bogut and Rush, I'd like their chances even more when the games really matter down the stretch.
8. Who's going to provide the leadership in Phoenix?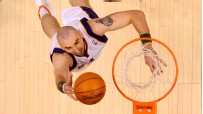 Steve Nash played less than 32 minutes a game and averaged only 12.5 points last season and couldn't get the Suns into the playoffs, and yet his departure leaves them with a huge void.
They have Luis Scola, Goran Dragic and Shannon Brown, who have been on winning teams -- they just haven't been the ringleaders on winning teams. Who is going to take charge late in the game? Who's going to shake up the team during a losing streak? And does this leaderless environment sound ideal for Michael Beasley?
Because the Suns are truly dependent on Beasley. The only way they can surpass expectations is if Beasley maxes out.
Beasley can get you 20 points, or he can get you down by 20 points. He had a negative offensive win share last season and by including Wesley Johnson in the trade, the Suns managed to get the only two Timberwolves who had negative offensive win shares last season. I'm not enough of a stats geek to tell you what exactly offensive win shares mean, but I do know that a double negative ain't no good.
9. Minnesota's medical issues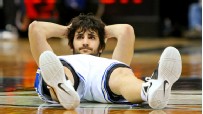 In Minneapolis, there's the curiosity of Brandon Roy's comeback and the necessity of Ricky Rubio's return.
The Timberwolves, who haven't had a winning record since 2004-05, were two games over .500 when Rubio tore his ACL near the end of a game against the Lakers on March 9. They lost that game, then 19 of their final 24. The current timetable has him back in mid-December, which should be enough time for the Timberwolves to see if this reconfigured roster can make a playoff push.
I'll admit to being disproportionately consumed with Roy's attempt to rejoin the NBA, simply because he's one of my favorite guys in the league and I can't stand the thought that he could be done at age 28. The good news for Roy is that he never depended on athleticism in the first place. He would walk the ball up the court, then rely on herky-jerky moves to throw defenders off balance. I used to tease him that he had an old man's game; now he has an old man's body.
The bad news is that Roy has no cartilage in his knee, and even the man who's paying him $10 million over two years has his doubts about whether he can make it. Timberwolves owner Glen Taylor told MinnPost that coach Rick Adelman "keeps saying to me, 'I don't know if he can play!' And I tell him, 'Rick, I don't know if he can play, either!' So the Brandon Roy thing is a risk."
Um, yeah. There's that.
10. Who will feel a bigger post-Olympic letdown, Davis or Love?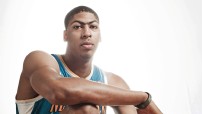 Talk about a talent drop off. This reminds me of my senior year of college, when I went from a summer internship at the Washington Post back to writing for the school newspaper.
With teammates from Russia, Puerto Rico, Montenegro and Spain on the Minnesota Timberwolves roster, at least Love might feel like he's in the Olympic village. The only time Davis will be reminded of his time in London will be when he sees Al-Farouq Aminu, who was on the Nigerian squad the Americans beat by 83 points. That might be kinda awkward.