The new NBA season is drawing near, but which teams and players will show up to the 2012-13 party with new and improved looks? Our panel takes a look at who is ready to make the leap this coming campaign.
1. Which player will take the biggest step forward this season?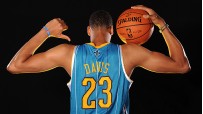 Alfredo Berrios, ESPN Deportes LA: I'm going with Anthony Davis. His unexpected showcase in the Olympics gave us a taste of what he's capable of, but he also huddled with the big boys before playing a minute in the NBA, and that is priceless experience he can use to bring change in New Orleans.
Israel Gutierrez, ESPN.com: Evan Turner, Sixers. With last year's leader, Andre Iguodala, and last year's designated chucker, Lou Williams, both gone, either Turner or Jrue Holiday should rise and be this team's premier perimeter threat to complement Andrew Bynum. Given their career numbers and Holiday's nice playoff performance last spring, Turner has more room to climb, and he should make a third-year leap.
Marc Stein, ESPN.com: To make the Staples Center rivalry even spicier, I hope it's Blake Griffin or DeAndre Jordan. An extended run of good health for Andrew Bogut and Steph Curry would also be most welcome. But I think we actually already have our answer: Kawhi Leonard. Surely you heard how Gregg Popovich, on media day, announced to the world that he wants Leonard to be a Spur for life. That's Tim Duncan-level respect for the Spurs' fourth-best player and a kid with one year in the league. That's big.
Jared Wade, 8 Points, 9 Seconds: Kyrie Irving. He was the only rookie of the year contender last season and is already a top-20 player in this league. But Unc is about to begin his ascent to the truly elite. I have a feeling that the crossovers and spin dribbles we saw him use to navigate past virtually every member of Team USA this past summer will be an apt microcosm for his upcoming campaign.
Charlie Widdoes, ClipperBlog: Klay Thompson. A perfect blend of ability and opportunity should result in a breakout sophomore season for Thompson. We know he can shoot the lights out (41 percent from 3 as a rookie), and he fits perfectly on the wing in what could be an explosive Warriors offense.
---
2. Which West lottery team has the best shot at the playoffs?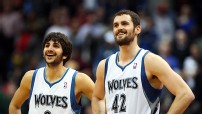 Berrios: Timberwolves. Before Ricky Rubio's injury last season, Rubio was the front-runner for rookie of the year and the team was a contender. Rubio won't be back until Christmas, but this team is one click away from being at least a spoiler in the West with the talent it has.
Gutierrez: Minnesota. The Timberwolves got more mature with the exit of Michael Beasley, and have the potential to be quite good if they ever feature a healthy Brandon Roy and Rubio together. It's almost as important that new role players like Chase Budinger and Greg Steimsma find comfortable roles. Should Utah or Dallas or Denver slip, the Wolves would be postseason-bound.
Stein: Maybe I got sucked into the hype at the Olympics when Andrei Kirilenko and Alexey Shved were helping Russia snag an unexpected bronze. Or maybe it's my Rubio addiction. Or maybe I'm just tantalized by Roy's potential fairy-tale comeback. One way or another, I've been totally sucked into the fairly widespread (by now) idea that Kevin Love and coach Rick Adelman suddenly have enough around them to get the Wolves into the postseason.
Wade: There seems to be a lasting -- perhaps deepening -- chasm between those teams that battled their way into the postseason and those left on the outside looking in. Phoenix got worse, Portland didn't do much, and lord knows what Houston is doing. Minnesota seems like the best bet, but lacking Rubio to start won't help. So I'll pick Golden State, which has youth, some dynamic talent, a few reliable veterans and a motivational coach who may be able to find a way to make it all work.
Widdoes: Timberwolves. They were in the playoff mix until Ricky Rubio went down last season, and his eventual return will do wonders for a team that returns a devastating frontcourt and, all of a sudden, appears incredibly deep on the wings.
---
3. Which East lottery team has the best shot at the playoffs?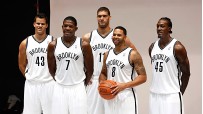 Berrios: Tough one, but the word "Brooklyn" comes to mind. The Nets secured Deron Williams as the face of the franchise and added Joe Johnson. They could not get Dwight Howard, but I believe that the change of scenery will do wonders for this team.
Gutierrez: This is too easy. But rather than just say Brooklyn has the best chance (for obvious reasons), I'll offer up a couple more that can, realistically, slide into the postseason to replace the Magic and possibly the Hawks and Bulls, too. The Wizards, assuming John Wall comes back in good form, and Bucks, with a full season of Monta Ellis and an emerging Ersan Ilyasova, both have postseason potential.
Stein: Easiest question of the season so far. Surely everyone here is listing D-Will's Brooklyn Nets in this category. Right?
Wade: Considering the offseason money bonfire lit by the Russian metals oligarch and the best rapper alive, it had better be those Brooklyn boys.
Widdoes: Nets. Like the Clippers last season, they could rise to a mid-playoff seed by scoring efficiently enough to compensate for their defensive shortcomings. Williams can be every bit as deadly as Chris Paul, and he's motivated to prove it in Brooklyn's inaugural season.
---
4. Which West playoff team will move to elite status?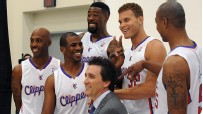 Berrios: Clippers. Once the laughingstock of the league, the Clips have their starting five back and have built up playoff experience. They added seasoned veterans in Grant Hill, Jamal Crawford and Lamar Odom, who would be their only question mark.
Gutierrez: The Clippers. As long as Paul is healthy, this could be the best Clippers team we've seen. And it's why he, outside of LeBron James, might be the most reasonable MVP candidate. If Odom is motivated and Crawford is selective, there's no reason the Clips can't compete with the Lakers for the division title and potential top seed.
Stein: The Clippers are the only real candidate here, but that depends on your definition of elite. The Lakers (with their summer bonanza) and the Thunder (just by growing up another year) are going to make it hard for the Spurs to keep up -- the same Spurs who happened to sweep the Clips in Round 2 last spring.
Wade: The cop-out answer, which I will use, is the Lakers. Were they already elite? Their playoff record the past two seasons suggests they were not. Well, in case you didn't hear, they now have Dwight Howard and Steve Nash. Both have back issues, but that is unlikely to stop them from being one of the best three teams in the NBA.
Widdoes: Nuggets. The Lakers are the easy answer, but their move is really from "elite" to "most elite on paper." With the addition of Andre Iguodala, the Nugs are as talented as ever and should be a terror throughout the regular season. If they're healthy, there's no reason that can't carry over into the playoffs.
---
5. Which East playoff team will move to elite status?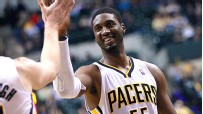 Berrios: If Derrick Rose were healthy, my pick would be the Bulls. The Pacers could make a lot of progress. They re-signed Roy Hibbert and George Hill and improved their bench. Indiana, which was the No. 3 seed in the East and took the Heat to six games before bowing out in the conference semis, has a good shot.
Gutierrez: The Knicks have all the makings of a team ready to implode. Or they might just make everyone look dumb and take that next step forward. I'll guess the latter is likelier, especially given Amare Stoudemire's determination to become a better post player, having worked with Hakeem Olajuwon. At the very least, the Knicks are an excellent regular-season team.
Stein: If you read the first edition of ESPN.com's NBA Power Rankings, you'll know that I see the Sixers with the potential to make that sort of move, all because they traded for a franchise center while helping to rid the East of Howard in the same deal. Some 72 hours after the rankings published, Philly was announcing that Bynum would have to be rested for the first three weeks of his Sixers career as a precautionary measure after his latest knee surgery. Which would suggest that the ol' Power Rankings jinx is still a force that trumps my powers of prognostication.
Wade: This could also be the Nets, but I'll say the Pacers. Last season, their lack of national exposure and star power left many thinking that the 3-seed they earned was a byproduct of a weak Eastern Conference. But they were flat-out good and are returning a starting lineup that was off-the-charts productive last season. The bench remains shaky, but they will win 55 games and worry Miami again in the playoffs.
Widdoes: Celtics. They were oh-so-close last season, but even after taking the (mostly Chris Bosh-less) Heat to seven games, their ceiling seemed limited. So they reloaded on the wings (Jason Terry, Courtney Lee) to boost scoring and remain committed to a dynamic defensive scheme, anchored by Kevin Garnett at the 5.


ESPN.com and the TrueHoop Network
Israel Gutierrez and Marc Stein are senior writers for ESPN.com. Alfredo Berrios covers the NBA for ESPN Deportes LA. Jared Wade and Charlie Widdoes write for the TrueHoop Network.
Follow the NBA on ESPN on Twitter | On Facebook | On Google+