What's in store for the Brooklyn Nets? Our panel of five looks back at the offseason moves (and nonmoves) and forward to what lies ahead in the 2013-14 NBA season.
1. What grade would you give the Nets' offseason?
Jared Dubin, Hardwood Paroxysm: A-. Swapping out Gerald Wallace, MarShon Brooks and crew for Paul Pierce, Kevin Garnett, Jason Terry and Andrei Kirilenko is an on-court coup. The only reason I can't go higher is because Pierce and KG likely aren't long for Brooklyn and the Nets gave up so many future picks.
Jeremy Gordon, Brooklyn's Finest: A cautious A. Sure, it could go to pieces the moment KG or Pierce takes extended time off because of age-related injury, but if the core holds and the team jells, the new additions should take the Nets from first-round exit to fringe contender.
Israel Gutierrez, ESPN.com: B. Forget about the cost of this experienced group, because the owner did. All you can ask is to be in the conversation. The Nets are, if only for this season, and maybe it would take another trade or an unfortunate injury elsewhere. Either way, the Nets' offseason made them better and more intriguing.
Mike Mazzeo, ESPN New York: A-. The future first-round picks they surrendered to acquire KG and Pierce could come back to haunt the franchise long term, but with a win-now mandate, GM Billy King did a lot more with his cap-strapped roster than I thought he could. The AK-47 and Andray Blatche signings were tremendous value, the Jason Kidd hire a worthwhile gamble.
Ohm Youngmisuk, ESPN New York: A. The hiring of Kidd gave the franchise an identity and a leader. The Nets then catapulted into contender status by landing Pierce, Garnett and Terry, with Kidd playing a pivotal role in helping convince Pierce and Garnett to come. And don't overlook the addition of Kirilenko.
---
2. What's the biggest question facing the Nets in 2013-14?
Dubin: Health. Simply put, Pierce and, to a lesser extent, Garnett wore down by the end of last season. How Kidd manages the minutes of his older players to keep them healthy could be the difference between another first-round loss and a trip to the Eastern Conference finals.
Gordon: Health. The chemistry shouldn't be a problem: There's a nice mix of veterans who get it, young stars hitting their window and rookies, or near-rookies, with potential. But, as mentioned before, keeping everyone on the floor is important to their playoff run.
Gutierrez: There'll be quite a few, but probably of greatest interest is how the scoring will be distributed, which puts a lot of pressure on Deron Williams to orchestrate it all.
Mazzeo: A first-year coach and chemistry are big questions, but I think health is the biggest. KG (no back-to-backs?) and Pierce aren't young. D-Will's ankles are a concern. Brook Lopez is coming off his third foot surgery in 18 months. Joe Johnson was bothered by plantar fasciitis in the playoffs. Yeah, staying healthy for the postseason is key.
Youngmisuk: Can Kidd lead the Nets back to the NBA Finals as a coach? Owner Mikhail Prokhorov is taking a risk in handing over a roster built to win it all to a rookie coach. How will Kidd manage egos, substitution patterns and last-second situations? The bet here is that Kidd's Hall of Fame vision, high basketball IQ and on-court leadership skills will transfer to the bench and complement the mixture of All-Star veterans.
---
3. Who's the Nets' most intriguing player?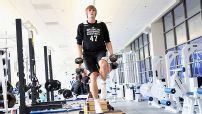 Dubin: Kililenko. AK-47 will likely operate as the swing man between small and big lineups. Who and how many of Johnson, Pierce, Garnett and Lopez he shares the floor with will shape how the Nets play at any given time he's on the court.
Gordon: Garnett. He's responsible for upgrading Brooklyn's defense and keeping everyone in line with his de facto aggro tone, but he'll have a harder time doing that if he's wearing street clothes. Fortunately, it doesn't seem like he's ready to hit the bench any time soon.
Gutierrez: Based on my previous answer, it has to be Williams. We know what Pierce, Johnson and Garnett can do, but will Williams let them get it done, all while making sure Lopez continues to improve? Oh, and he'll probably need to listen closest to Kidd.
Mazzeo: KG is here to change the culture and improve the defense, but it's gotta be AK-47. Dude can play/guard so many different positions, and that versatility is so useful. He can also start if they want to rest KG. A $3.2 million salary was a flat-out bargain.
Youngmisuk: Kirilenko could play a pivotal role if he can stay healthy. He is capable of defending multiple positions, can score some, rebound and block shots. Kirilenko doesn't have to play huge minutes, but he can start in case of injury or a vet like Garnett needs to be rested. He might even be an option to finish some games for Kidd because of his length and defensive ability.
---
4. What's one bold prediction about the Nets?
Dubin: Kidd's lack of prior NBA head-coaching experience won't make much of a difference in Brooklyn's regular-season win-loss record. The Nets have enough talent to win regular-season games regardless of Kidd's tactical maneuvers. The playoffs -- in which teams have to prepare for only one opponent -- are where his mettle will be tested.
Gordon: They'll compete for the No. 1 seed as the team gets it together almost immediately, with Deron and Brook playing like unquestioned All-Stars and KG, Pierce, AK-47, Johnson and the rest of the bench providing stellar support. They might not finish ahead of Miami or Chicago, but it'll be close.
Gutierrez: Not sure how bold this is, but Terry will look much more like the Mavs version of himself than the Celtics version. Kidd knows how Terry rolls, and the coach will certainly need Terry off his bench because just about all his offense will presumably be in the starting lineup.
Mazzeo: With good friend Kidd coaching him, Williams will lead the NBA in assists and merit MVP consideration after an up-and-down, injury-plagued 2012-13 campaign. The new system and supporting cast will benefit him greatly.
Youngmisuk: Under Kidd's direction, a rejuvenated Williams will return to elite point-guard status and average more than 10 assists for the first time since 2010-11. Williams has struggled with injuries and, admittedly, his confidence in the past few seasons but will return to being a dominant point guard with his most talented supporting cast around him.
---
5. Prediction time: How far will the Nets go this season?
Dubin: Eastern Conference semifinals. Indiana and Chicago, by virtue of younger, healthier rosters, have a better shot of making it out of the East than Brooklyn does.
Gordon: Seeding is important, but if they finish in the top three, the Eastern Conference finals don't seem like an unfair bet -- to say nothing of the Finals if they manage to get a lucky break (like Dwyane Wade or Joakim Noah tuckering out by that point of the season).
Gutierrez: Deep … into the second round of the playoffs. I'm waiting for the bold person to say the Nets are a conference finalist ahead of the Heat, Pacers and Bulls. I am not that person.
Mazzeo: Eastern Conference finals. But with this team, who knows? Anything less than an epic second-round series with an elite team like Miami or Indiana would be a colossal failure. The pressure is on. Their window is now, but this is a superstar's league, and there are no LeBrons or Durants on this squad.
Youngmisuk: The Nets will win 50 games because it will take them some time to develop chemistry while Kidd also tries to keep his older veterans fresh for the postseason. The Nets will then advance to the Eastern Conference finals and perhaps give defending champion Miami a run for its money.