What's in store for the Houston Rockets? Our panel of five looks back at the offseason moves (and non-moves) and forward to what lies ahead in the 2013-14 NBA season.
1. What grade would you give the Rockets' offseason?
J.A. Adande, ESPN.com: A. They got their target, Dwight Howard, the marquee free agent after Chris Paul took his name off the board. This comes on the heels of the A they earned in 2012 by nabbing James Harden from the Thunder and retroactively makes every move that paved the way for this (be it talent acquisition or cap clearing) an A as well.
Curtis Harris, Hardwood Paroxysm: A. By signing Howard, the Rockets secured the NBA's best center -- so long as Dwight fully regains his health. In a vacuum, that's enough of a coup, but securing Howard's services while offering less money than the Lakers could earns bonus points.
Rahat Huq, Red94: A. It wasn't just getting Howard. It was getting him without sacrificing a major part of their core, though much of the heavy lifting there was done prior to the offseason. The team also managed to bring back Francisco Garcia -- a revelation from the Thunder series -- while unloading Royce White at close to no cost.
Michael Pina, TrueHoop Network: A. Convincing Howard to move on from the Lakers was obviously a huge win, but GM Daryl Morey didn't stop there. The Rockets then added 3-point-shooting complimentary pieces like Omri Casspi and Reggie Williams, grabbed Ronnie Brewer (the wing defender they didn't have last season) and convinced underrated veteran Francisco Garcia to re-sign for less money.
Justin Verrier, ESPN.com: A-plus. Pat Riley's 2010 coup will forever be the gold standard, but he was luring three friends with a desire to play together. Morey did it the hard way: years of small pawn moves to create a package for a star, then putting him in a player-friendly system, then using that success to land a second top-10 player. Truly remarkable.
---
2. What's the biggest question facing the Rockets in 2013-14?
Adande: Defense. We saw in Los Angeles last season that merely putting a defensive player of the year emeritus on the back side of a flawed defense isn't enough. How much can a healthier Howard improve a defense that ranked 28th in the NBA in points allowed (102.5 per game) last season? Perimeter defense matters more in an increasingly perimeter-oriented league.
Harris: How will things work out at center and point guard? Omer Asik was clearly unhappy with the Howard signing since it means a cut in his minutes. Meanwhile, Patrick Beverley is nipping at Jeremy Lin's heels for the starting PG spot. How amicably these two situations are resolved will say a lot on how this team will compose itself throughout the season.
Huq: Power forward. Will Terrence Jones or Donatas Motiejunas emerge? Will they play Asik major minutes next to Dwight? Will they trade Asik to bring in someone else? The team will likely close out games with a smaller forward to start the season, but they'll need a more permanent solution at that position if they want to go far.
Pina: Can Harden improve as a defender? He was dreadful on and off the ball last season with nearly all his energy and attention directed towards offense. His development as a complete superstar remains level until he improves on that end.
Verrier: What do they do with Lin? He started in the Rockets' preseason opener, but Beverley played more, better minutes. Lin seems best suited for a reserve role, in which he can dominate the ball in ways he couldn't next to Harden. Either way, with Lin now 25 years old, we should get a clearer picture of what he is in this league.
---
3. Who's the Rockets' most intriguing player?
Adande: Patrick Beverley. His playoff run was most notable for its impact on Russell Westbrook's meniscus, but before and after that moment, Beverley showed he belonged in the NBA playoffs by averaging 11.8 points and 5.5 rebounds. Where does he go from here? And will his reception in Oklahoma City be even worse than Howard's return to L.A.?
Harris: Dwight Howard. After two seasons of unending drama punctuated by indecision, awkward Stan Van Gundy news conferences and a rocky relationship with Kobe Bryant, Dwight finally has a chance for stability and contention. How he plays and comports himself this season will do a lot toward rehabilitating his shattered image.
Huq: Terrence Jones. The sophomore forward was the star of training camp, drawing rave reviews from Howard. He has all the physical tools and showed flashes last season, but can he put it all together and, more importantly, is his skill set the right fit with the starters?
Pina: Patrick Beverley. A fiery on-ball defender who can also make 3s and attack the paint, Beverley deserves more playing time than the average backup point guard. Will he get it?
Verrier: James Harden. The microscope will deservedly be on Dwight, but the Bearded One faces the bigger adjustment. Harden rose to superstardom on a team that gave him as many shots and as little defensive responsibility as he wanted, but he now must make way for a demanding player who was anointed team savior upon arrival and whose skill set as a roll man is far greater than his desire to be one. Harden slowly assumed alpha-dog status in high school, college and the pros. How will he and his game change now that he has to give some of that back for the first time?
---
4. What's one bold prediction about the Rockets?
Adande: The Rockets will shoot 3,000 free throws. Howard's foul-shooting woes have led opponents to send him to the line as many as 916 times in a season. Last season, Harden led the league with 792 free throw attempts. With those two on the same team, officials will wear out their whistles during Rockets games.
Harris: This will be their final season with their current jersey design. Since winning the NBA title in 1995, Houston has ditched their simple, classic style for buffoonish cartoon rocket ships and strange torso ovals. After two decades of horrific designs, the time has come for a return to the classic look.
Huq: Lin will silence his critics. He looked great in camp, showing off a new and improved shooting form. The Rockets will need Lin to continue upon his hot shooting late last season (over 40 percent on 3s in February and March), and I think he will end any debate over who should be the starter at point guard.
Pina: Kevin McHale will piece together an offense that allows Asik and Howard to play together without capsizing Houston's ability to score. Also, Asik will not be traded before next summer.
Verrier: The Rockets won't be nearly as fun to watch as they might seem. Houston was basketball Cirque Du Soleil last season: young, athletic wings flying around at the league's fastest pace, shooting a ton of 3s, wearing lots of hair product. But Howard would back his man down for 23 seconds if he had his druthers, and Harden's best skill is his crafty way of manufacturing free throws. The Lakers are still waiting for all that fun, too.
---
5. Prediction time: How far will the Rockets go this season?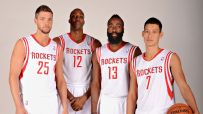 Adande: The second round. Newly formed teams usually don't, uh, blast off into the NBA Finals. It's more of a gradual ascent. Harden will have to learn when to drive and when to dump the ball to Dwight. Howard has to figure out where he can best help his teammates on defense. They'll win their first playoff series since 2009 in the process, but they're not ready to go much deeper.
Harris: Western Conference semifinals, barring injury. However, I think that's as far as they go this upcoming season. Harden and Howard will need at least a season to fully realize the great potential they hold as a duo. 2014-15 is the season to really watch out for the Rockets.
Huq: Western Conference finals. The Westbrook injury changes everything out West, in which home court could prove the difference. It's going to take time for the Rockets to jell, but they should still finish in the top four in their conference. Anything can happen in the playoffs, but I don't see Houston making it all the way to the Finals just yet.
Pina: They'll win a playoff series with home-court advantage, but that's as far as I'm willing to go in the loaded West.
Verrier: Western Conference semifinals. The Rockets still have an above-average supporting cast in the wake of their two big offseason swings. But, like any upstart, they'll need time to figure it all out, and the West this season isn't the place to do it, successfully, on the fly.