What's in store for the Indiana Pacers? Our panel of five looks back at the offseason moves (and nonmoves), and forward to what lies ahead in the 2013-14 NBA season.
1. What grade would you give the Pacers' offseason?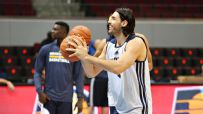 Tim Donahue, 8 Points, 9 Seconds: B+. The trade for Luis Scola made the summer, giving the Pacers a big upgrade behind David West at the four, and a bona fide scoring option off the bench. C.J. Watson and Chris Copeland are low-cost acquisitions who fulfill a shooting need. Drafting Solomon Hill was criticized, but he's impressed his veteran teammates and fits perfectly in the culture.
Amin Elhassan, ESPN Insider: B+. When you have a roster such as Indiana's, minor tweaks, not a major overhaul, are in order. I loved the addition of Scola (and subsequent erasure of mistakes such as Gerald Green and Miles Plumlee), and settling Paul George's extension early was pivotal. The Pacers also upgraded their bench by bringing in Watson and Copeland. I liked bringing back West, but I docked some points for overpaying without an escape strategy.
Andrew Lynch, Daily Dime Live: A. The most glaring deficiencies were the bench and perimeter scoring, and the Pacers nicely shored up both this summer. They re-signed West and managed to add Scola at practical costs. They're a deeper, better team that essentially lost nothing. That's all anyone can hope for.
Seerat Sohi, Hardwood Paroxysm: A-. The Pacers entered preseason having obliterated their to-do list. Re-sign West? Check. Extend George? Check. Replace D.J. Augustin? Check (C.J. Watson at clearance price). Not only did they shed Green's contract, they replaced Tyler Hansbrough with the offensively rich, albeit weathered, Luis Scola in the same deal.
Jared Wade, 8 Points, 9 Seconds: A-. The team deftly upgraded its woeful bench, especially by bringing in Scola and Copeland. The Pacers were the best defensive team in the NBA last season, and now they have more offensive punch. On the other hand, the inevitable departure of assistant coach Brian Shaw, who mentored Lance Stephenson into a high-level player, could loom large.
---
2. What's the biggest question facing the Pacers in 2013-14?
Donahue: Can the Pacers add offensive efficiency without sacrificing too much defensively or on the glass? Scola, Watson and Copeland are all better offensive players than the players they are replacing, but only Watson is an upgrade defensively. Their presence subtly alters the very narrowly defined identity of the Pacers. It should be a net gain, but will it?
Elhassan: How will Danny Granger be reintegrated? This team was on the cusp of the NBA Finals without any contribution from Granger. On paper, his return makes them better, but basketball is a fickle game, and chemistry and lineup combinations are important issues to tackle. Granger's impending free agency means he can be potentially moved for value, or lost for nothing.
Lynch: Do they have enough dynamic playmaking to compete against the tenacious defenses of the top-tier teams in the Eastern Conference? The defense will certainly be there for Indiana, but its weakness remains ballhandling on the perimeter, especially against the Bulls, Heat and maybe even the Nets.
Sohi: Will Granger bolster the second units' offense -- one that was putrid last season -- or will he replace Lance Stephenson in the starting lineup? A Granger-Scola pick-and-roll attack off the bench is tantalizing, but equally fascinating is slotting an All-Star into a starting lineup who already has a net rating of 12.1 points.
Wade: How well Granger will perform. If he gets back to even 85 percent of what he was before his injury, then this team could win a title. The last time Granger was healthy, he was this team's best player, and he is only 30 years old.
---
3. Who's the Pacers' most intriguing player?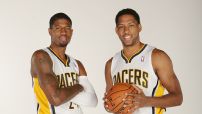 Donahue: My knee-jerk response would be Lance Stephenson, but my considered response is Paul George. On media day, West said a coach at the Team USA workouts texted him, saying George could be a top-five player. I can't say with any certainty that that's realistic, but I'll be fascinated to see what he makes of himself.
Elhassan: Paul George. He's made strides in each of his NBA seasons, improving from a defensive specialist to two-way threat to All-Star to playoff hero. He's now been rewarded very handsomely, with a five-year "designated player" extension. Now comes the hard part: Showing that the previous level of performance is a norm (if not the baseline), and not just "the best I've ever played."
Lynch: Danny Granger. His absence from last season's success lends an air of mystery to his fit with this roster going forward, but he's a very good 3-point shooter who can lighten some of the load on his teammates. And if he struggles, he has solid trade value.
Sohi: Paul George. He already won the 2012-13 Most Improved Player award, but there's still plenty of room for advancement. George could stand to fine-tune his isolation skills, ballhandling and as a pick-and-roll operative. In an Eastern Conference that's airtight at the top, George's improvement could determine Indiana's fate.
Wade: Danny Granger. Fans saw his fiery temperament when the Pacers battled the Heat in the 2012 playoffs, but they may not understand just how much confidence he has in his abilities. His scoring efficiency has waned since 2008-09, but if he can hit 40 percent of his 3s and get to the line, this team's ceiling rises a few stories.
---
4. What's one bold prediction about the Pacers?
Donahue: Granger will finish the season as a Pacer. I don't know if that qualifies as bold or not, because the driving factor is money. Granger's contract expires this summer, and any trade that brings back salary for next season will greatly complicate their efforts to stay under the tax threshold and re-sign Stephenson.
Elhassan: They'll be the No. 1 seed in the East. Pretty bold, considering the Heat are still the Heat, and Chicago brings back Derrick Rose. Indiana returns much of the same roster from last season, but it's even deeper now, with only three players older than 30 (Scola, West, Granger).
Lynch: Granger won't be traded this season. Either because of his return to form or an injury, his contributions and the lineup versatility he affords coach Frank Vogel will be of the utmost value during the 82-game grind.
Sohi: Granger takes home the Sixth Man of the Year award. The Pacers' dynamite starting lineup last season was a stark contrast to their bench, which was among the league's worst in scoring. Granger led Indiana in points for five seasons and could do it a sixth time while boosting their second unit at the same time.
Wade: Roy Hibbert will win defensive player of the year. His block on Carmelo Anthony was arguably the signature defensive play of the 2013 postseason. That memory, the rejections he will rack up this season and his role as the anchor of the NBA's best defense will earn Hibbert enough votes.
---
5. Prediction time: How far will the Pacers go this season?
Donahue: NBA Finals. Three very good Eastern Conference basketball teams are going to have disappointing finishes in the second round or Conference finals this season. I don't think the Pacers will be one of them. I think they get past Miami and play for it all.
Elhassan: It'll be another Conference finals ouster at the hands of Miami for Indiana.
Lynch: They're a stone-cold lock for the East semifinals, barring a major implosion. I'll stop short of penciling them in for the Conference finals, though. They face formidable competition, and I'm not entirely sure Roy Hibbert will have the same kind of success enforcing his "verticality" in the post this time around.
Sohi: In spite of some tweaking and growth, the Pacers will likely make it as far as they did last season: seven, hard-fought games against the Miami Heat. Miami didn't make a huge summer splash because the NBA's most autonomous deciding factor is still in their favor: LeBron James.
Wade: Eastern Conference finals. Again. Dwyane Wade is becoming less threatening by the season, and George and Hibbert have evolved into beasts. LeBron James is still LeBron James, however, and the King remains the King. The Pacers were close last season and will be close again, but it's impossible to pick against James at this point.