What's in store for the Miami Heat? Our panel of five looks back at the offseason moves (and nonmoves) and forward to what lies ahead in the 2013-14 NBA season.
1. What grade would you give the Heat's offseason?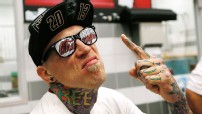 Tom Haberstroh, ESPN Insider: A-. Pat Riley worked his magic again. Yes, they'll miss Mike Miller, but Ray Allen (opted in) and Chris Andersen (re-signed) returned at clearance prices, and those two are far more vital to the Heat than Miller. Riley was then able to lure Greg Oden and Michael Beasley on low-risk, high-reward fliers, making the Heat the most talented team in the league. But there's more to titles than talent.
Danny Nowell, TrueHoop Network: B+. While you'd like to see the Heat infuse a little youth into their program, their salary situation means splashy moves for players in their prime are difficult, which is why I'm so bullish on the Oden signing; if he can stay healthy -- and I'm a believer -- the Heat found a low-cost gamble that could add a new dimension.
Tom Sunnergren, Hoop76: B. Miller is a more consequential loss than is widely recognized (in 2012-13, he posted the highest win shares per minute since his age 25 season), but the champs were wise to bring back Andersen. And did I mention Greg Oden? Because: Greg Oden.
Michael Wallace, Heat Index: B. Even with the uncertainty surrounding the reclamation projects that are Oden and Beasley, the Heat's most impressive offseason work was done by convincing Allen to pick up his second-year option and Andersen to re-sign for the minimum. Keeping the defending champs intact without losing much of the supporting cast was magnificent front-office work.
Brian Windhorst, ESPN.com: B-. With the luxury tax getting its teeth, the Heat made four moves that saved money, yet they'll bring back about 95 percent of their minutes played. Taken on its face, that is successful. The Miller release was a blow to the locker room, but it was hard to argue with the economics and depth chart. The grade would be higher, but the team has zero young prospects and shows little real interest in getting any.
---
2. What's the biggest question facing the Heat in 2013-14?
Haberstroh: Can they stay healthy? Dwyane Wade's troublesome knees have gotten all the headlines, but the truth is that the Heat are relying on old parts to carry them to the three-peat. Allen, Andersen, Shane Battier, Udonis Haslem and Wade are all on the wrong side of 30, and their bill of health might be the biggest determinant whether LeBron James stays or goes next summer.
Nowell: How much does Wade have left? These questions have swirled for a while, and Wade has done just enough to thwart reports of his demise, but the past two postseasons have shown how difficult it is for Wade to stay in top form for long stretches. Obviously, a limited Wade is a tremendous obstacle for Miami.
Sunnergren: Wade's health. After a postseason that was subpar by his lofty standards (he disappeared for stretches and averages only 15.9 points per game), the architect of the Big Three has made some noise this offseason about a return to form. Well, we'll see.
Wallace: Will they get anything of value out of Beasley and/or Oden? When that's your biggest question, you're in pretty good shape. Wade's health presents some questions, but the Heat managed to overcome injuries to Wade and Chris Bosh to win each of their past two titles. That's why it's almost scary to imagine how stacked Miami can be if Beasley and Oden play to even 70 percent of their potential.
Windhorst: Health. Overall, the Heat have been fortunate because none of their Big Three have suffered an injury that caused them to miss more than two weeks and their aging role players have been able to stay generally healthy for three seasons. I thought Battier was going to be in traction by the end of last season, but he held up. After playing 46 games in 2011-12, Allen played in 79 last season. Of course, much comes down to Wade's knees. He's relentlessly working out, but he's also got chronic tendinitis in both, and it will probably be an issue for the rest of his career.
---
3. Who's the Heat's most intriguing player?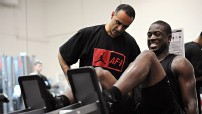 Haberstroh: Wade. We know what we're getting with LeBron, but Wade is a 6-foot-4, 220-pound question mark. His postseason struggles overshadow what was another dominant regular season, but Wade has to prove that the former did not foreshadow his 2013-14 season. Working with famed trainer Tim Grover again should help, but this isn't 2008. Wade's turning 32 in January, and for an explosive player with a history of knee issues, this could get ugly quickly.
Nowell: Toss-up between Wade and Oden. Self-styled alpha males coming to terms with aging and injuries is always fascinating to me, and Wade's style and demeanor have long been about as alpha as they come. Oden is the NBA's lovable sad sack, full of promise but dogged by unbelievable misfortune. The Heat have been good, but they're better theater than ever.
Sunnergren: James. He's arguably the greatest living American athlete, and he's at the height of his (considerable) powers. 'Bron is at the point in his career at which he's not only competing with contemporaries, but for his place in history. We're lucky to watch him.
Wallace: James. No question about it. The Heat go as he goes. He's been the anchor of both the starting unit and the reserves; his production and efficiency actually rises when he runs the Heat's second unit. When completely engaged, he delivers whatever the team needs at any moment. Intriguing enough?
Windhorst: I have a hard time answering anything but LeBron for this one regardless of the Beasley/Oden options. He's in the prime of his dominance, and it is backed up now with self-assurance and confidence. The Heat will probably go as far as he takes them, and how it unfolds, because of his potential free agency, will likely be engrossing.
---
4. What's one bold prediction about the Heat?
Haberstroh: James won't win his fifth MVP this season. There's a good chance that we'll see some voter fatigue and some regression to the mean for the Heat (they were 32-8 in games that went into clutch time last season, which screams unsustainable). Put those two together and an under-the-radar OKC team, it might be Kevin Durant's time.
Nowell: Heat win fewer than than 55 games. I'm reaching here, but I see the Heat running on fumes a little bit through the regular season. Simply put, LeBron and Bosh aside, this team is too old for 82 games.
Sunnergren: This will be the final season Bosh, Wade, and LeBron play together. If the Big Three manages to three-peat, there's a strong chance the core hangs together for another handful of seasons. But there's a strong field in 2013-14, and, coupled with 'Bron's wanderlust and Wade's declining health, it seems more likely than not that this is the end of the road.
Wallace: Bosh will finally be a 20-10 guy again. Bosh has struggled in Miami to come anywhere close to matching his breakout statistics from those last seasons in Toronto. With Wade needing to better manage his minutes and LeBron looking to become an even stronger playmaker, it's time for Bosh to benefit as more of a featured option in the offense. With Birdman in tow from the start this season, and if Oden is able to add anything at center, Bosh might be able to roam for a few more weakside rebounds a night, too.
Windhorst: They'll finish with the third-best record in the East. Is that even bold? I have the Bulls, who are a great regular-season team with Derrick Rose and Tom Thibodeau's full-throttle approach, and the now deeper and self-actualized Pacers ahead of them in the standings. The Heat were doing a lot of shrugging in the regular season last season until that win streak. I don't expect their nature to change much.
---
5. Prediction time: How far will the Heat go this season?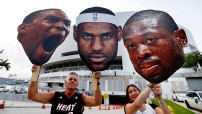 Haberstroh: Three-peat. There are some red flags here, but not more than any other team. Ultimately, the Heat are the favorites because they have James in his prime and no one else does.
Nowell: Championship. Sure, I'm down on the Heat's ability to endure the regular-season attrition, but I still like them in just about any prospective series. I am not sure the league has yet solved the problem of LeBron and a corps of shooters, and I'm not sure that, over the long haul, that problem is all that solvable.
Sunnergren: The Finals. They're the best team in basketball -- blessed with premier talent and a whip-smart coach -- but basketball is a crapshoot. Injuries happen. Losing streaks hit at inopportune times. And Allen doesn't always hit circus shots in elimination games. Still: there's only one LeBron. Heat over Rockets in seven.
Wallace: All the way. Sure, the Eastern Conference will be tougher with Rose back for the Bulls, the Pacers at full strength entering their prime and the Nets loading up with Hall of Famers in Kevin Garnett and Paul Pierce. But the Heat won't have to beat them all, because they'll also beat up on one another via attrition. LeBron will place the Heat right alongside the Kobe-Shaq Lakers, Jordan's Bulls and the Celtics' dynasty of the 1960s as the fourth team to win three consecutive NBA titles.
Windhorst: I'm absolutely terrible at predictions. I've picked the Heat to win the title in each of the past three seasons because they have the best player in his prime. No team has made the Finals four seasons in a row in more than 25 seasons, and I could list 15 things that could keep the Heat from it. But if you're forecasting, how can you not bet on LeBron? So I say they win it.