What's in store for the Milwaukee Bucks? Our panel of five looks back at the offseason moves (and nonmoves) and forward to what lies ahead in the 2013-14 NBA season.
1. What grade would you give the Milwaukee Bucks' offseason?
Kevin Arnovitz, ESPN.com: B-. Milwaukee is in a tough free-agency destination, so the level of difficulty is steeper. Cutting loose Brandon Jennings and Monta Ellis were far-sighted moves, as was extending Larry Sanders. O.J. Mayo is durable and capable of playing both guard positions, but the peripheral signings were a mixed bag. The Bucks might have nabbed the steal of the first round with Giannis Antetokounmpo at No. 15.
Danny Chau, Hardwood Paroxysm: C+. What a bizarre offseason. The Bucks were smart to realize that holding on to either of Jennings and Ellis was not conducive to winning basketball, but the stopgaps signed over the summer don't make their future any clearer. Still, the team should be viable with their new stable of shooters and rock-solid group of big men.
Chad Ford, ESPN Insider: C+. They have a lot of solid talent, but they're stuck as a bubble playoff team. They didn't really make a game-changing move this summer unless Antetokounmpo becomes into a star.
James Herbert, HoopSpeak: B-. Drafting Antetokounmpo could be a massive steal, declining to reinvest in a Jennings/Ellis pairing seems like a wise change of course and locking up Sanders was a must. Their other moves look rather reasonable individually, but do little to change the team's long-term outlook.
Jeremy Schmidt, Bucksketball: B+. The biggest thing the Bucks did is finally move away from attempting to grab a playoff spot with veterans that are failing to push the team in any direction. Opting to select Antetokounmpo and highlight Sanders and Henson means they are emphasizing youth. It's a start.
---
2. What's the biggest question facing the Bucks in 2013-14?
Arnovitz: How will they score? Of the Bucks' six rotation perimeter guys (the rookie Antetokounmpo being the seventh), not one posted a player efficiency rating (PER) of more than 14, a below-average mark. The defense will be stingy, but we're going to see more than a few games in which the Bucks don't break the 80-point barrier.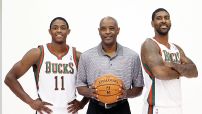 Chau: What's the endgame? Much of the roster has been revamped, and that should captivate fans for a large enough chunk of the season. But what happens once the team's record looks more or less as it has for the past five seasons? Can the fans take another season of treading water?
Ford: Can their young players continue to develop? If Sanders, Brandon Knight, Henson and Antetokounmpo all continue to improve, the team has a very nice (and very long) young core to build around. Even if they don't make the playoffs, there will be hope in Milwaukee.
Herbert: Can Mayo be a No. 1 option? The Bucks' new shooting guard looked on his way to a career year in Dallas last season, then lost his way. In Milwaukee, he'll have a great opportunity be a playmaker, but opposing defenses will be focused on him like never before.
Schmidt: Is Knight a point guard? No one is quite sure what to make of the young guard, but so far, he's closer to proving that he isn't a 1 than he is. If he is, the Bucks have their point guard of the future. If he isn't? The Bucks will have a big hole to fill as they continue to rebuild on the fly.
---
3. Who's the Bucks' most intriguing player?
Arnovitz: Antetokounmpo. He's a 6-foot-9 athlete who actually manned the point in Greece because his playmaking skills are so advanced. He's got a defender's body -- size for a small forward, strength and reach -- and can sky, rebound and, best of all, handle it coast to coast once he does. The Bucks will likely ease him along, but his talent might demand some serious minutes by early winter.
Chau: Antetokounmpo, without question. He has been a preseason darling, though that is hardly a reliable indicator of success. Just get a look at him, though. Antetokounmpo's potential on both ends of the floor might be on the level of Blake Griffin's during his rookie season -- capable of becoming the main event, eclipsing the importance of team's success in the standings.
Ford: Antetokounmpo, no question. Everyone was intrigued with him before the draft, but without seeing him play against elite competition, it was extremely difficult to get a read. The Bucks have been impressed by his skills, work ethic and intelligence in camp, and he has shown flashes of greatness in the preseason. If he puts it together, he could be the next Paul George.
Herbert: Antetokounmpo, obviously. He's all freakish limbs and freakish potential, and if preseason is any indicator he's more skilled at 18 years old than we could have ever expected. Maybe he won't be in the rotation, maybe he'll be the reason to watch Milwaukee games. Forget the Bucks, he might be the most intriguing player in the NBA.
Schmidt: Sanders had a big enough season that he earned himself some security. Now armed with a $44 million extension, we'll find out if last season was the rule or the aberration. Milwaukee is betting that the baseline going forward for Sanders is a dominant defensive player, but the upside is even greater.
---
4. What's one bold prediction about the Bucks?
Arnovitz: They'll be close to a top-five defense with Sanders anchoring the middle. There's length all over the roster. Knight's defensive rating was far and away the best on the Pistons last season among the regulars. Mayo still has it in him to be a plus individual defender. And there's a lot more you can do schematically when a guy like Sanders is waiting in the paint.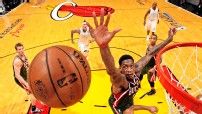 Chau: Sanders will pass Darryl Dawkins' record of 386 fouls in a single NBA season, set nearly 30 years ago. Sanders became something of a cult favorite last season, and established himself as a franchise cornerstone. He still managed to play only 27 minutes a game. His minutes will ramp up. So will the pressure to succeed. So will the fouls.
Ford: They really could use a low-post scorer, and the Bucks have a potent combination of cap room and several attractive expiring contracts and assets to get it. The goal is to be a contender as soon as possible. I think they have the right ingredients to make a big splash at the trade deadline.
Herbert: Antetokounmpo will win rookie of the year. Wait, no, that's just what I want to happen. I'll go with this: Milwaukee will have a better season than departed point guard Jennings and the Detroit Pistons, despite making fewer headlines in the offseason.
Schmidt: Antetokounmpo will make everyone remember how to spell his name before the season is done. He's had impressive flashes in preseason, like a chase-down block against the Wolves that landed him on SportCenter's Top 10 Plays of the Day. But he's had rough nights too, such as going 1-for-6 with five fouls and seven turnovers. Overall, he looks way more ready than anyone expected.
---
5. Prediction time: How far will the Bucks go this season?
Arnovitz: I've got them as a playoff team, either as the No. 7 or No. 8 seed, but they don't have the firepower offensively to score on a Miami, Chicago or Indiana defense in a seven-game series.
Chau: Not far enough. The Bucks will narrowly miss the playoffs, which unfortunately means no one on the roster will be able to continue Jennings' lasting legacy of predicting a 4-2 series win over the Heat in the first round.
Ford: I think a lot of people think the Bucks will be awful this season. I don't. I think they have a real shot at a 7- or 8-seed in the East. They have a deep bench and a good mixture of vets and young players. If their young guys step up, they'll surprise a lot of people.
Herbert: The Bucks will be fighting for a playoff berth with the other Eastern Conference teams in transition years. They'll be in the race to the end, but will likely miss out and find themselves with another late lottery pick.
Schmidt: Playoffs. The bottom of the East is weak enough that teams like the Bucks will be able to avoid any long losing streaks. Milwaukee should have a defense good enough to keep them in most games and shooting that could win them a couple of unexpected games. If they have just enough good luck, the No. 7 seed will be in play.