What's in store for the New Orleans Pelicans? Our panel of five looks back at the offseason moves (and nonmoves) and forward to what lies ahead in the 2013-14 NBA season.
1. What grade would you give the New Orleans Pelicans' offseason?
Jim Cavan, KnickerBlogger: B+. The Tyreke Evans signing poses its fair share of problems (Is he worth it? How does he fit within a log-jammed backcourt?), but landing an upside-laden floor general like Jrue Holiday should help steady a still-unseasoned ship. The Hornets could've easily hopped aboard the Wiggins Wagon but instead opted for upgrades. Risky, sure, but with playoff potential in spades.
Amin Elhassan, ESPN Insider: A-. I loved the Holiday pickup as a high-level point guard to run the show; I think the Anthony Morrow and Greg Stiemsma signings were two of the most underrated free-agency pickups this summer. I like Evans as a player, and even though I question his fit with the roster, his outsized contract is where I detracted points.
Joe Gerrity, Bourbon Street Shots: B+. Dell Demps was targeting young veterans to put around Anthony Davis, and he found two of the best available. The Pelicans pretty much paid market value, but it's hard to argue with the return.
Ethan Sherwood Strauss, ESPN Insider: C. I hated the Nerlens Noel trade, in part because I doubt Holiday is an All-Star in more than a technical sense. The addition of Evans made sense to me because anyone on the Kings is likely an underdeveloped talent.
Tom Sunnergren, Hoop76: C+, though the team could, by season's end, easily move two letters in either direction. New Orleans pushed all its chips to the center of the table this summer by flipping two picks for Holiday, then adding Evans. The former deal is the key: If Noel develops into a stopper and the 2014 first-round pick falls in the lottery, it could set the franchise back years.
---
2. What's the biggest question facing the Pelicans in 2013-14?
Cavan: Can Eric Gordon play more than 75 games? He's done it only once: his rookie season in 2008-09. When healthy, Gordon is a top-5 shooting guard -- an agile 6-foot-4 bowling ball with myriad ways to score. The Pels might have a challenge figuring how to divvy up the wing minutes, but if Gordon is anywhere near 100 percent, it's a problem they'll be all too happy to have.
Elhassan: "Can they keep everyone happy?" The current game plan is to bring Evans off the bench in a Manu Ginobili-type role and to play Evans, Holiday and Gordon -- three players who flourish with the ball in their hands -- at the same time for stretches. It's easy to sacrifice when the team is winning, but will they accept it if success isn't immediate?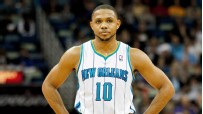 Gerrity: Does Monty Williams have what it takes to turn good players into a quality team? Analysts and players have heaped praise on Williams since the day he was hired, but it's not yet proven that love from your players translates to wins. We'll see how he adjusts to having some more talent in the lineup.
Strauss: Have they found something in their anti-analytics approach? Evans and Holiday are both "name" guys who don't do so well when we dig deeper in the numbers, but guess what? Their prior situations were so bad that those stats could be deceiving. We're about to find out.
Sunnergren: Can Holiday improve on last season's poor offensive performance? Though he had plenty of fine excuses -- a dreadful roster, too much responsibility on both ends of the floor, former coach Doug Collins -- Holiday had a rough go of it offensively in 2012-13. His .496 true shooting percentage placed him 62nd among qualified point guards and he finished 155th in the NBA in win shares with 3.3. He needs to do better. Surrounded by a talented supporting cast, he just might.
---
3. Who's the Pelicans' most intriguing player?
Cavan: Davis. An impossible combination of size, quickness, defensive instincts and a raw but refinement-ready offensive repertoire, the Pelicans' sophomore stud has legit top-10 upside. He's tallying 23.2 points on 54 percent shooting in just 28 minutes during his six October tuneups. For most, such stats would bend to preseason caveats. For the 20-year-old Davis, it might well be a bellwether.
Elhassan: Davis. For all the attention (and money) devoted to the three guards, Davis is still the franchise cornerstone, and his impact on both ends of the floor is what will dictate the team's success or failure this season.
Gerrity: Gordon. Can he stay on the floor, and, if so, how good is he? Gordon says he is the healthiest he has been in New Orleans, so we might just find out if he's truly deserving of that four-year, $58 million deal. If he is, nobody will want to face the Pelicans in Round 1 of the Western Conference playoffs.
Strauss: It's the Brow. He's looked like a superstar in the preseason, save for those moments when he appears utterly exhausted on post defense. I pray for the day when this transcendently talented big man starts guarding wings like Kevin Durant.
Sunnergren: Who's the Pelicans' most intriguing player? Davis. To paraphrase an old David Stern line, every team is one player away from a title -- and his name is Shaq. Davis, at 20, might be on the verge of blooming into a similarly disruptive force. The Brow, quietly, finished fifth among power forwards in PER in his rookie season and, averaging 23 points in the preseason, has shown signs of continued improvement this fall.
---
4. What's one bold prediction about the Pelicans?
Cavan: Austin Rivers will play fewer than 15 minutes per game. Given his horrific rookie campaign -- 37 percent shooting, a PER of 5.9 -- it's hard to envision a deeper free fall for Doc's progeny. That's not to say he'll never figure it out, but with Evans, Gordon, Holiday, Anthony Morrow and Brian Roberts in the stable, it just won't be in New Orleans.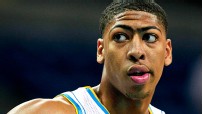 Elhassan: They'll have a new coach some time this season. I put Williams on my hot seat list because I have doubts as to whether a devout slow-tempo coach can shift gears overnight and coach a roster built to go fast.
Gerrity: How about three? They'll make the playoffs, Davis will be an All-Star and Evans won't complain about coming off the bench.
Strauss: Davis will have a better offensive season than Dwight Howard. Specifically, I predict a higher PER and higher Win Shares per 48 minutes. This is no slight to Dwight. The kid is just that good.
Sunnergren: Evans will, by spring, be regarded as New Orleans' top offseason acquisition. At 23, the former rookie of the year put together his finest professional season in 2012-13 -- cutting his turnover rate while boosting his field goal percentage. New Orleans has a crowded perimeter, yes, but here's the thing: it's not Sacramento. Look for a big season from Evans.
---
5. Prediction time: How far will the Pelicans go this season?
Cavan: Ninth or 10th place -- the West is just too loaded. But whatever you do, don't pity the Pels, because this season is nothing if not a win-win: If Davis busts out and the backcourt rotations jell, they stand a chance to reel in the No. 8 seed. If not, they'll be glad to take whatever consolation prize the '14 ping pong balls give them.
Elhassan: On the outside looking in for the playoffs. They are part of the group of teams (Lakers, Wolves, Blazers, Nuggets, Mavs) all fighting for the seventh and eighth seeds, and, unfortunately for them, the lack of roster congruence puts them at a disadvantage.
Gerrity: A first-round exit seems most probable. Even if Gordon misses substantial time, they're probably good enough to sneak in as the eighth seed.
Strauss: They will finish 11th in the West and validate my League Pass subscription. Sadly, I expect some injuries (based on how their medical staff has handled Davis).
Sunnergren: A (near) postseason miss. The West is a tremendously deep conference, and it doesn't look like any of its 2012-13 playoff teams, save the Lakers, took a big enough backward step to slip out of the dance. The Pelicans should be in the Mavs/Blazers/Timberwolves mix that competes for the No. 8 seed but look likely to fall short.