What's in store for the San Antonio Spurs? Our panel of five looks back at the offseason moves (and non-moves) and forward to what lies ahead in the 2013-14 NBA season.
1. What grade would you give the Spurs' offseason?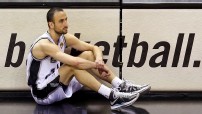 Graydon Gordian, 48 Minutes of Hell: B. They didn't make the kind of aggressive moves some fans in San Antonio had hoped for and they brought back Manu Ginobili for a bit more than I think he's currently worth, but the addition of Marco Belinelli adds even more outside shooting and much-needed ballhandling. They will contend again.
Andrew McNeill, 48 Minutes of Hell: B. Like every other Spurs offseason on record, they didn't make a splash in free agency. Instead, San Antonio re-signed Tiago Splitter and Ginobili at relatively fair prices and replaced departures on the fringe of the rotation. They'll still be competitors in 2013-14 while having long-term cap flexibility. That's a good thing.
Marc Stein, ESPN.com: C. They didn't really have the financial flexibility to do more, but they were in need of one of those Spurs-esque finds off the bargain rack to inject a heartbroken team with the booster shot of a surprise difference-maker. To be fair, though, San Antonio did try to make some of its vintage magic by pursuing Andrei Kirilenko via sign-and-trade, but it simply lacked the sort of spare assets to pull that off.
Ethan Sherwood Strauss, ESPN Insider: C+. Ginobili is an all-time great, but who expected him to make over $7 million? While there's some loyalty priced into that salary, it's hard to herald it as a great move. It's equally tough to love an offseason where Kirilenko was rumored but Belinelli was the big signing. In San Antonio's defense, the Splitter signing was sound.
Matthew Tynan, 48 Minutes of Hell: B. San Antonio didn't do anything in the offseason to drastically improve, but it's not as though they really needed to. Culture and continuity are incredibly important around this organization, so retaining Ginobili and Splitter was realistically the best strategy at this point in Tim Duncan's career. Solid, smart offseason for the NBA Finals runners-up.
---
2. What's the biggest question facing the Spurs in 2013-14?
Gordian: Can Tim Duncan continue to play at such a high level? Last season Duncan re-emerged as a top-10 NBA player. If he can play that well for one more year, the Spurs will have an excellent shot at winning a fifth title.
McNeill: How much will the Spurs' aging stars regress? Duncan had one of his best seasons in 2012-13 while staying relatively healthy. Tony Parker played a full summer of international ball after a long NBA Finals run. Ginobili seems to lose a little bit of magic by the month. The run has to end eventually, doesn't it?
Stein: Beyond the obvious ones about how they'll rebound physically and mentally after playing all the way to last ticks of the 2012-13 season and losing in excruciating fashion, it's all about Duncan and how closely he can replicate his absolute turn-back-the-clock season at 37. Even if Kawhi Leonard makes the progress we all expect, San Antonio can't afford much of a drop-off from Duncan if it wants to contend again.
Strauss: Do the wheels ever fall off? Eventually, Duncan has to suffer a drop in production as so many great centers before him have. But with this team, "eventually" just feels like it'll never come. It's season number 2,394,049 of "maybe this will be the season the Spurs fall apart."
Tynan: How close is the cliff? The biggest question around this team is whether or not a drop-off is near. Duncan is 37, Ginobili is 36 and Parker (31) is a 12-year veteran. All three have shown consistency in defying age, but their physical conditions will be the biggest concern all season if the Spurs are to make another title run.
---
3. Who's the Spurs' most intriguing player?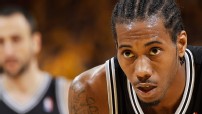 Gordian: Kawhi Leonard. Kawhi made a huge leap between his rookie and sophomore seasons. If he can continue to improve at such a dramatic pace, he could emerge as an All-Star caliber player and make the Spurs a very dangerous team.
McNeill: Kawhi Leonard. Leonard is the future face of the franchise and showed the world what he's capable of in the Finals. San Antonio will need him to make up the difference in any drop-off from its aging core in order to be a championship threat. My question: Can he be an All-Star this season?
Stein: I'm guessing Kawhi Leonard's name will come up a lot here, but I'm still going with Duncan and will do so until the day he walks away. This guy has spoiled us for so long; I know I'm not going to cope well when he finally decides to walk away. How close to last season's level will he stay? How much longer does he plan to play? Those are the sorts of questions I find more captivating about the Spurs than anything.
Strauss: Kawhi Leonard, and I'm not sure it's even close. Is he a future star, or just a decent player? He might have been San Antonio's best guy in both the Warriors series and the Heat series. I'm interested to see whether the playoffs were a prelude to greatness, or merely a fluke. He's an awesome rebounder and defender, but he lacks the ball skills we typically associate with elite wings.
Tynan: Kawhi Leonard. He represents both the present and the future in San Antonio, and as the Big Three era winds down he gets closer to being the face of the franchise. At least that's what Gregg Popovich keeps saying. The progress he makes in his third year will be one of the most intriguing storylines of this season, especially with a likely large extension looming ahead.
---
4. What's one bold prediction about the Spurs?
Gordian: Leonard will supplant Ginobili as the third member of San Antonio's Big Three. Manu, Tony and Tim will always be the Spurs real Big Three, but this season Leonard will be the Spurs' third-best player and an increasingly dangerous offensive threat.
McNeill: Parker won't play more than 50 regular-season games for San Antonio this season. We saw during the Finals how banged up Parker had gotten and how much the Spurs relied upon him offensively. After a long NBA campaign and a summer full of international competition, I fully expect Parker's body to break down for stretches this season.
Stein: Popovich or Duncan will join Twitter. (I really can't say I believe myself ... but that is bold.)
Strauss: Belinelli won't be good. Yes, he's an international player, like so many fine Spurs additions before him. He's also 27 years old with a long, underwhelming NBA track record. The Manu Ginobili Jr. talk needs to stop.
Tynan: Leonard will win Most Improved Player. There are plenty of likely candidates for this award, but with his NBA Finals performance fresh in mind, the hype train has already begun rolling for Leonard. The question remains, however: Will Kawhi's statistical ceiling be lowered by the presence of the Big Three and his role within the offense? I say he'll do just enough.
---
5. Prediction time: How far will the Spurs go this season?
Gordian: They will win the West. They won't finish with the best regular-season record in the conference -- the Clippers will -- but their focus, talent and intellect will carry them back to the Finals.
McNeill: The Western Conference finals. I'm not optimistic that San Antonio's experienced core players can produce at the same high level they did last season while experiencing the same level of luck when it comes to health. They're still one of the best in the West, though, and will get to the West finals if healthy in May.
Stein: There are actually more elite teams at the top of the East than the West this season, which enhances the Spurs' chances of dodging slippage and putting together one more extended playoff run. Yet you can't forget than 2013 marked Team Duncan's first trip to the Finals after a half-decade absence. I want to believe they can make another long playoff run, but it's easier to pump out reasons why they won't.
Strauss: I have them losing in the conference finals. No team appears significantly better than San Antonio, but I also can't count on the Spurs to remain healthy after such a long postseason.
Tynan: NBA Finals. I'm not sure how many of these runs are left, but San Antonio may have the fewest questions surrounding it of any top team in the West, especially with Russell Westbrook's injury surfacing for the suddenly thinned-out Thunder. Yes, the core is aging, but the young supporting cast continues to grow and improve as a larger piece of the puzzle.