What's in store for the Toronto Raptors? Our panel of five looks back at the offseason moves (and non-moves) and forward to what lies ahead in the 2013-14 NBA season.
1. What grade would you give the Raptors' offseason?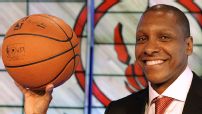 Henry Abbott, ESPN.com: B+, but not in ways that'll translate to wins this season. Instead, they have a new front office led by Masai Ujiri, relief from Andrea Bargnani's contract, a growing collection of picks (thanks, Knicks!) and the beginnings of hope.
Bradford Doolittle, ESPN Insider: C, based on sheer dullness. There was only so much the Raptors could do because of their cap situation. Cutting bait on Bargnani and actually getting some draft picks in return was solid. Signing two-fifths of Indiana's bad bench from last season didn't do much for me.
James Herbert, HoopSpeak: B+. Prying Ujiri away from Denver was a monumental move for the future of the franchise. While Ujiri elected to make moves around the margins rather than radically reshape the roster, acquiring the sweet-shooting Steve Novak and draft picks from New York in exchange for Bargnani was a surprising haul when Bargnani's value seemed at its lowest.
Blake Murphy, Raptors Republic: B. Aside from trading Bargnani, a cathartic move for the franchise, it was pretty quiet. Ujiri wants to evaluate what's currently in stock, and that's preferable to taking dynamite to the whole thing.
Seerat Sohi, Hardwood Paroxysm: B. Uriji's debut move as the Raptors' GM was stunning. Dumping Bargnani's contract is one thing. Acquiring three draft picks in the same deal? Stuff of the gods. Their offseason signings (Tyler Hansbrough and D.J. Augustin), however, elicit minimal applause.
---
2. What's the biggest question facing the Raptors in 2013-14?
Abbott: Is Jonas Valanciunas the franchise player they've been waiting for? This team has had stars, from Vince Carter to Chris Bosh. But what they need now are players to help them truly contend for the first time.
Doolittle: Rudy Gay can opt out after the season, and based on how he played after coming over from Memphis last season, you have to worry about his "aggressiveness." Is there any possibility of he and DeMar DeRozan becoming a workable wing tandem in an efficient offense?
Herbert: Where is this team going? Ujiri is choosing to evaluate the core players he inherited, and the first few weeks of the season will put pressure on them to perform as he decides on a direction. It makes sense to be patient with this group, but it'll be interesting to see what the Raptors look like after the trade deadline.
Murphy: What is the direction? It's unclear what Ujiri's plan is and whether it involves adding to the existing core or subtracting from it. The futures of Kyle Lowry, Gay and head coach Dwane Casey revolve around it as well.
Sohi: Is there a team out there -- aside from the 2012-13 Raptors -- willing to take on Gay's contract? Uriji's tenure in Canada is poised to be illustrious, but at the moment he's knotted up by the cap inflexibility and middling talent his predecessor left for him to deal with.
---
3. Who's the Raptors' most intriguing player?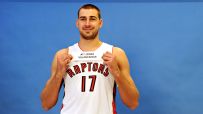 Abbott: Pop quiz: Who won the NBA's dunk contest last year? (Hint: It was a Raptor.) Terrence Ross is a monster dunker, but also exhibit A that it is not enough to make you a difference-maker. The team was essentially dreadful at both ends when Ross was on the court as a rookie. But if he can dial in that NBA 3-ball …
Doolittle: Valanciunas. He may never see the ball, but he looked like a beast in the paint over the summer, showing the kind of aggressiveness that could allow him to become Toronto's centerpiece. His ability to command the ball in the post and score efficiently would be a great sign that he may reach his ceiling. Eventually.
Herbert: Gay. The super smooth small forward became a divisive figure among NBA analysts when his shooting numbers sunk in Memphis. With all the chatter after last season's trade to Toronto, he didn't lack for motivation heading into the summer. Will his revamped offseason workout regimen and added bulk translate into improved production?
Murphy: Valanciunas. For all the promise he showed as a rookie, he impressed even more in summer league and international play. All the caveats about those situations apply, but even standard rookie-to-sophomore progression would be welcome.
Sohi: Valanciunas. Two-way centers are a rarity in today's game and Jonas has already established himself as a talented one at that. If he can make meaningful strides while playing closer to 30 minutes a night, the Raptors' playoff dreams will suddenly feel a lot more attainable.
---
4. What's one bold prediction about the Raptors?
Abbott: Everyone will want more dunks. They have all these long live-wire dudes -- DeMar DeRozan, Terrence Ross, Austin Daye, Tyler Hansbrough -- but little ability to create room around the rim. Steve Novak is a start, but generally opponents will pack the paint, and it'll work.
Doolittle: Ross bumps DeRozan to sixth-man status, which would be a better role for DeRozan anyway. Ross is just a better player, and no one can convince me otherwise. He's just as athletic, is a better shooter and is better working without the ball.
Herbert: Lowry will have the best season of his career. In great shape and in a contract year, Lowry looks poised to bounce back from an up-and-down 2012-13. If he balances his scoring and distribution, and keeps his energy up on both ends, he'll warrant a big payday.
Murphy: The return of Kyle Lowry. An injury cost Lowry his starting job, and major personnel changes made for a tough first season in Toronto. Now in a contract season and no longer fighting for minutes, a trimmer-looking Lowry should be more successful.
Sohi: Landry Fields regains a portion of his former glory. I may be playing fast and loose with the word "glory" here, but in this matter, it's all relative. His putrid showing last season demonstrated the most unexplainable of collapses. A return to normalcy, or at least some semblance of it, doesn't feel too far off.
---
5. Prediction time: How far will the Raptors go this season?
Abbott: Not very. Playoffs are a long shot.
Doolittle: There is some upside here, but ultimately I see Toronto again landing in that No. 10-11 area in the Eastern Conference. Even if the offense achieves some measure of efficiency, I just don't see enough defense on that roster. The best-case scenario is that the Raptors play unselfishly, make a run at a playoff spot and Valanciunas establishes himself as Toronto's franchise player.
Herbert: As presently constructed they should be on the playoff bubble, competing with teams such as Atlanta, Cleveland, Milwaukee and Detroit for the last couple of spots in the East. This feels like a transition season, though, in which seeing growth from Valanciunas and establishing an identity going forward is more important than wins and losses.
Murphy: First-round exit. There appears to be enough talent here to finish as a lower seed in the East. The bench could be an issue, but the starting unit was one of the most effective in basketball last season (according to a small sample of data). Too many on this team have too much on the line to throw in the towel.
Sohi: Even in the best of circumstances, the Raptors' season would be hammered shut in the first round of the playoffs. If they're lucky, they likely stumble into the eighth seed and make for unadorned roadkill on the unforgiving LeBron James super-highway.