What's in store for the Washington Wizards? Our panel of five looks back at the offseason moves (and non-moves) and forward to what lies ahead in the 2013-14 NBA season.
1. What grade would you give the Wizards' offseason?
Rashad Mobley, Truth About It: C-. John Wall signed a five-year extension, but that was a foregone conclusion. Otto Porter was the No. 3 pick in the 2013 draft, but he hasn't played since summer league. Meanwhile the Wizards' lack of front-court depth -- especially with Emeka Okafor sidelined indefinitely by a herniated disc in his neck -- has yet to be addressed.
Steve McPherson, A Wolf Among Wolves: C. More or less standing pat didn't look so bad before Okafor went down, but now it's not at all clear that getting Eric Maynor and Al Harrington added enough depth to the team. If Porter rounds into shape, this grade could go up, but that's optimistic.
John Converse Townsend, Truth About It: B-. I wasn't impressed by Porter before the draft, and, unfortunately, he hasn't done anything since to change my mind, but Glen Rice Jr., Washington's second-round pick, seems to fit his NBA pedigree. Martell Webster is back (he's still the team's best small forward). Maynor has looked OK running the point behind Wall and Harrington is in shape and looks dangerous.
Michael Wallace, ESPN.com: C. The Wizards took care of their first responsibility by locking up Wall to a max contract. Picking up Porter with the third pick in the draft will also prove rewarding. The other moves were nothing spectacular, but there's finally some stability taking shape in D.C. after emerging from the Gilbert Arenas era.
Kyle Weidie, Truth About It: B+. They wanted to extend Wall and re-sign Webster, and they did (overpayment debates be damned). Porter obviously has potential, Rice, Jr. could be a second-round steal, and Harrington looks like a sleeper veteran find. The goal was to avoid offseason missteps, and the team brass accomplished that.
---
2. What's the biggest question facing the Wizards in 2013-14?
Mobley: Who will anchor the middle? 31-year old Nene has been inconsistent this preseason and injury-prone throughout his career. Okafor is out indefinitely. Jan Vesely and Kevin Seraphin are disappointing and inconsistent, respectively. If Wizards GM Ernie Grunfeld doesn't acquire a functional big man, the Wizards will be a one-dimensional team.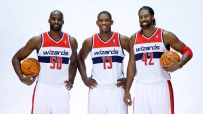 McPherson: Not so long ago it was "how are they going to score?" But with Okafor out indefinitely you can add "how are they going to defend?" to the list. A shaky front-court rotation is not going to make things easier for Wall and Bradley Beal on either end.
Townsend: Which one of Washington's young bigs -- Vesely, Seraphin, Trevor Booker and Chris Singleton -- will step up? Booker has been the best of the bunch this preseason, with Singleton injured and Seraphin still learning the game. Randy Wittman recently admitted that Vesely has been less aggressive in games and in practice than last season. Minutes are there for the taking.
Wallace: Can they stay healthy? Sure, that's a key question for plenty of teams. But not many have been as snake-bitten as the Wizards over the past few seasons. They're already off to a bad start after injuries to Okafor and Porter. If healthy, this is a solid playoff contender. If not, it's another year in the lottery.
Weidie: The obvious question is health. But player-wise, no one is more important than Nene. Wall and Beal are young and driven enough that improvement in their games is a given. True relevance will come if the Brazilian can play at least 70 games and be a force, not a diva.
---
3. Who's the Wizards' most intriguing player?
Mobley: Harrington/Webster. Wall and Beal should deliver nightly, which should keep the Wizards in most games. But with Webster's ability to shoot 3s accurately (44 percent last season) and Harrington's ability to score in bunches, the Wizards should be able to steal five to 10 more games in the win column -- which could lead to a playoff berth.
McPherson: It has long been, and forever will be, Wall, so long as the team struggles to find good fits around him. As an aggressive point guard without range, Wall would have been more at home in the '80s. But if it all comes together, he could vault from relative obscurity in a PG-dominated league.
Townsend: Harrington. This summer, Wall said the team needed "a 4-man that can pick-and-pop." Now they have one. Harrington is a career 35.2 percent shooter from deep. If he can find his form, he could be a weapon. Plus, Harrington knows how to play with Nene -- as Nuggets in 2010-11, the duo outscored opponents by 11.9 points per 100 possessions.
Wallace: Wall. This team goes as its franchise point guard goes. We saw the kind of impact Wall can have when healthy and motivated -- he nearly averaged a triple-double over a stretch late last season. Now healthy, paid and charged with getting this team back into the playoffs, Wall must show he's ready to be an elite player in this league.
Weidie: The team has invested heavily this summer in Seraphin becoming the next main ingredient, but keep an eye on Rice. His year in the D-League and offensive instincts just might make him more ready, and capable, to contribute than Porter.
---
4. What's one bold prediction about the Wizards?
Mobley: Porter's rookie season will be a bust. He was injured in minicamp, he was tentative during summer league, and he has missed all of preseason with a strained hip flexor. Trevor Ariza and Webster are seasoned vets; an injury-prone, tentative first-year player will not supplant them, which means Porter will be the ninth or 10th man in the rotation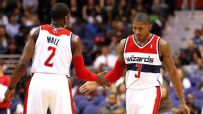 McPherson: Harrington absorbs most of Okafor's minutes and the Wizards ride a four-out, one-in look to a surprisingly hot start. The success emboldens them Wizards to move Okafor's expiring contract in a blockbuster trade that makes Washington a favorite to upset a higher seed in the playoffs.
Townsend: Wall will represent D.C. in the All-Star Game, the first Wizard to do so since Caron Butler and Antawn Jamison in 2007-08. Wall not only thinks he "should be in the playoffs," but also considers himself to be the best point guard in the NBA. Well, John, the road to the postseason runs through New Orleans -- you're driving.
Wallace: Beal will have a breakout sophomore season and average 20 points a game. There's so much potential with Beal, who combines the skill sets of a young Ray Allen, Mitch Richmond and Brandon Roy. Beal is a great shooter who can put the ball on the floor and beat you in a number of ways.
Weidie: The Wizards will push a first-round playoff series to seven games, but lose. But if healthy, it's not outlandish to envision Washington sneaking into the fifth or sixth spot and taking a team like Indiana or Brooklyn the distance before ultimately succumbing to their experience.
---
5. Prediction time: How far will the Wizards go this season?
Mobley: The Wizards will finish 35-47 and fall just short of the eighth seed in the playoffs. Wall and Beal will be great, the bench will be functional, but the putrid post play will be too much to overcome.
McPherson: The Wizards will take a step back on defense while stepping up a bit on offense to finish .500 again, which will be good enough for a seventh seed in the East. Once there, they will be handsomely shellacked by the Bulls or Pacers.
Townsend: The Wizards were more competitive last season than you may think, losing 40 games by fewer than 10 points. Now, if Wall & Co. are serious about making the playoffs, they cannot afford to lose to sub-.500 teams (15-20 in 2012-13). While the Wiz have the talent, something tells me they'll play their last game in mid-April.
Wallace: To the playoffs for the first time in five seasons. The Wizards will get the No. 7 seed in the East, behind the Heat, Bulls, Pacers, Nets, Knicks and Pistons. And with their combination of experienced veterans and young guns, this will be one team none of the potential top-four seeds will look forward to playing in the first round.
Weidie: It's playoffs or bust at this point, even if it comes with a sub-.500 campaign. Bust would likely mean the end of Grunfeld and Wittman, but I say they find a way to hang around for a couple more seasons.