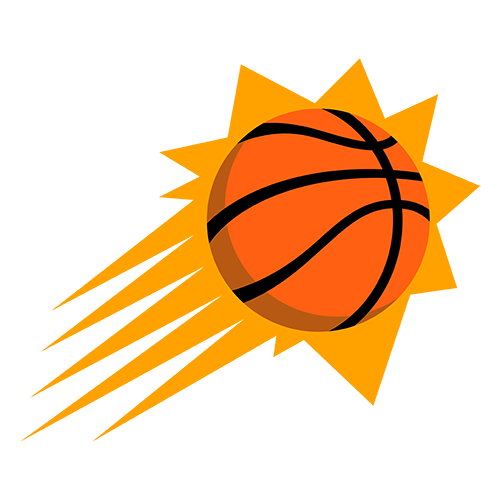 | | 1 | 2 | 3 | 4 | OT | T |
| --- | --- | --- | --- | --- | --- | --- |
| PHX | 30 | 34 | 28 | 41 | 28 | 161 |
| NJ | 29 | 29 | 32 | 43 | 24 | 157 |

Suns beat Nets in highest scoring game of NBA season
EAST RUTHERFORD, N.J. (AP) -- Two overtimes, 318 points, 34 lead
changes, 21 ties and a dramatic showdown between two of the best
point guards in the game.
The Phoenix Suns beat the New Jersey 161-157 on Thursday night
in a game that was as good as it gets in the NBA.
"I think we can go home and turn on Classic NBA," Suns coach
Mike D'Antoni said. "It will be on there already. That's the best
game I have ever seen."
Elias Says

Kidd

Jason Kidd recorded the 78th triple-double of his career, tying Wilt Chamberlain for third most in NBA history, behind Oscar Robertson and Magic Johnson. And Kidd did it with a flourish, scoring 38 points with 14 rebounds and 14 assists. It was the third time Kidd reached 14 in all three categories.

Incidentally, Wilt was the last player with totals as high as Kidd's in all three categories. He scored 53 points with 32 rebounds and 14 assists for the 76ers in a 158-128 win over the Lakers in 1968. The only other players ever to do so were Elgin Baylor (1961) and Oscar Robertson (five times).

• For more Elias Says, Click here.
Steve Nash scored nine of his career-high 42 points in the
second overtime and Boris Diaw hit a go-ahead shot in the lane with
14 seconds left to lead the Suns to their eighth straight victory
in the shootout that matched the NBA's fourth-highest points total.
The classic also saw Nets point guard Jason Kidd tie Wilt
Chamberlain for third place with 78 career triple-doubles. Kidd
finished with 38 points, 14 rebounds and 14 assists, but the point
guard dribbled the ball off his foot with 10 seconds left, costing
the Nets a chance to tie.
"It was a crazy game," said Nash, who also had 13 assists in
almost 48 minutes. "They decided to run with us tonight. Both
teams deserved to win. We were lucky to come out on top."
Actually, the Suns dodged two bullets. Nash had to hit a
remarkable 3-pointer at the end of regulation to force the overtime
and then Kidd had a shot at the end of the first overtime go
halfway down and fall out.
"For the NBA it was one of those games they would like to see
more often," Kidd said. "You know, guys were playing hard. It was
a clean game, a lot of points, but it came down the last couple of
minutes of each quarter, and it probably will be a classic."
Shawn Marion added 33 points, Raja Bell had 24 and Amare
Stoudemire 23 for the Suns, who made an NBA season-high 17
3-pointers, including Nash's big one that tied the game at 133.
Vince Carter had 31 points before fouling out with 4.8 seconds
left in regulation with the Nets ahead by three points. He
committed the foul thinking he only had four and that the foul
would prevent Phoenix from attempting a game tying 3-pointer.
Richard Jefferson scored 25 points for the Nets. Marcus Williams
added 18 for New Jersey, which set a team-record for points in a
game.
The wide-open game featured 224 shots, 27 three-pointers, 57
fouls and a remarkably low 29 total turnovers.
The last tie came at 157 with 33.6 seconds to play when Kidd
capped a 6-0 run with a three-point play. Nash helped put Phoenix
in front with his 13th and final assist, a little pass to Diaw for
a short shot in lane for a 159-157 lead.
After a timeout, Kidd dribbled the ball into the forecourt and
tried to cut to his right at the top of the circle. The ball
bounced off his foot and Leandro Barbosa picked it up with 9.9
seconds to play.
After a 20-second timeout, Diaw almost threw the inbounds pass
away. Nash recovered and was fouled, hitting both free throws with
4 seconds to go for a 161-157 lead.
Kidd missed a 3-pointer with about 3 seconds to go and the Nets
dejectedly walked off the court despite breaking their previous
record for points in a game, 148 against Golden State in 1992.
Kidd had a chance to win the game at the end of the first
overtime but his off-balance fadeaway jumper from the elbow went
halfway down and popped out, sending the game to the second
overtime. The popout also spoiled a Nets' celebration that saw
Carter run off the bench and then hold his head in disbelief.
The Nets were seemingly on the verge of victory in regulation
when Kidd hit two free throws with 4.4 seconds to play to give New
Jersey a 133-130 lead.
After Phoenix called its final timeout, Nash came off a
foul-line screen by Kurt Thomas, caught an inbounds pass from Diaw,
squared his shoulder and nailed a tying 3-pointer.
The fourth quarter alone was wild. There were 17 lead changes
and eight ties.
When Kidd's triple double was announced at the Continental
Airlines Arena at the end of a time out midway through the fourth
quarter, the crowd cheered and Nash walked up to Kidd and patted
his former teammate on the head.
Game notes
Detroit and Denver played the highest-scoring game in NBA
history in February 1983, with the Pistons beating the Nuggets
186-184 in three overtimes. ... Nets coach Lawrence Frank was
unhappy with a couple of calls and got hit with a technical foul in
the third quarter. ... Nash and Nets C Mikki Moore were called for
technicals after a little fourth-quarter flareup. ... Nets G Eddie
House had 18 points in his third game of the season. He missed the
first 15 games because of knee surgery. ... Nets are 0-6 at home
when they trail entering the fourth quarter. ... Denver had the
previous high this season with 140 points against Golden State on
Nov. 24.
Regular Season Series
PHX Wins 2-0
7:30 PM, December 7, 2006
Attendance: 16,966
Capacity: 19,990
Referees:
Bennett Salvatore
Tommy Nunez Jr.
Leon Wood
2022-23 Pacific Standings